20+ ways to save yourself a copy:paste
Using Actions to turn Slack messages into tasks and follow-ups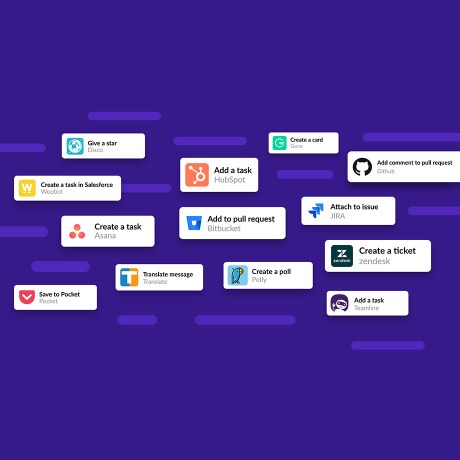 Our workdays are often spent bouncing between different tools and services. Log a task here, mark an issue to follow up on there: It's easy to get mixed up in the fray. That's why last month we launched Actions, a simpler way to turn everyday conversations and messages in Slack channels into tangible next steps. So, for example, you can turn a Slack message into a Zendesk ticket, saving you much back and forth.
We first launched Actions with some of the most popular apps for Slack — including Zendesk, Jira, Asana, Bitbucket, and Hubspot — and since then, several other companies have followed suit, adding Actions to their apps for Slack to help you work more efficiently. With even more options to consolidate your work, fewer details will fall by the wayside, everyone on the team can know what's happening, and you get to continue on smoothly through your day.
First, let's take a look at how Actions work
Apps bring information and alerts into Slack channels where team conversations are already happening. See something worth revisiting? Hover over the message and click the ••• icon, then choose an Action. Once that's completed, you can post a message back to your team's Slack channel letting everyone know you've flagged something for follow up.
Take a gander at this list featuring more than 20 Actions you can start using today
Each one of the Actions below provides a simple shortcut that will help you turn your Slack messages into tangible, trackable progress.
Ask your team for input on a decision
Ask IT for help
Celebrate your teammates' hard work
Create and assign tasks
Keep track of important information in your team's Wiki
Set up meetings and events
Translate Slack messages into different languages
Add important context to your systems of record
Restock office supplies
Keep your sales deals moving forward
Save notes and articles to read later
Ready to get started with Actions?
You can begin using Actions in three easy steps:
Visit the Slack App Directory
Install the app for whatever tools or services you wish to connect to Slack
Start using Actions
It's as simple as that.