5 Slack keystrokes that may change your life
Do things faster, smarter, and better
Keyboard shortcuts are great for skipping to exactly where you want to go, if you can remember them. To help you find them fast, here are our five favorite keyboard shortcuts for working quickly in our desktop Slack apps.
1. Browse your history forward and back
You're working with your team in a Slack channel, discussing a product launch when suddenly you get a DM from the CEO. You pop over, answer their question, then try to remember how to get back to your launch discussion. Instead of scrolling and searching for the channel, you can tap two keys.
Command + [ (Alt + ← on Win/Linux) will take you back to the previous channel and Command + ] (Alt + → on Win/Linux) will take forward to the next channel within your history, acting much like a web browser's back/forward buttons.
iOS app bonus: a 2-finger swipe to the left or right will navigate your history just like the bracket keystroke above.
2. Embrace the Quick Switcher
I kinda want a @SlackHQ t-shirt that just says "⌘-K All Day."

— David Dodman (@daviddodman) May 17, 2016
What if you could jump to any channel or person in your entire organization by typing just a few characters? That's precisely how the Quick Switcher works: type command + k or command + t (or control + k or control + t on Windows/Linux) and you'll get an open search box. Type a few characters and hit return when your desired option appears. It's a great way to get anywhere you need, and we even smartly order results so you'll hit the right person even if your team has eight Jennifers.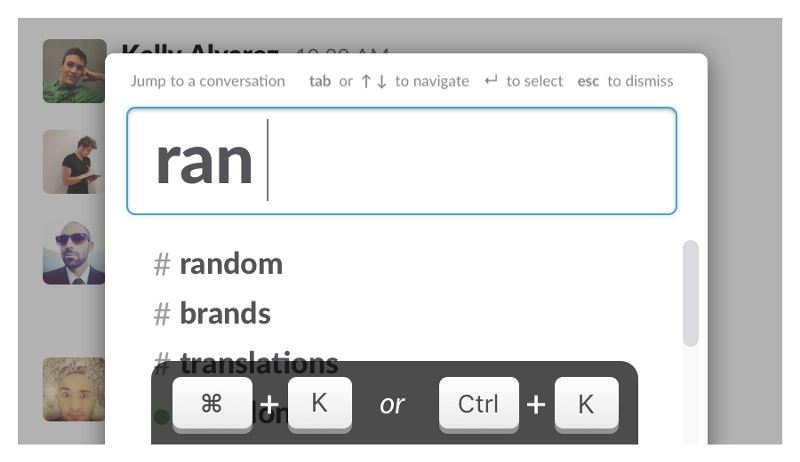 Mobile app bonus: Swipe right in your Slack app to reveal the search box at the top of the left channel pane.
Direct message bonus: Add the shift key to the Quick Switcher keystroke to get a screen of all your recent DMs. Plus, there's a search box at the top to start a new one-on-one or group DM with any team members you type in. Handy as a pocket on a shirt!
3. Search your current conversation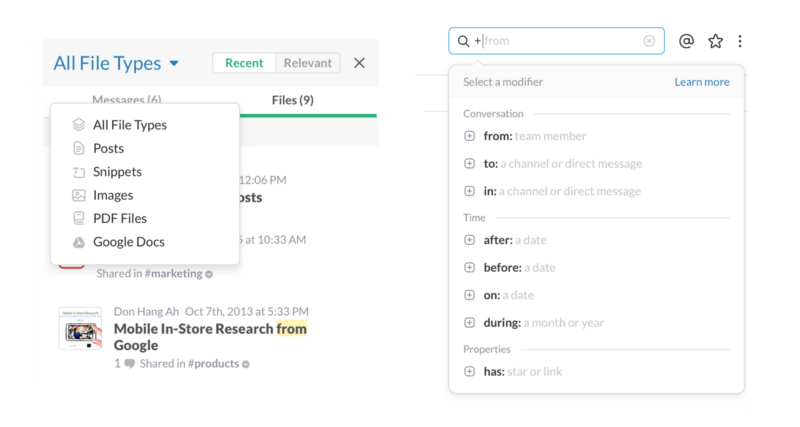 Most people know there's a search box in the upper right of the desktop client, but did you know you can type command + f (control + f on Win/Linux) and have that box pre-populate with whatever channel or direct message you're currently viewing? It's a great shortcut when you're looking for something in a specific place. We devoted an entire article to more search tips, but this keystroke is a great place to start.
4. Edit your previous message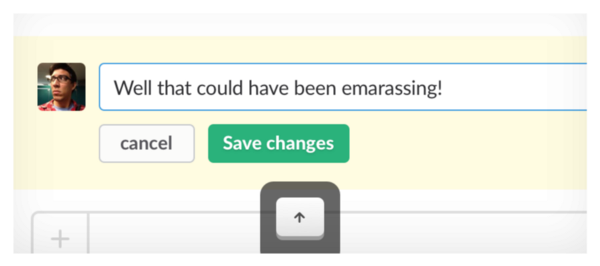 Everyone makes mistakes. If you send a message and realize you've erred, hit ↑ (up arrow) with your cursor in the input box to edit the last message you sent. You're in the clear.
Mobile app bonus: Press and hold any message of yours, choose Edit Message, and fix any typo instantly.
5. Know when to escape
If you're dropping into channels to catch up and want to clear each unread indicator quickly, hit Esc to mark a channel you're currently viewing as read. If you're feeling especially bold, you can even hit Shift + Esc to mark absolutely everything as read at once, without seeing any of it. Tread lightly with that last one, it's powerful stuff.
Bonus: all the rest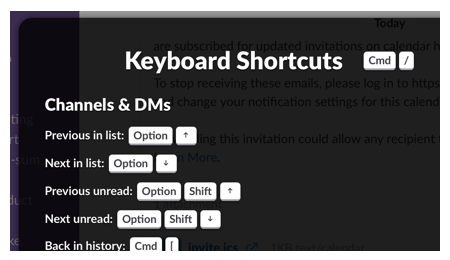 Typing command + / (control + / on Win/Linux) will show you every keyboard shortcut available and what each one does. While the list may seem daunting, try a handful of them out and know it's quite alright to only remember the two or three combos that serve as your biggest time savers.
Matt Haughey recently fell in love with Apple's Notes app, where he jots down everything.