A beginner's guide to your first bot
While Slack already features dozens of hooks into various outside services, many teams have specific needs that could be met by other useful services out…

While Slack already features dozens of hooks into various outside services, many teams have specific needs that could be met by other useful services out there. But if you're not a seasoned programmer, the chasm between configuring an integration on Slack and writing custom bot code is rather vast, and a bit daunting. That's no good.
Most custom bot tutorials are aimed squarely at people who work with code all the time, so if you don't have developers on staff with extra time on their hands your custom needs may not be met. Until now.
David McCreath, a friendly web developer that also happens to be a Customer Service Agent at Slack has written the best introductory guide to explaining how you can build your first custom slash command that we've ever read. His simple bot only requires a single PHP script hosted on your own web hosting account, and allows you to check the current status of web servers by typing a couple words, which then pings outside services and reports back into Slack.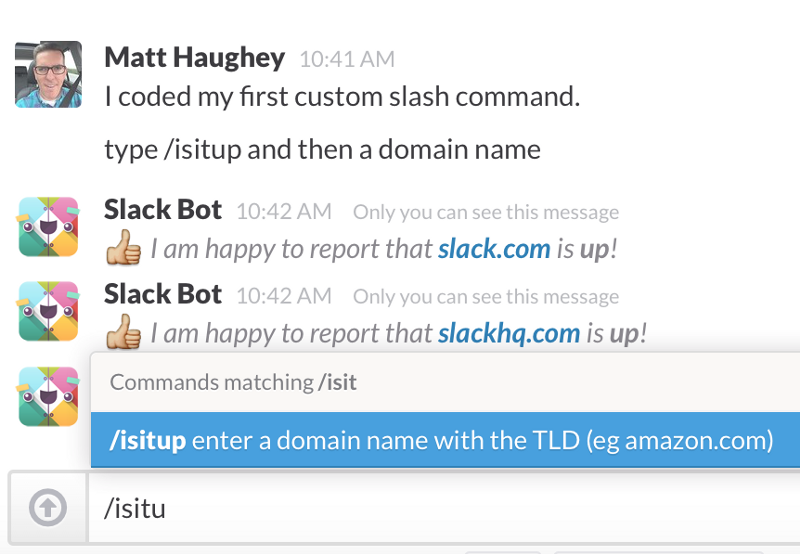 While you can run the script itself with minimal modifications, the great thing is the tutorial explains each major function step by step, hopefully giving you ideas for how you'd modify it for other services that can report information into your Slack team.
Now what?
Once you've conquered your first bot, the possibilities are endless. There are lots of interesting ideas out there adding functionality to Slack. There are bots that report real-time vehicle locations for the trucking industry, a bot that mimics a psychiatrist loaded with hundreds of responses, a custom glossary to track your workplace jargon, air quality reports you can schedule daily posts for each office location, and yes even a bot to let you know when the office toilet is free for use. Get acquainted with the Slack API and start building your own personal robot army today.