Announcing Frontiers, a new conference from Slack
Join us to explore big (but practical) ideas about how teams work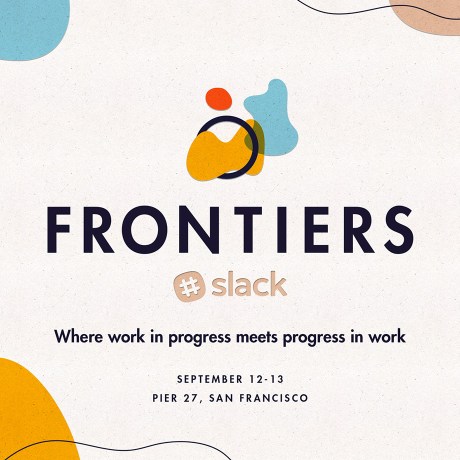 Conversations about the future of work are everywhere, but it's still not exactly clear what that future means for our everyday work. To us, the future is about teamwork, and how continuously improving the ways we work together will be the center of everything we do. That's why we're launching Frontiers — a new conference by Slack that will bring together our community of customers, partners, and developers to explore and define what's next for teams of people working together.
Mark your calendars
When: September 12–13, 2017
Where: Pier 27, San Francisco, CA
Join us for a mix of keynotes, breakout sessions, and interactive experiences that will give you the chance to dive into the many sides of teamwork and glean some ideas to take back to your organization. You'll also be among the first to hear about new product features, and be able to learn more about the partners and developers who are building incredible things on our platform.
We'll be announcing more details about speakers and sessions in the coming weeks. In the meantime, early bird pricing for tickets is now available on the Frontiers website.
Learn more and register for Slack Frontiers at slackfrontiers.com.