Break down silos with a collaborative leadership style
Why Michael Lopp, VP of product engineering at Slack, says it's important to build trust and empower your team by fostering a free exchange of ideas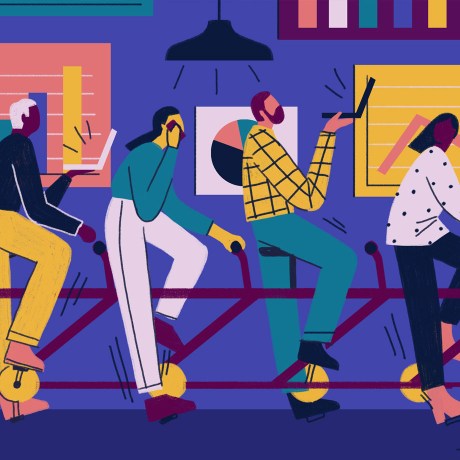 In Slack's recent Future of Work study, 80% of workers said they want to know more about how decisions are made in their organization, while 50% ranked "working where collaboration happens" as their top attribute of an ideal workplace. Essentially, in order to boost transparency, break down silos and foster a free exchange of ideas, you need to cultivate collaboration within your organization.
The best way to do that? By being a champion of a collaborative leadership style.
What is a collaborative leadership style?
A collaborative leadership style recognizes that no single person has all the answers—and for an organization to thrive, it needs to cast a wider, more inclusive leadership net.
"Collaborative leadership is understanding that as the leader, for most big decisions and large pieces of work, you're very often the least informed person," says Michael Lopp, vice president of product engineering at Slack. "You need to figure out how to maximize the amount of information in front of you and make a good decision. Or, not make the decision and give it to someone else on the team because you believe—using your wealth of judgment—that they are better equipped to make the decision."
Ultimately, a collaborative leadership style develops strong relationships among team members and helps to build trust. It gives everyone in your organization—regardless of title, experience level or tenure—the opportunity to feel heard and recognized as a leader within your organization.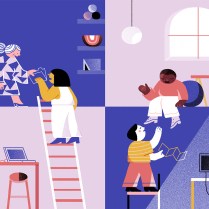 Manage large, complex teams with Slack's Enterprise Grid
Unlimited workspaces give every group a place to organize their work.
Get started
"There's this responsibility for collaborative leaders to read the room. Is there balance in this conversation here? Are all perspectives being heard?"
How to foster a collaborative leadership style at work
A collaborative leadership style also energizes teams by giving people a sense of ownership in their work, creating an environment in which ideas and innovation have the space to grow. It allows ideas to be shared freely—no matter where they may come from. Here are a few ways you can potentially implement a collaborative leadership style within your organization.
1. Recognize that ideas can come from anywhere
"If there are people in your organization who feel they are not free to suggest ideas, you lose," says Pixar co-founder Ed Catmull in his book Creativity, Inc. "Do not discount ideas from unexpected sources. Inspiration can, and does, come from anywhere."
Create an environment where everyone, from the most junior employees all the way up to the executive team, feels free to share their ideas—and feels confident that those ideas will be considered and potentially embraced. This also includes giving a voice to team members who might not immediately feel comfortable sharing their ideas.
"In a staff meeting, you've got to go out of your way to be aware of who's not talking and say, 'Hey, by the way, do you have thoughts on this?' " says Lopp. "There's this responsibility for collaborative leaders to read the room. Is there balance in this conversation here? Are all perspectives being heard?"
Lopp also says collaborative leaders should make the effort to encourage quieter team members to speak their minds because it could lead to real breakthroughs. "Often, you'll find the people who are the quietest are the ones with the most innovative and profound ideas," Lopp explains.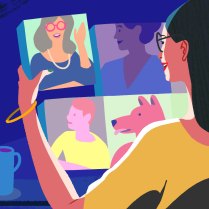 Meet more efficiently with video conferencing
It's easier to see things eye-to-eye when you're face-to-face. Video conferencing helps you share information more efficiently, so work gets done faster.
Get started
2. Be willing to accept (and implement) feedback
Part of being a leader is recognizing areas of improvement—and part of collaborative leadership is allowing your team to recognize those areas of improvement as well.
"Your team should have the ability to challenge, the ability to question, the ability to say, 'Hey, this isn't going right,'" says Deano Roberts, vice president of global workplace and real estate at Slack.
Collaborative leadership relies on executives and managers being able to openly receive feedback from their teams—and then implement that feedback to make their organizations stronger. Employees should also feel that feedback will be rewarded, not punished.
"Anyone should be able to talk to anyone else, at any level, at any time, without fear of reprimand," Catmull writes.
Collaborative leaders also educate their teams on the most effective communication methods they should use when providing feedback or ideas. Then, leaders take that feedback and use it to affect positive change within the organization. This will give teams a sense of ownership in the day-to-day operations of the company. Plus, it will make it much easier to foster collaboration in other areas.
3. Simplify the communication process
Collaboration and communication go hand in hand with high-performing teams. It's ultimately impossible to embrace a collaborative leadership style if communication barriers exist among individuals, teams, management and executives.
In order for collaborative leadership to work, you need to equip your team with empowering communication tools that make it simpler for them to share ideas, work on projects and chime in with feedback on important organizational issues. Also, it's up to you to highlight various communication styles they should utilize when collaborating with different areas of business.
Collaborative leadership is all about building trust
"Trust is not a switch," says Lopp. "Trust takes time to actually earn. You can do all the right things and set good expectations, but the consistency in how you treat your team [and] how you work with your team over months—if not years—is how you create trust."
And if you follow these steps and start making it easier for your individuals and teams to step up as leaders within your company, that trust and collaboration will happen—and your organization will thrive as a result.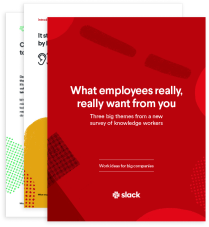 What Employees Want
Communication at work? It's complicated. In this study of knowledge workers, commissioned by Slack, we shed light on how enterprises can help employees collaborate more efficiently.
Learn more