Calls come to Slack
A simple, pleasant way to speak with your team
Typing is great. We love typing. And while there are many fine ways to communicate via typing — messaging in channels, direct messages, and group DMs — today we're officially adding calls to the mix for everyone.
After months of beta testing, all Slack users everywhere can now use our calls feature. Huzzah!
Here's how it works
If you use Slack's Windows or Mac desktop apps, or Slack running in Google Chrome, you'll see a new phone icon in the upper right of the channel header.
On Slack's iOS and Android apps, users can make calls by tapping "Start a call" in the mobile app's channel or DM drop-down menu.
Anyone can make one-on-one calls, while paid teams can also make group calls in any channel or group DM. When someone initiates a call, a message will appear, inviting you to join the call.
Best of all, calling your teammates in Slack saves everyone the fuss of digging through calendar invites for call numbers and dial-in codes and all the rest. That's a bit of worky-work we can probably all let go.

Calls even have an emoji response feature. Clicking one of the pre-selected emoji will display it over your avatar for a moment along with a subtle sound, allowing you to express approval, disapproval, or raise your hand to ask a question — all without interrupting the speaker.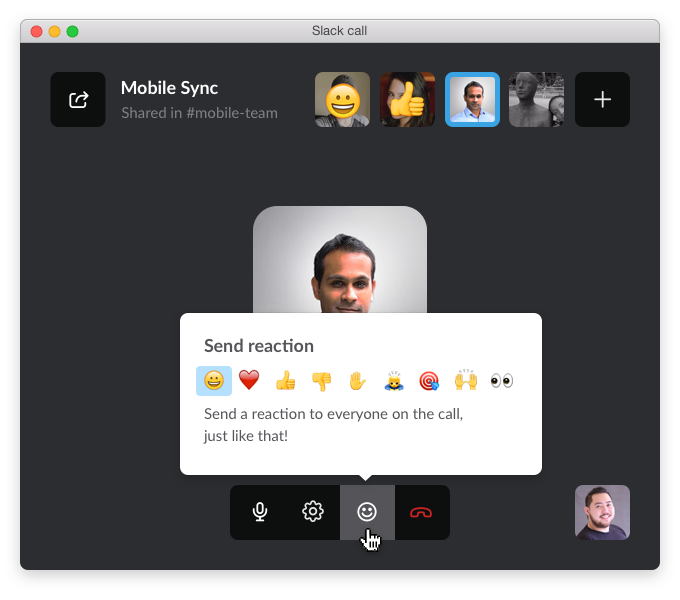 Calls in use
Explaining how and when to use voice calls feels a little like explaining seat belts in an airplane. You've likely used a phone for almost as long as you've been alive, and this is just like that, but in Slack.
Here at Slack, we call each other for things like one-on-ones with people in other offices, quick meetings for everyone in a project channel, and last-minute brainstorms.
We hope our new calls feature makes work simpler for you, too. Give it a whirl and let us know what you think.
Our Help Center article contains additional details of how calls work. Feel free to send feedback or tweet us at @SlackHQ.