Catching up with Graham Linehan
The writer, director, and actor on using Slack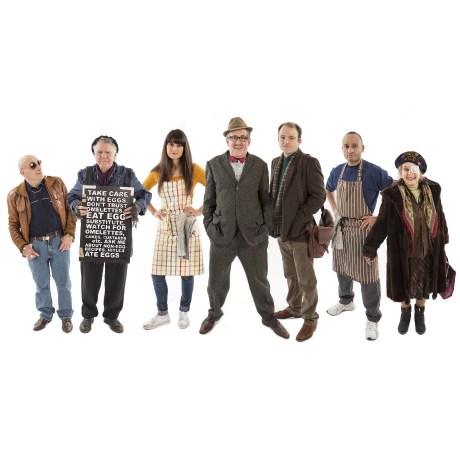 On previous projects, Linehan worked with production staff and collaborators over email, but as research for a story turned into scripts which then turned into casting and finally a full-blown production, keeping track of email between a growing team of various people over a long period of time grew problematic. Linehan called a meeting of technical advisors to see if there was a better solution.
"I need a software package that would let me speak to casting without bothering the wardrobe people" is how Linehan described it to them. After exploring ideas, they all wrote down the names of software they love. One of those pieces of paper had the word "Slack" on it.
"I looked Slack up, and realized it was exactly what I needed," said Linehan.
When Linehan found Slack, he found a piece of software that meshed with how he organizes and tracks projects, and he was hooked.
Currently, Linehan is working on three (very different) TV shows along with his production company, so that gives him four active Slack teams. Each TV show team typically has rooms and team members for the following stages of production:
There are writing channels aplenty: Projects start with a #research channel covering background on the show. Story ideas are posted by Linehan (and sometimes a collaborator) into an #ideas channel. Origin stories around the show go in #worldbuilding. A #characters channel is where backstory along with descriptions, photos, and motivations for actors ends up.
#casting is a channel where casting directors and Graham throw images and descriptions of their ideal actors for the story, and later in the process video auditions can be uploaded and shared with the team for review.
The #locations channel is where location scouts toss up descriptions, costs, and plenty of photographs about anywhere they'd like to film scenes in the future for Graham's review and approval.
A channel dedicated to wardrobe means there's a direct line from Graham to the costume designers buying clothing for the show's actors, where they can discuss ideas and toss up images of possible garments.
There's a channel dedicated to the camera crew where they can exchange feedback and all the logistics necessary to film episodes once the pilot is done and the series is green-lit.
Finally, the default #general channel is used for announcements directed to the entire crew, when big news needs to be quickly shared with everyone regardless of team or location.
The typical lifecycle of Linehan's shows are anywhere from 1.5 to 5 years to take it from idea to public release as a finished series, and Slack is handy at every stage of the process. When he works with a collaborator, he'll invite them into channels set aside for ideas, backstory, and story development early in the process. Specialized crew like costumers and location scouts end up in channels dedicated to their work and lets Graham have an easy and direct way to communicate with specific crew members at exactly the right time he needs them. When anyone is added to the production later in the process, they can simply scroll up to see the history of each channel and how characters and scripts came together.
Linehan says that Slack is even handy when it comes time to film specific scenes. "Say I'm going to shoot a parody of a famous movie scene, I can look it up on YouTube and paste that into Slack ahead of time." On set, he says actors arrive prepared, knowing exactly what he intends to shoot.
So there you go. Whether in a British TV production unit or the American Office, it just works. Because it's all about helping a team work together well, and that's what we love to hear.
---
We'd also love to hear how your team uses Slack — send your story to us at stories@slack.com today.