Channel Information: New, Improved and Shinier
Have you ever wished there was more information about the channel you're in, right at your finger tips? OK. Reload. It is true! Previously, there was…
Have you ever wished there was more information about the channel you're in, right at your finger tips? OK. Reload. It is true!
Previously, there was a single little button you could click to see how many people were in the channel. Now? Now you can still see that, and a whole lot more besides: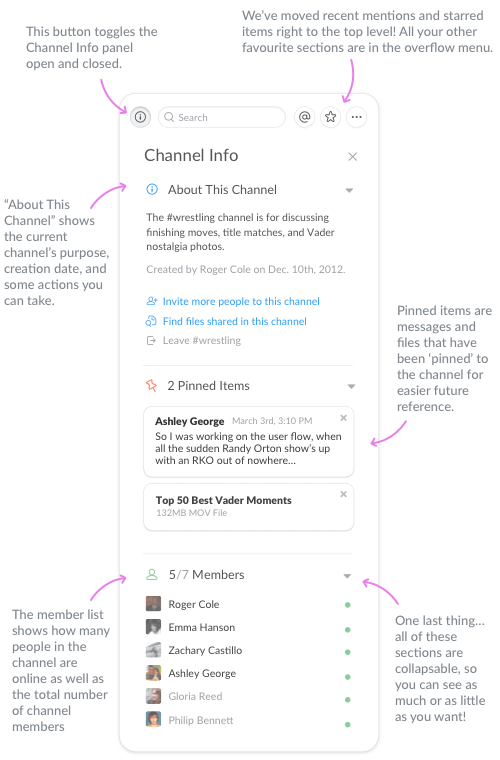 Suddenly, more information is surfaced about the channel you're in. Want to see which of the people in the channel are currently online? You can! Wondering which of those might be restricted users? It's far more obvious now! Need to pin a file or a message to the channel so people can access it quickly and easily? No problem! You can pin multiple things! Just click the cog next to a message or file (or long hold on mobile) to pin it to the channel.
In addition, the channel's purpose, once hidden behind a set of clicks, is now front and center. Now everyone knows what the channel was created to achieve, and can keep things focussed accordingly. It's easier to invite people, to leave, and finding files is a snap.
Plus: we've rejigged the top navigation, so your starred items and recent mentions are even easier to find, and everything else is just one click away.
We hope you like it. We've been finding it very useful.