Designing and formatting messages in Slack
Tips to make messages stand out and be easily scanned
Good design brings clarity to conversations. Though a lot of what people type in Slack is straight text, there are formatting options that let you adjust text emphasis and hierarchy (along with a few emoji) to help convey as much information as possible, efficiently.

Thoughtfully laid-out messages don't have to be your focus on every interaction on Slack, but they can be extremely helpful in specific contexts like announcements or summaries, in-channel meetings, and posting requests for others.
The basics
Slack uses some easy formatting shortcuts that appear as tips when you type out new messages. Options like bold, italics, strikethrough, and blockquotes help give messages the right emphasis, make it clear that information has been updated, and highlight key excerpts.
Aside from those formatting options, bullet points ("•" made with option-8 on Mac, alt-7 on most Windows machines, and on extended keyboards on mobile) and emoji are great for breaking up big blocks of text and adding some illustrative detail. Combine these with shift-enter to add line breaks when necessary in longer messages.
Here are some examples of how you can use these formatting features to communicate more clearly and concisely in Slack.
Easy standups
For small teams in any organization, it's useful to have a public channel where a group can talk about their work and post a daily standup meeting. It's a great way to keep everyone informed, even across the larger company.
Slack's Editorial team uses the command /remind #team-editorial at 9:45am every weekday Hey @editorial-team What's on today? to prompt us every morning for updates on our current projects. Using simple bullet points, the result is a clean, scannable list a manager can review quickly.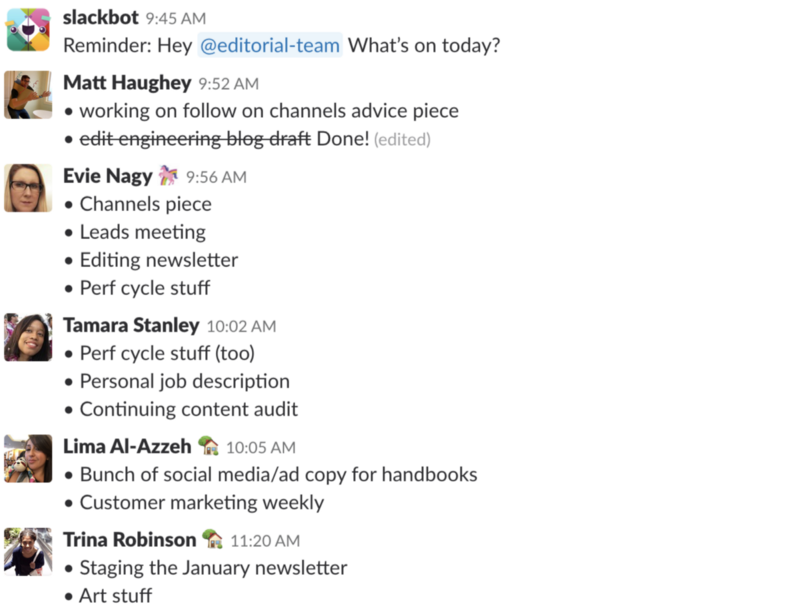 Sometimes, we replace bullets with emoji to indicate current project status. Below, the first project is complete, while the rest in progress. A blue dot signifies it's nearing completion, the white dot means it's still being worked on, and a red dot is used whenever a project is blocked or needs additional resources to move forward.

Announcements
Company-wide announcement posts are another place where subtle design cues can make your messages both more informative and easier to read.
Every Monday, our internal communications team posts to our default organization-wide channel highlighting notable things happening that week. It's loaded with information and uses a combination of emoji and bolded titles to break up a wall of text into digestible chunks of information akin to a newspaper.
In our company-wide #sales channel, the sales team celebrates every major contract with a summary of data, including deal size, company details, shout-outs to employees who helped, and lessons from the process. It's easy for anyone in the company to scan the feed of new sales and get a handle on the team's output.
Request and proposal channels
At Slack, we have channels for fielding requests, like #help-pr, where you can ask our public relations team for help when, say, someone wants to interview you for a magazine piece about the company. A similar kind of channel is #features, where anyone in the company is encouraged to post new app ideas for the software development team to consider.
For the teams in charge of these channels, it's key that they can review posts quickly and easily, so we created a template for each one (which gets pinned) and ask anyone posting a new message to follow the request template.
Using templates turns these channels into easily scannable feeds, where people can quickly catch up on the ideas posted each day. Anyone can jump into threads for each message to discuss problems, ask for additional information, and make plans to implement solutions.
Putting it all together
The next time you have more than a line of information to share, try out a few :heavy_check_mark: *formatting ideas* to make it more scannable. For certain types of messages and channels, formatting can be a clear and courteous way to share information easily with your colleagues.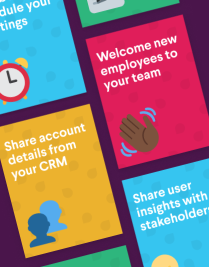 Start working smarter with Slack Tips
Step-by-step guides to help you work better as a team and get more out of Slack—no matter what work you do.
Get tips