Expanding the mobile possibilities in Slack
Tips for doing more when you're not at your desk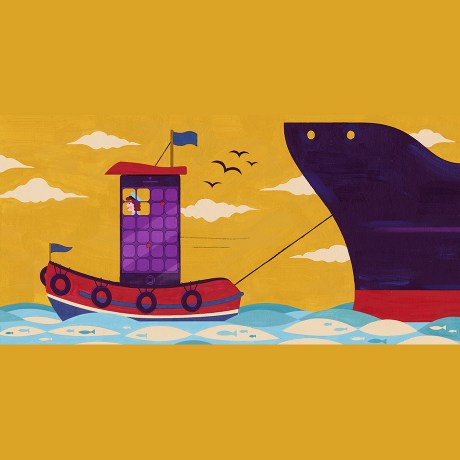 With mini-computers in our pockets, on our wrists, and someday even in our brains, being "at work" can mean you're walking to a meeting, riding the subway, or waiting in line to register for a conference. Most of us can't imagine living without the convenience and flexibility afforded by mobile devices — but let's face it, it's pretty hard to do much real work beyond passively consuming updates on your phone's small screen.
We're trying to make that a bit easier for you. Slack's mobile apps for iOS and Android are filled with features to help you contribute as well as catch up on work while you're on the go. Let's have a look at some of them now.
Show don't tell
Need to share a photo with your team to make progress on a design, prototype, or event venue selection? Grabbing an image off your photo roll is as easy as tapping the image stack icon — and if you'd like to take a photo and share directly to Slack, tap the camera icon just above it.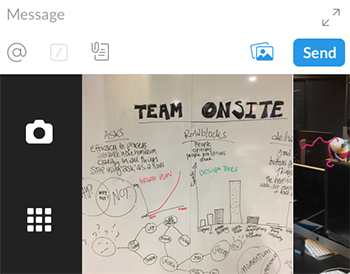 Calling out your team
Alerting your colleagues individually or in groups is handy when you're away from your desk, especially for redirecting requests.
Now there's a shortcut: tap the @ icon, type a few characters, and you'll have a list of matching people and groups you can notify to take another look at a revision, change a calendar appointment, or ask if they'd like you to order them something for lunch.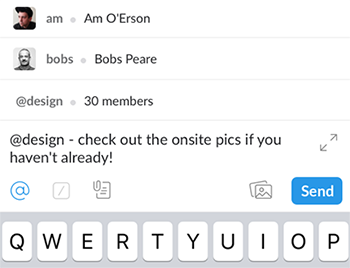 At your command
Slash commands allow you to run powerful apps, but you have to get the formatting just right. Luckily, the new slash button not only begins a command, but gives you a list of popular functions. As you type, Slack will autocomplete and show additional hints and options for their operation.
Slash commands on the go are convenient — you can look up a client's details with /salesforce Acme corp, use /remind to prompt you to update Monday's meeting agenda, and prevent interruptions while you're out of the office with a quick /dnd 2 hours.
Files from the great beyond
Say you just left a meeting where you drafted a new project outline in Google Docs. Tapping the files tab gives you a list of recently shared files of any type, ready to post into other conversations. What's great is this includes files you don't necessarily have on your mobile device, along with the ability to upload new ones either from your phone or a cloud storage provider.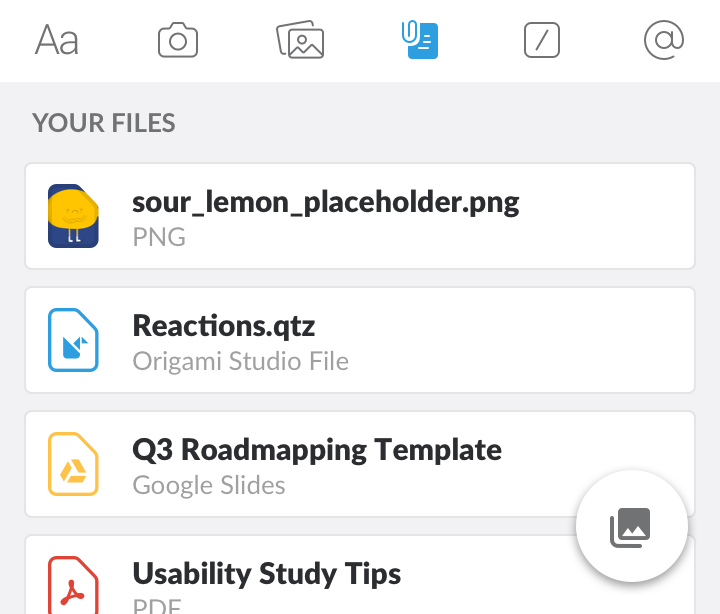 Your mobile is still a phone
Don't forget Slack's iOS and Android apps allow you to start and join Slack calls right from your device. If your team needs to sync while you're delayed by unforeseen circumstances, you can jump on a call to keep everyone in the loop.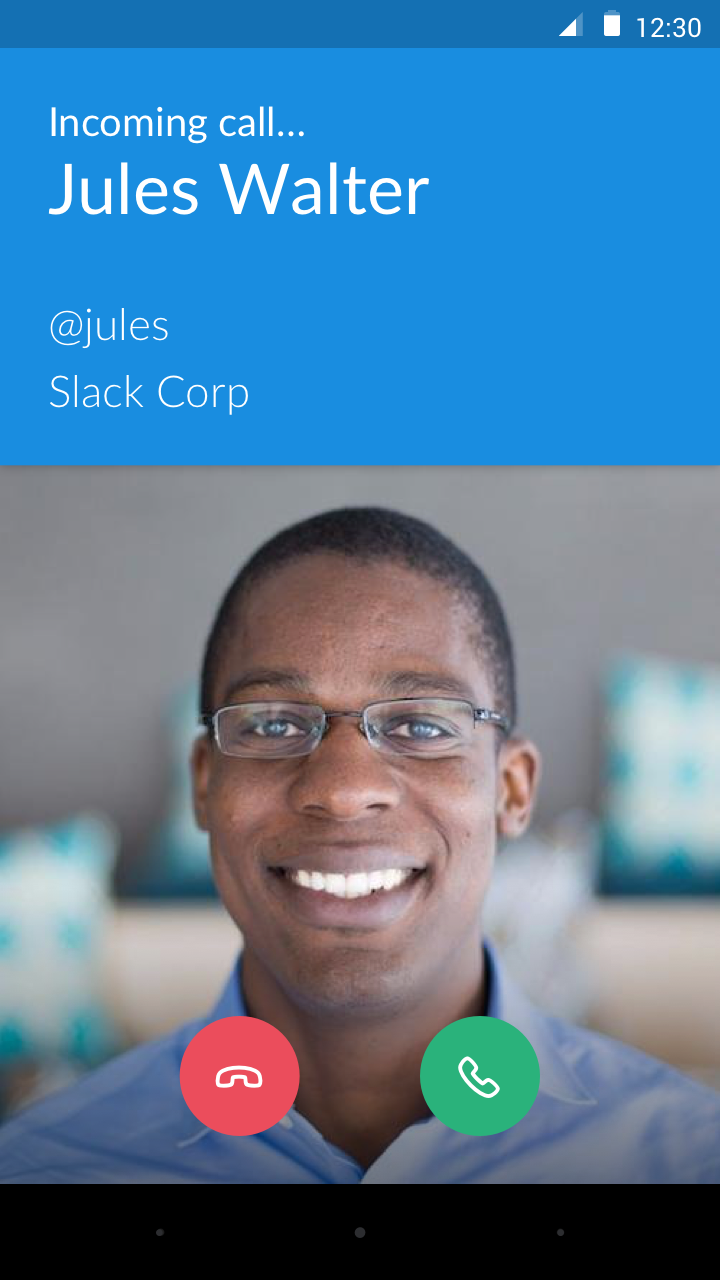 Stay connected
If you swipe left on a channel, you can set your status in just a couple taps to let others know you're away from your desk temporarily. The Activity tab in that same menu includes mentions and reactions you've recently received.
At the top of your channel list you'll find All Threads, which informs you of any new replies. If you happen to see an important message, but prefer to wait until you're back at your desk to respond, long-press any message to mark it as unread.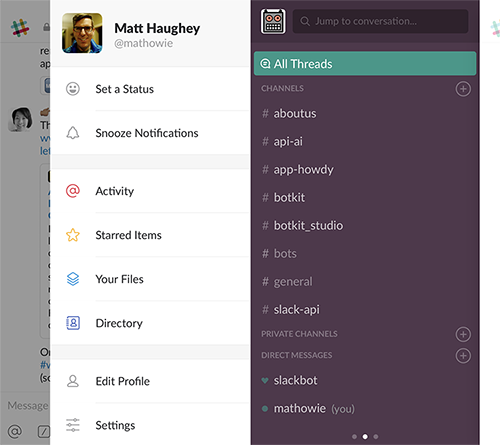 Work — like life — is unpredictable. You never know where or when you might need to share information with your team, but rest assured you can do it easily with Slack's mobile apps, wherever you may be.
Matt Haughey likes sending mobile photos of barely decipherable napkin sketches to his Slack team.