Finding the humility in higher callings
An unlikely hospital chaplain takes a hands-on approach to working with purpose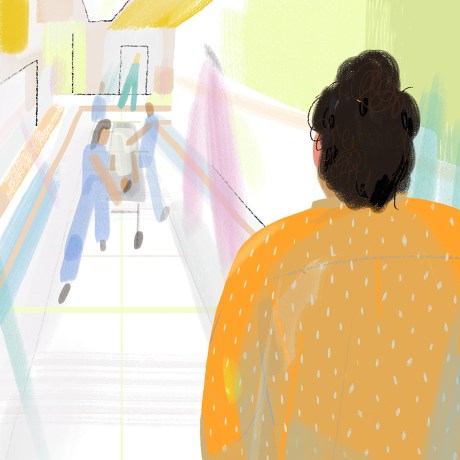 An extended audio version of this story can be heard on Episode 7of Work in Progress, Slack's podcast about the meaning and identity we find in work.
As a self-described "Jewish, frizzy-haired Arab," Arianne Shaffer certainly doesn't fit the hospital chaplain stereotype. On her rounds on the intensive care floor, patients would "get confused because I don't look like a Christian male priest," she explains. Her colorful clothing and accessories only made her stick out more. "The only people who aren't in uniform in a hospital are social workers and chaplains," she notes, "so you really stand out."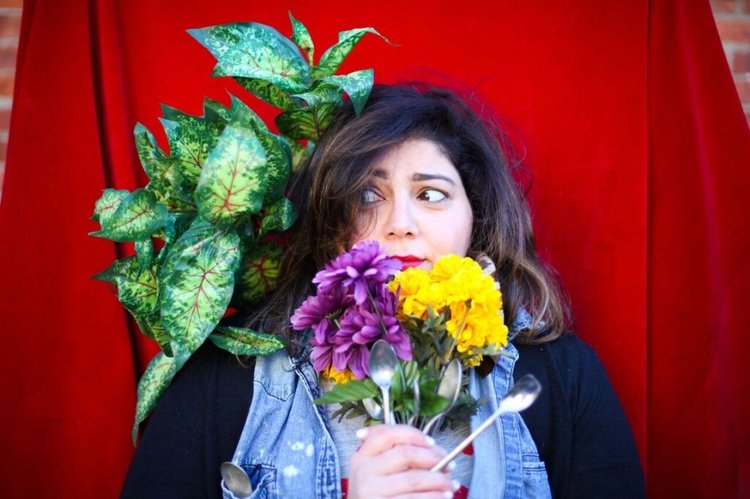 But cultural background and physical attributes don't have anything to do with the psychosocial demands of spiritual caretaking. In the most practical sense, spiritual care is about the basics of human-to-human contact and connection. "The chaplain is there to serve patients of any and all faiths or no faith affiliation at all," Shaffer explains. "You walk around and you offer to spend time with people. That's what the job of a chaplain is."
Shaffer's dad was a doctor and a coroner, so she had grown up feeling comfortable in hospitals. "They're magical," she says. "I like the space of them, and I'm very interested in ceremony."
In her 20s, Shaffer noticed she was the type of person with whom strangers felt immediately comfortable. "It's awesome to [receive] people's intimacy, but it's not always something I wanted when I didn't have control," she explains. Being a chaplain was a productive way to channel that phenomenon.
Early on, she learned that, unlike the academic foundation and religious studies required for her work, chaplaincy training is entirely hands on. "You arrive for your first day at the chaplaincy college in the hospital, and they assign you your floor, and then you go chaplaining," she laughs.
"Sometimes the emotional and spiritual intimacy overload came from me not having the skills to know how to separate it out," she says.
But the work also ended up teaching Shaffer about her strengths and values, and where one's self and profession meet and diverge.
Shaffer would receive so much from her patients that sometimes, it would be difficult to clear her head after a shift ended.
"Sometimes the emotional and spiritual intimacy overload came from me not having the skills to know how to separate it out," she says.
At first, she struggled with that separation, noting, "I dreamt about my patients a lot."
For as much as Shaffer's patients occupied her thoughts, thinking critically about their care taught her about the nuances of caretaking — and of even more practical aspects of her work than holding space with the healed and the increasingly ill, like adding notes to a medical chart when a patient shared how they felt physically. "There was a lot of that advocacy that happened because I was in the privileged position of being able to spend time with a patient. I loved that part," she says.
One memorable night, she was called in to pray with the family of a patient who had passed away. The only complication in offering support to the patient's French Catholic family? Shaffer wasn't Catholic. And she barely spoke French.
As she so often learned in these moments, those details didn't matter. "They thought they needed the Lord's Prayer, in French, said by a chaplain. They didn't [care] that I had never done this, that I didn't speak French well, that I wasn't Catholic. None of that mattered to them at all," she remembers with awe. "They needed somebody to come whose job it was to hold the space; that's it. That, to me, was miraculous."
It was through those experiences — of learning to separate her personal life from her patients' needs, or of struggling through a prayer in another language — that she gained confidence and strength that continue to influence her life and work.
"The meaning was in the moments of work, not the title."
Work in Progress story produced by Dan Misener.