Following in the family footsteps
Tradition and progress at New York institution Russ & Daughters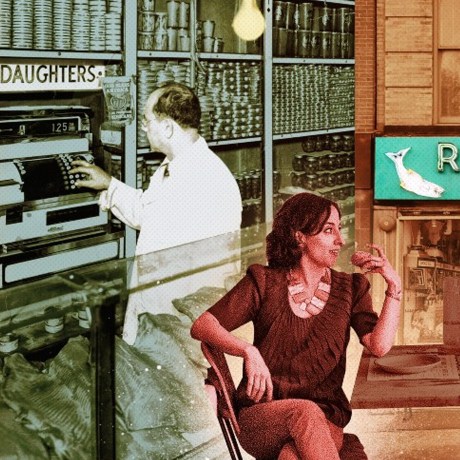 An extended audio version of this story can be heard on Episode 5 of Work in Progress, Slack's new podcast about the meaning and identity we find in work.
A hundred years ago, before there was a bank and drug store on every Manhattan street corner, Jewish delis and appetizing stores were commonplace. Delis sold things like knishes and sliced meats. Appetizing stores specialized in bagels, spreads, and smoked fish.
It was in this cityscape that Joel Russ opened his appetizing store in 1914. He would eventually call it Russ & Daughters, after his three female heirs. His daughters and their husbands ran the business until 1978, when one of Joel's grandsons took over. In 2009, the business was passed to the fourth generation.
Today, the store is co-owned by cousins Josh Russ Tupper and Niki Russ Federman, and is one of the few appetizing stores left in New York City. The younger generation that runs it now didn't plan to carry on the family business — Josh and Niki had very different aspirations. But eventually they seized the opportunity to carry on the family tradition while moving the business forward in a modern world.
A winding road home
Niki Russ Federman's parents ran Russ & Daughters, and some of her earliest memories are of the store. When Niki was four, delivery men would arrive wheeling giant sacks of onions and potatoes; she would climb on top of the sacks, sit down, and direct the men into the kitchen.
Even though the business is named "and Daughters," Niki didn't consider following in her father's footsteps until years later. "Working in a smoked fish business, working at a counter, was not the typical trajectory for an Amherst College grad," she says.
"For many years, I felt like if I ended up doing what my parents and grandparents and great-grandparents did, somehow I failed," she says.
After getting a liberal arts degree, Niki worked at an art museum, a nonprofit focused on hunger relief, and in alternative health before she enrolled in business school. But it soon became clear to her that she didn't want to work for a bank or be a consultant or do the usual things one does with an MBA.
Niki realized that she was passionate about Russ & Daughters and needed to focus less on societal pressure and more on what she really wanted.
"For many years, I felt like if I ended up doing what my parents and grandparents and great-grandparents did, somehow I failed," she says.
But eventually, she realized "it's actually a tremendous rarity and gift to be part of a legacy like this."
Choosing connection
Josh Russ Tupper was raised at an ashram outside the city. But a few times a year, his mother would take him to visit his grandparents and they'd stop by Russ & Daughters, and young Josh would be greeted by the comforting smell of fresh smoked fish.
When he was 26 and working as a semiconductor engineer in the Pacific Northwest, Josh began to question his path.
"What I was doing was very cerebral and very interesting in my mind," he recalls. "But there was a part of me that wanted to connect to people. I wasn't getting any of that from my work."
At the same time, Josh began to reflect on his family history and learned that his uncle Mark — who himself had made a late decision to take over the store after a long career as an attorney — was considering selling the business.
"I felt very strongly that this family business should not leave the family," he says.
A 102-year-old "start-up"
With fresh eyes and experience earned in different industries, Niki and Josh assumed ownership of the century-old institution in 2009. Upon taking the helm, they realized they could approach the business almost as if it were a "start-up," using their new ideas to move it forward.
Everywhere they looked there were things they could update and make more efficient, from moving handwritten orders to a computerized sales system, to a website redesign, to a new heating and cooling system. But the cousins knew most of the changes they made would need to be invisible to their customers.
"The fundamental experience that people have in the store has to stay the same," says Niki.
People often stop by the shop after decades away, breathe in the smell, and express how grateful they are that the place is still feels the same.
"That is hard to come by, especially in a place like New York, where buildings come down and go up and you don't remember from one day to the next what was there before," says Niki. "This is an anchor of 102 years of living personal history for so many people."
Work in Progress story produced by Mio Adilman.
Emily Brady breaks for chocolate babka.