Forge robust partner relationships in shared channels
How DocuSign, Clause, Assembled and others use Slack to foster speedy communication and fruitful collaboration with partner organizations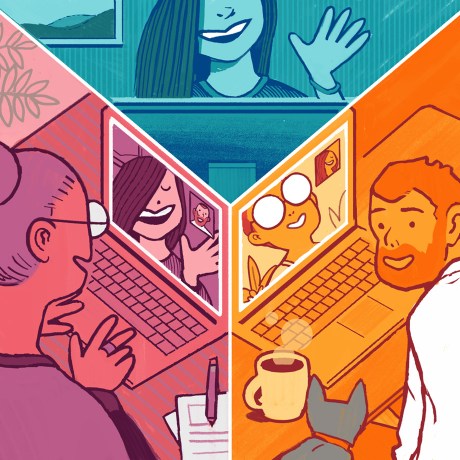 Nearly half of the 16 million U.S. knowledge workers who have become full-time telecommuters since the coronavirus pandemic began say working from home has shaken their sense of community, according to our report on remote work in the age of Covid-19. Yet, experienced remote workers also say connectedness can improve over time with the right collaboration tools.
Enter Slack shared channels, a feature that connects independent organizations in the same Slack workspace. It helps improve relationships and foster camaraderie with external partners. Here's how the following innovative organizations are using Slack shared channels to forge strong connections and build ace products.
"Shared channels provide the flexibility and agility we need to keep projects moving at a fast pace for our customers."

Jan Joubert

CEO of Rainmaker Solutions
HotChillee and Rainmaker Solutions
Helping an in-person events company pivot to an all-remote business
Each year, HotChillee, a London-based cycling club and events company, organizes multiday trips for avid cyclists. Routes cut through places like the Atlas Mountains in Northern Africa, South Africa's Western Cape and the French Alps. Trips emphasize the connection with the natural world and the international cycling community.
As Covid-19 became a global pandemic, HotChillee could no longer offer the same in-person events for the cycling community and needed to quickly pivot toward new opportunities for members to connect. Rainmaker Solutions, a London-based consulting firm that specializes in digital transformations, supported HotChillee's efforts in the shared channel #ext-rainmaker-hotchillee.
These two organizations have been working together in shared channels since 2019, when Rainmaker guided HotChillee through a digital transformation and a wall-to-wall internal technology upgrade. So it only made sense for Rainmaker to help HotChillee create an all-remote social club for cycling members.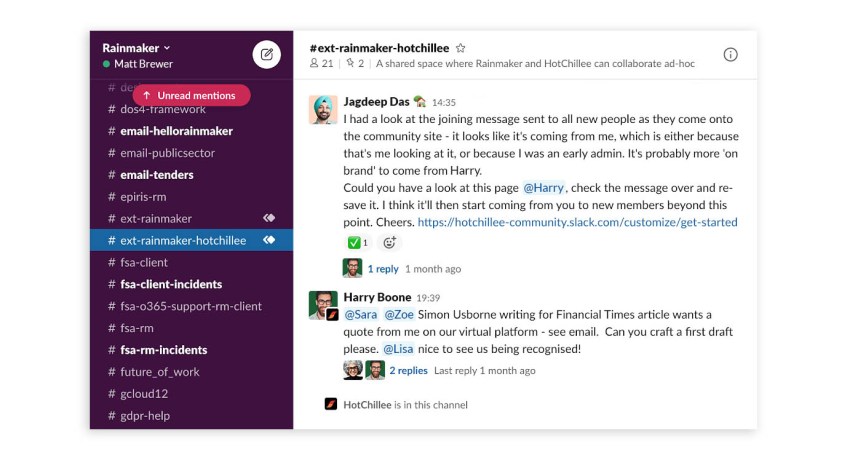 "All of our communications with HotChillee occur in our shared channel, it acts as a hub for general collaboration" says Jan Joubert, CEO of Rainmaker Solutions. "We can share ideas and plans for HotChillee's new virtual community, test new integrations, set reminders for key meetings and pin key items in channels. Shared channels provide the flexibility and agility we need to keep projects moving at a fast pace for our customers."
Rainmaker and HotChille set up a virtual member platform in Slack. Members can join the workspace to attend online classes for cycling, yoga and Pilates, as well as well-being and mindfulness courses and events.
"Rainmaker recently helped transform the way we work: Not only had we adopted tools such as Slack and G Suite prior to Covid-19, but we were able to use them to effectively meet our changing needs," says Sven Thiele, the CEO of HotChillee. "Having the ability to keep our cycling club members active and connected has been absolutely invaluable."
DocuSign and Clause
Bringing product developers from different organizations together
DocuSign is committed to building new features to help customers create and manage contracts remotely. That's why DocuSign integrated Clause, a product that seamlessly connects DocuSign contracts with an organization's tech stack, turning static signed agreements into living documents that are easy to update as needed.
"DocuSign has integrated with our API," explains Dan Selman, the chief technology officer of Clause. "Now, you can make your DocuSign envelopes 'smart' by connecting them with Clause. This means that Clause and DocuSign's engineering teams have to work together because we're calling their API and vice versa."
DocuSign and Clause's development teams fine-tune these integrations in their Slack shared channel. In the channel titled #ext-clause-docusign, they connect their sales specialists and solutions engineers to discuss scope and feasibility, and to spin up demos. With the Zoom integration for Slack, team members from either organization can also quickly start a video chat in their shared channel.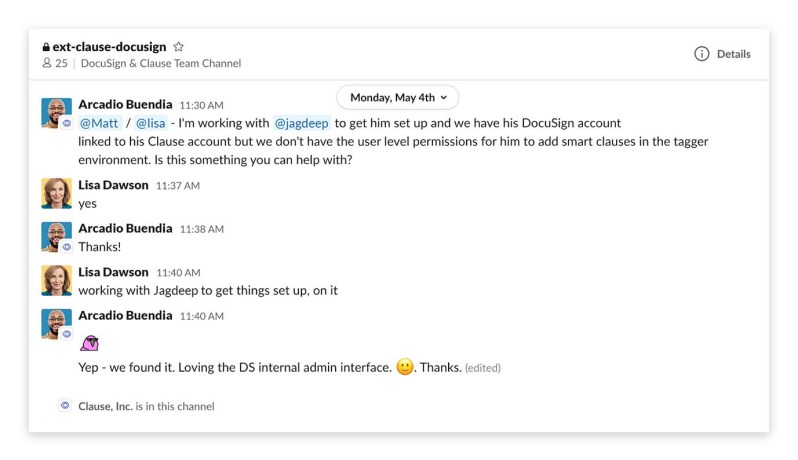 "A lot of our conversations are triage-specific," says Drew Ashlock, the lead product manager for DocuSign. "When our teams communicate, our engineers ask questions like, 'Can I get some help with this?,' or 'Can I get your eyes on this?' Sales team members might ask, 'Hey, I have a customer who has this use case. Do you think that this integration would support it?' "
Having these fluid conversations in the same Slack channel allows teammates from both DocuSign and Clause to respond to customer requests and develop product solutions together—as if they were part of the same organization.
"I can't imagine not having Slack shared channels," says Ashlock. "There's no way email would work, especially because this collaboration has been so development heavy."
"With shared channels, we can speed up the development process and avoid meetings on topics that we can quickly address in Slack."

Drew Ashlock

Lead product manager for DocuSign
Assembled
Nurturing collaborative and effective customer relationships
Assembled is a software platform that can turbo-charge an organization's customer support operations. With automated forecasting, scheduling and real-time monitoring, Assembled helps customer support teams anticipate incoming volume and optimize staffing accordingly.
"We see ourselves as an extension of our customers' team," says Jen Ong Vaughan, an Assembled business leader. "Working with our customers in Slack shared channels helps reduce any friction."
Assembled works with customers in shared channels at every stage of the journey, from the first sales discussions to ongoing daily support.
"With Slack shared channels, we've never had to fly to see a customer or go to their office to close a deal."

Jen Ong Vaughan

Assembled business leader
Discovery with prospective customers
Assembled sets up a shared channel with all potential customers during the trial period. These channel names follow the same format: #assembled-customer-name. For example, Assembled works with its customer, The Farmer's Dog in #assembled-farmers-dog.
Shared channels make it easy for the Assembled team to share demos and for prospective customers to ask questions as they arise in real-time. Assembled can also develop immediate rapport with customers, creating an environment where customers immediately feel like they're an extension of their team.
"Even before Covid-19, a lot of our sales demos happened over Zoom and still are using Zoom and Slack," says Vaughan. "I feel like these tools have future-proofed our go-to-market approach."
Onboarding customers
Once customers decide to opt in to Assembled after their trial period ends, they're onboarded in the same shared channel already in use. Assembled's customer success teams share checklists and demos, and answer questions to set customers up for success from the get-go.
Because the support team and engineers have access to customers' shared channels, they're able to gain insight into their needs and help out more quickly and efficiently.
Ongoing relationship building
Customers can easily ask questions and give product feedback in their shared channel along with new feature suggestions and potential use cases. The full Assembled team has visibility into feedback and can triage to ensure that the right people see it.
Whether its engineers from separate organizations developing a shared API, a consulting agency working with clients, or a startup building relationships with customers, shared channels expands collaboration and what it means to work on the same team.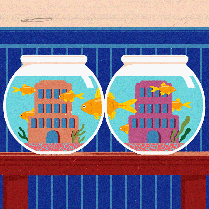 Start a shared channel
Ready to make your partners, customers and vendors part of the team? All you have to do is create a shared channel in Slack. Fortunately, clicking here will get you there a little quicker.
Start shared channel