Get ready: Spec, our conference for builders, is almost here
What to expect at our May 22 developer event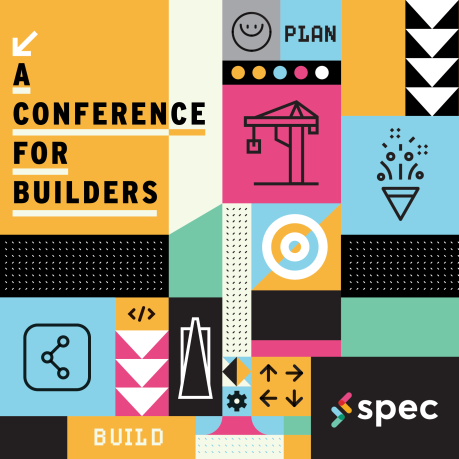 There's lots to cover, so we'll be hosting two tracks featuring a variety of keynote talks, fireside chats, and practical tips about developing for Slack's platform. Many of these sessions will be presented by our own experienced flock of folks here at Slack, but you'll also get to hear from experts at Workday, Hubspot, Zendesk, Asana, GitHub and Twilio.
And yes, you can plan on hearing about new product announcements from our Chief Product Officer April Underwood, alongside other leaders and partners. Over the course of the day, they'll be introducing new and expanded capabilities for building on Slack's platform and demonstrating how you can work with these features to bring more of your organization's work into Slack.
What's on the agenda
Sessions at Spec are split into two concurrent tracks. One is called Build, where we'll roll up our sleeves and dive into practical applications (i.e. the code) with technical demos and tutorials. The second track is dubbed Plan, where we'll explore the deeper "why" behind the tools you're building, offering insights into user research, approaches to design and UX, and best practices for ensuring security and enterprise readiness.
With 16 sessions, a keynote introduction, and a closing talk, it's going to be a day chock-full of learning. Here's a look at some of the sessions we have planned:
Setting The Foundations: The Future of Workspace Apps
Learn about workspace apps and how they offer a more dependable experience for customers and developers alike. See what's to come for this new way of building and distributing Slack apps, and hear about GitHub's experience as the first workspace app in the Slack App Directory.
Tips and Tools for Awesome Slack Apps
Discover the hidden gems of Slack's first-party developer toolset. From the Message Builder that allows you to rapidly prototype app UX, to honing interactive messages with Slack's SDKs, to creating testing scenarios with Steno, and more, this live demo will help jumpstart your development.
Getting to Know You: Building Products For Specific Roles
If you don't have a robust design or research team, how can you deeply understand your user's needs? Hear from Asana, Zendesk, and Hubspot on how they build for specific personas through user journeys, testing, and research–then decide how to bring this product functionality into Slack.
But, wait, there's more
Spec is currently sold out! But, we've made sure you can still follow all the action. Watch selected talks online. The conference kicks off around 9:30 a.m. PST on May 22, 2018.
We can't wait to share everything we've got planned with you, and hear all about everything you've learned at Spec.