Get the party started
5 apps to help plan your team's perfect end-of-year celebration 2017 is almost in the books, and the festive season is kicking up. However your team…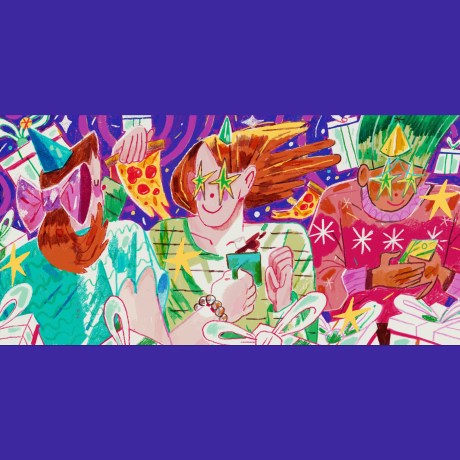 5 apps to help plan your team's perfect end-of-year celebration
2017 is almost in the books, and the festive season is kicking up. However your team prefers to celebrate this year's wins and hard work — whether over a casual lunchtime hangout, belting out karaoke renditions of your favorite '90s hits, or embarking on a day of adventure — planning your team get-together doesn't have to include a lot of extra busywork or guesswork on your part.
We put together a collection of apps from the Slack App Directory that can help you easily coordinate everything from picking a party theme to creating a shared playlist. And since these apps work in Slack, where your team is already working, it's easy to get their input along the way and involve everyone in the fun.
Here are a few apps that can help your team plan a festive gathering in no time.
🍪 Run a poll to pick a party theme
Ugly sweater contest or cookie bake off? Run a simple poll in Slack with the Polly app to pick a party theme or activity. If someone has a great idea that wasn't on the list, they can add their own custom response for others to vote on. Run another poll when the event rolls around to pick the most horrendous knitwear or the sweetest treats and watch the results update in real time.
🎁 Get into the spirit of giving
For teams that enjoy exchanging gifts, skip pulling names out of a hat and use the Secret Santa app to randomly assign coworkers to one another via DM. If your teammates prefer to give the gift of time, try Donut — an app that introduces people to each other and encourages them to meet over coffee, lunch, or better yet, actual donuts. And if donating to a cause is more your thing, you can borrow this clever idea from the REA team in Melbourne and design your own custom bot to collect donations for a worthy cause.
🎵 Curate a shared playlist
The right tunes can make a party, well, a party! With the Jukebot app, your coworkers can use a simple slash command like /add Jingle Bells to add their favorite tracks to a collaborative Spotify playlist.
🍕 Place a group order
For vegans and carnivores alike, group ordering is made easy with the Domino's app so there's something for everyone. Install the app, then start a group order in any Slack channel by mentioning @dominos. From there your teammates can add their preferred pizza (or even salad) to the order. Checkout and track delivery status all from Slack.
👋 Hail a ride home
When the festivities wrap up, you can get a cost estimate, estimated time of arrival, or order a ride home with the Lyft app so you get home safe and sound.
For more party planning magic, check out this special category in the Slack App Directory.
Warm wishes from the team at Slack.