Hear stories of perseverance, trauma, and matters of the heart
Slack's Editorial team spends a day learning from immigrant students and their heroes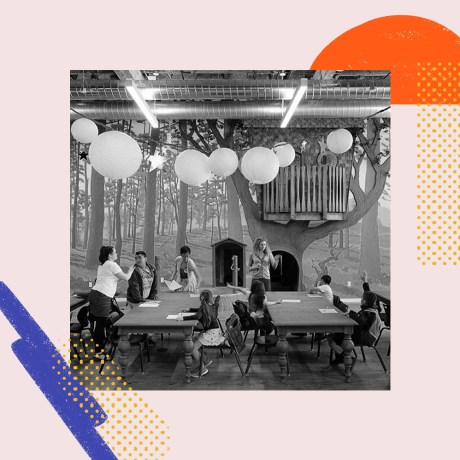 I asked Gabriela — a 16-year-old sophomore at a San Francisco Bay Area high school and recent immigrant from El Salvador — what she does for fun.
She asked me to repeat the question. Twice.
No time for fun, she explained. Every day after school and on most weekends, Gabriela heads to work at a bodega in San Francisco's Mission district.
On top of spending two hours a day commuting on BART to and from the Fruitvale neighborhood of Oakland, where she lives with her older brother (whom she profiles in this two-minute podcast), she's on the hunt for a higher-paying restaurant job so she can send more money home to her parents.
I met Gabriela — and a couple dozen other students who'd recently immigrated to the U.S. from Central America, the Middle East, and Asia — during a recent volunteer day with 826 Valencia, a San Francisco-based nonprofit cofounded in 2002 by author Dave Eggers. The organization's mission is to support under-resourced students in developing their writing skills.
No stranger to the podcasting medium, Slack's Editorial team helped staff a podcasting workshop as part of a companywide VTO (volunteer time off) program, which allows employees two days per year to volunteer with an organization or charity of their choice.
The workshop took place at 826's new Tenderloin Center, where we spent the day with 27 high school students writing, editing, and recording audio profiles of people they admire.
Most students chose family members as their subjects. Gabriela's classmate Kevin also recently immigrated from El Salvador. In his story, he details how his parents came first — 12 years before he would make the same harrowing journey.
"In 2003, when she crossed the border between Mexico and the U.S.A. in the desert, she was robbed," Kevin recounts about his mother. "Robbers stole their shoes, water, and food" before dividing their group into separate groups — one for men, the other women. "The women thought they would be violated, but then the robbers let them go."
In "Be Who You Are: Advice from my Father," Gina, a self-identified introvert, finds comfort in knowing that her quiet personality originates in her dad, whom she talks to regularly but rarely sees in person. Gina reflects: "My dad is a shy and quiet person, and I'm just like him. Now I know because of what he said that it's OK to stay true to who I am."
At first, Abdulla — a recent immigrant from Yemen — couldn't think of someone to write about, until he turned to matters of the heart. In "My Girlfriend Fatima," he laments his long-distance relationship and, not without blushing, shares his plans to "marry her when I get out of school."
Podcasting allows students to get personal in a way that's sometimes harder in written form, especially for students for whom English is a second (or third) language and when certain words or expressions come more easily in their native tongues. It's no surprise that a common theme in these stories is students' admiration of people in their lives who have survived significant struggle, and a sense of optimism about their futures in a new country.
Our team was blown away by the students and their stories and fortunate to play a small part in bringing them to life!
Listen to the full slate of stories here:
Props to Alyssa Aninag and Jillian Wasick at 826 Valencia for organizing such an amazing program, and for welcoming Slack's Editorial team for our second volunteer day with them.
Julie Kim's dad, who immigrated to the U.S. in the 1960s, read her the dictionary as a kid to make sure she learned English well.