Hidden lines of sight
A blind astrophotographer's unique ability to see what others can't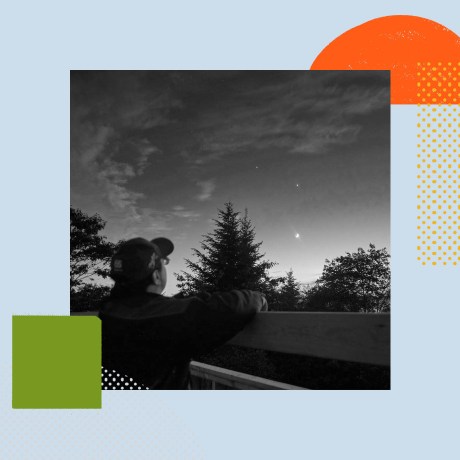 An extended audio version of this story can be heard on Episode 14 of Work in Progress, Slack's podcast about the meaning and identity we find in work.
Tim Doucette spent the first 18 years of his life in Quinan, Nova Scotia, population: 320. There were even fewer residents while Doucette was growing up. As a result of its remoteness, there's very little light pollution, making it an incredible place for stargazing.
But Doucette wouldn't be doing much of that, having undergone several cataract surgeries throughout his childhood and adolescence. "At the time, everybody who was blind was considered disabled," he says. "They didn't see a hope for me if I was blind."
It wouldn't be until his mid-thirties, after his wife signed him up to attend a hobby astronomy group (so he'd get out of the house, but also out of her hair, Doucette surmises) that Doucette would discover a hidden superpower buried deep within his line of sight. Peering through a telescope, a fellow group member asked the fateful question: "What do you see?"
"I said, I see this little donut and I see these two dots, and there's fuzzy stuff in the middle," Doucette recalls.
"Wait a minute," his friend responds, "you shouldn't be able to see that."
"I had no idea all right," Doucette continues, "that I was looking at some galaxy a billion light years away."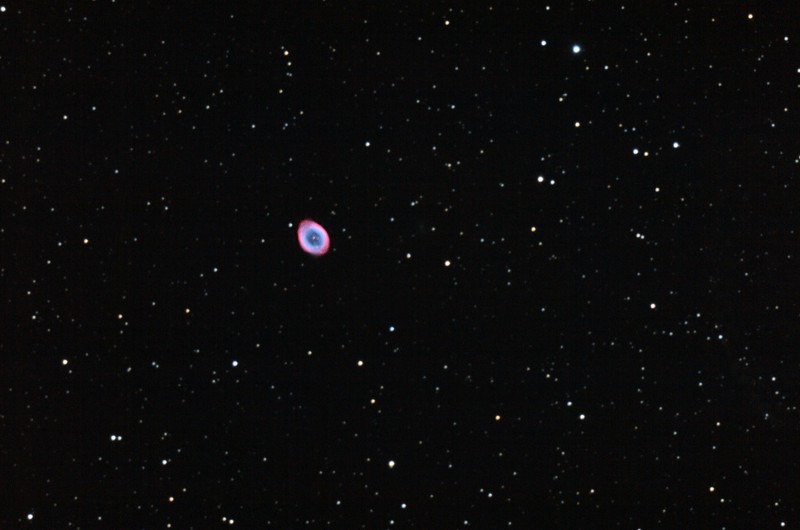 The Ring Nebula: A nebula is a cloud of gas and dust that is being illuminated by the stars around it, and the orb in the sky Doucette "shouldn't" have been able to see. Photographed by Tim Doucette
In a twist of events, the surgeries that had once left Doucette with only 10% of his vision had also altered his sight in a way that would allow him to see a particular kind of UV light radiating from celestial bodies. For the first time, unlike the rest of his life, Doucette could actually see things — planets, galaxies, stars — that others couldn't. With this distinct ability, it didn't take long for him to go from casual observer to avid photographer.
So Doucette and his wife decided not to wait until retirement to pursue their dreams. They packed up their kids, moved back to Doucette's hometown of Quinan, and move into the estate he inherited from his great, great-grandfather. He bought some property nearby and soon made it home to Quinan's first and only observatory: the Deep Sky Eye.
Doucette's love of astronomy and his desire to share his remarkable vision with others inspired him to keep expanding. According to his website, these days he and his wife are focused on launching a full-blown astro-tourism business.
While you're waiting to sign up, have a look at the universe through Doucette's eyes with more of his images below:
For more, follow along with Tim Doucette's adventures on his blog.
Work in Progress story produced by Dan Misener.
---