How doing the right thing is good for business
From doctor to business intern to corporate leader, the Virgin Group's Holly Branson discovers the power of people and purpose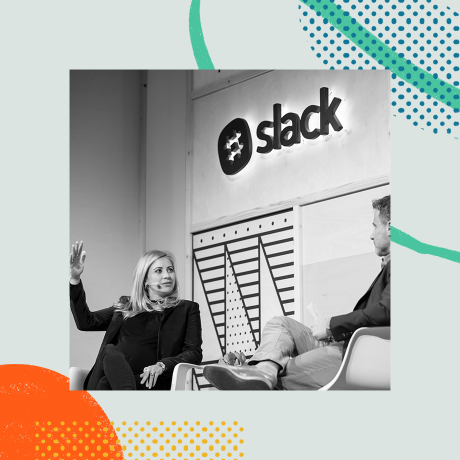 Dr. Holly Branson (yes, that Branson) is thinking up ways to use her phone less. She's considering the impact of fair-trade coffee and the importance of wellness at work and how she won't be happy until standardized testing is erased from every school in England.
The daughter of Virgin Group founder Richard Branson is full of ways to change work and the world. Speaking recently with Slack CEO Stewart Butterfield at our Frontiers conference in London, she fires off idea after idea, sometimes in the same sentence. Somewhere in there, she mentions that she ran, cycled, and swam from the Matterhorn to Mount Etna. To anyone else, these might be life-defining ambitions. To Holly Branson, it's just another Wednesday.
Know when to pivot
Despite Branson's ever-evolving mind-set, she started her life with an uncharacteristically rigid career goal: to become a doctor. "I never floundered from that point," she says. "Whenever someone asked me what I wanted to do, I said I wanted to be a doctor."
In the beginning, her determination made making decisions easier. She knew how hard she had to work, what grades she needed to get, and which classes to take. That's a big deal in England, where students pick their specialties at an extremely young age. "In the U.K.," she says, "you narrow down your subjects when you're 14 years old."
But a peculiar thing happened in her junior doctor rotations. She was randomly assigned to a yearlong role in surgery that she had no interest in completing. She puts it succinctly: "I much prefer awake patients to patients that are asleep." The experience led her to question it all, and the result was a one-year internship with her father's company, Virgin. She could wait for the computer to spit out another medical rotation next year.
Except she never went back. She found her life's work at Virgin—but first she had to intern.
Be curious
For two years, Branson interned at just about every organization in the company. She went to Virgin Trains, Virgin Planes, Virgin Mobile, and Virgin Media, as well as the head office, where she surveyed the inner workings of every single department at HQ.
The whirlwind tour gave her a broader understanding of Virgin as a company and also helped her hone a surprisingly useful skill: asking questions. "I love to ask questions," she says. "If anything was boring me or baffling me, I'd just say, 'I don't really understand.' "
In the beginning, as she was introduced to new departments and unfamiliar roles, asking questions became more important than ever. But as she developed at the company, eventually becoming the chair of Virgin Unite, the charitable arm of Virgin Group, it took on the secondary function of involving people.
"People love to be included," she says. "I've realized asking questions and getting other people's opinions helps reel in people. And people really do enjoy being part of the decision-making process."
Find your purpose (statement)
As the chair of Virgin Unite, Branson spends a lot of time thinking about employee happiness and how to incorporate purpose in business success. That might sound grandiose, but one of her key findings is straightforward: Establish a purpose statement.
"If it's not formalized, it's very hard for people to latch onto," she explains. And it won't do you any good if your purpose statement is just empty words.
"Virgin Money came up with the purpose statement 'Everyone better off,' " she says. "And every single decision that they make gets put through that lens, whether it's the receptionist ordering the coffee and making sure it's sustainable or it's the senior executive team making the decisions." The decisions need to have a positive impact for the employees, the customers, the supply chain, and the planet.
It's a big goal, but Branson is serious about it. "You need to tick all of those boxes before any decision gets accepted," she says.
For Branson, doing the right thing isn't just, well, right—it also has a measurable effect for the company. When people watch a company improving the world, they trust it and respect it more. "Businesses need to be doing all they can, not the least they can get away with," she says.
And the influence is even more significant for employees, who take greater pride in their work. "Dad always said that a company is just made up of a whole load of people," she says. "If we want to be the most respected brand in the world, you don't get there unless your people are happy."
Try Slack with your team for free
No matter your job title or department, Slack can help your team work together and get things done.
Get started