How Enterprise Grid powers the work of large, global enterprises
Building a product that meets the needs of both enterprise administrators and their users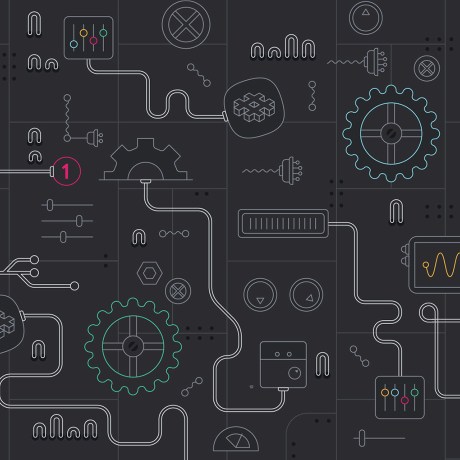 As more and more large enterprises move their work to Slack, we're evolving our Grid offering with a focus on two core themes: supporting Slack at the scale of hundreds of thousands of users and creating an industry-leading security and compliance offering. Here are a few new ways Grid helps large organizations get work done:
Scaling Slack for end-users and admins alike
When we talk about scale, we aren't just talking about building a product that supports up to 500,000 users (which it does). Rather, deploying Slack to hundreds of thousands of people requires tools that enable users to get work done in focused workspaces, while providing administrators with centralized oversight and management.
Company-wide announcement channels
Make and discover important announcements by creating default channels, which automatically include everyone in your company (with the option to make membership required). Given the size and impact of these channels, only admins can create them and posting permissions are limited to certain people, such as executives or internal communications managers. Plus, admins have the ability to turn on emoji reactions and threading for messages if desired.
Streamlined app management
We've added a new "Apps" page to the Admin Dashboard that provides insight into which apps are being used across all workspaces in your organization. For each app, Org Admins can view the workspace(s) it's on, who installed it, and whether it was installed from the App Directory.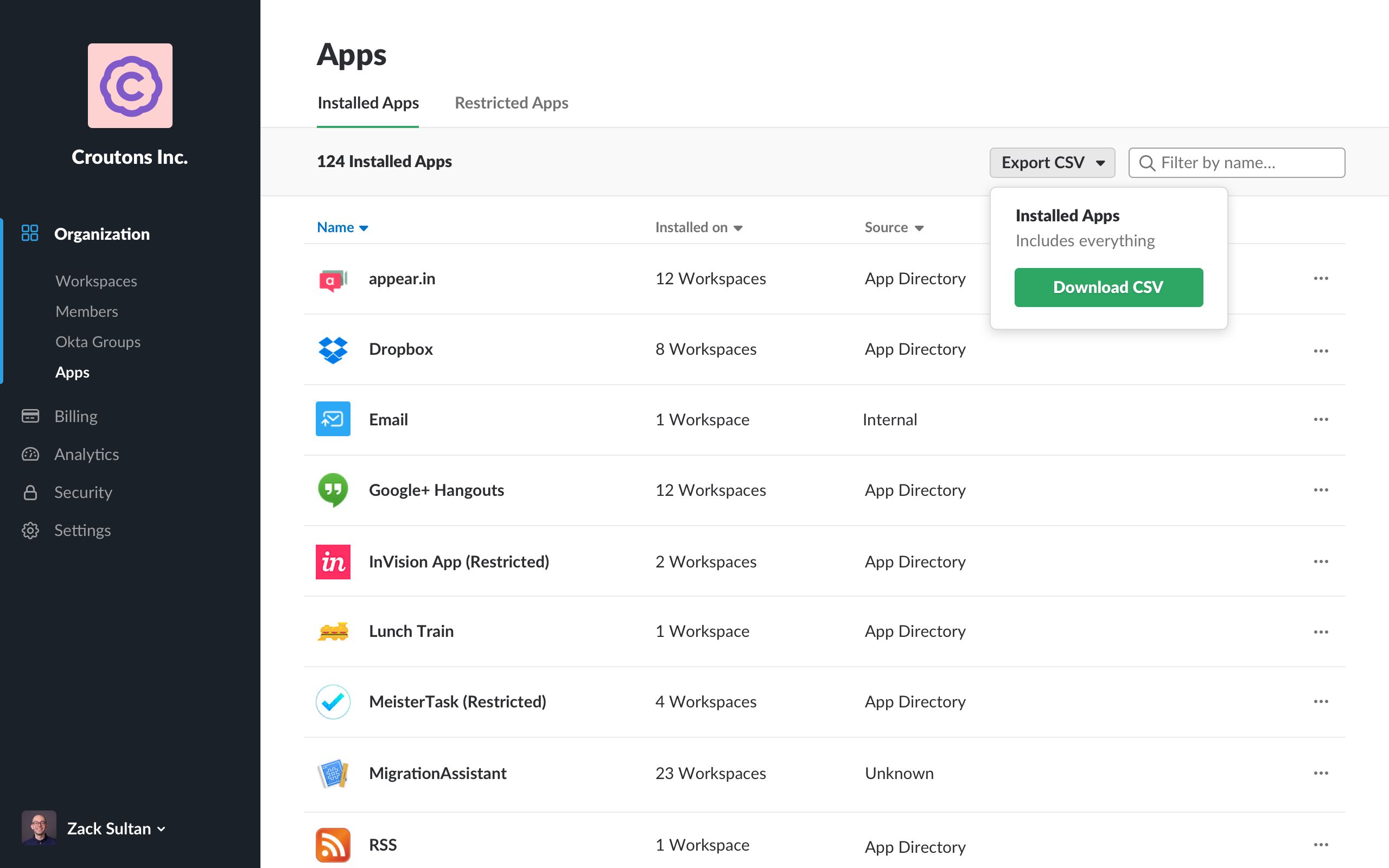 We're also working on adding new tools to help admins streamline app management by defining rules to automatically approve (or reject) apps based on their level of requested scopes.
Improved workspace discoverability and onboarding
We've updated the onboarding experience to help new users find relevant workspaces in Slack while reducing administrative overhead. Now, new users who aren't already assigned to a workspace can find workspaces by entering the names of people they work closely with. Additionally, we're adding the ability to customize onboarding to insert guidance or relevant links specific to how your company uses Slack.
Security and compliance
Enterprise organizations don't have to compromise between the products they need to be productive and meeting security or compliance requirements. We're continuously investing in new tools and certifications that help enterprise admins enable their teams to work how they want and need to in Slack, even if that work contains sensitive information or you're in a regulated industry.
Custom Terms of Service
If your organization has specific policies for using Slack, Org Admins can create a Custom Terms of Service that everyone in their organization (and optionally guest accounts) must accept in order to sign in.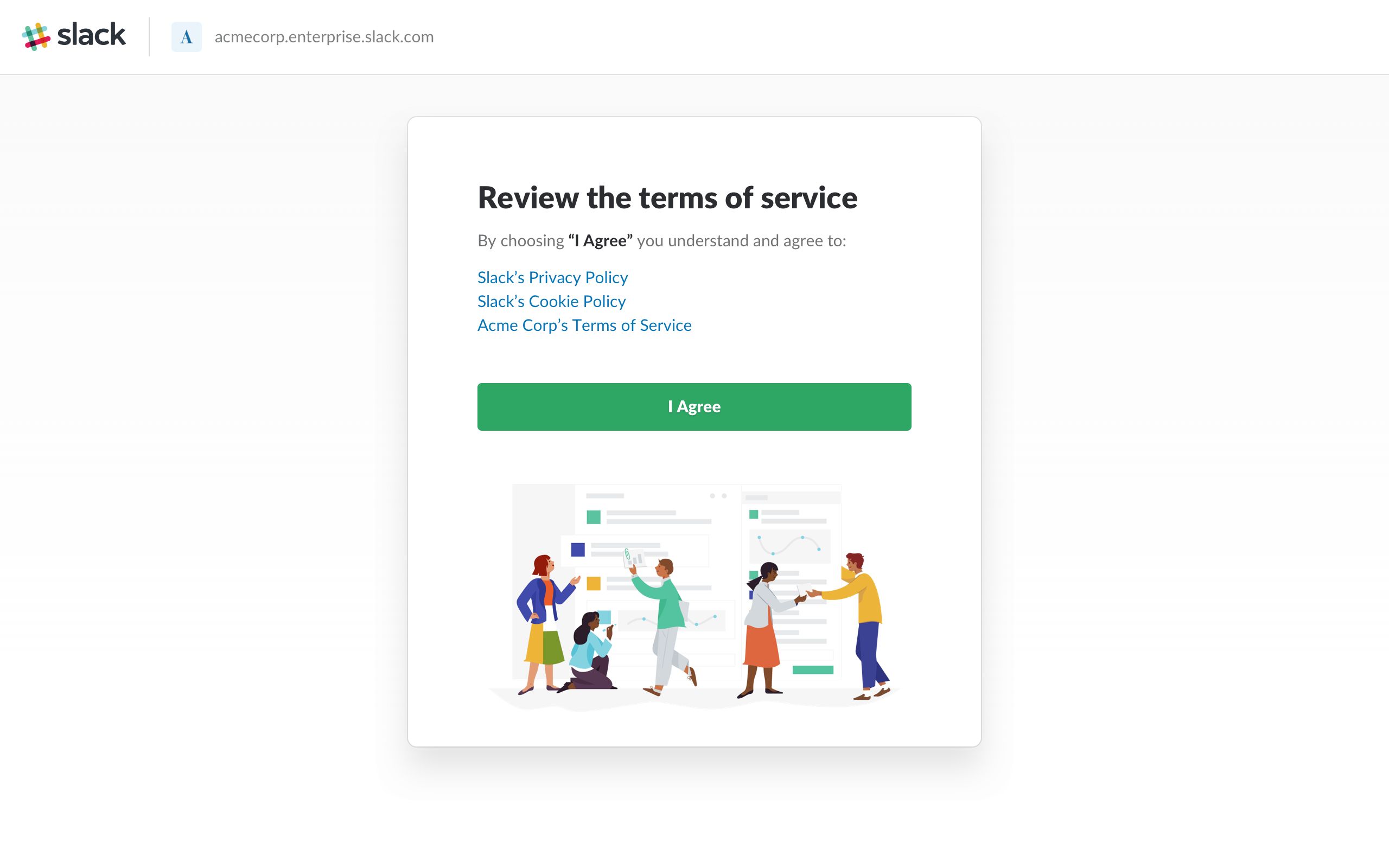 Audit access, download, and other events
Admins can proactively monitor or reactively audit events that occur within your enterprise using our Audit Log API that surfaces 30-plus critical events including file downloads, login activity, and workspace permission changes. Additionally, you can pipe the API into monitoring tools such as Splunk or Sumo Logic to look for abnormalities or combine Slack data with that from other sources.
Enhanced device-level security controls
We're continuing to invest in controls that help ensure only the right people have access to your organization's information. Building off support for Enterprise Mobility Management (EMM) we announced last summer, admins can now restrict the ability to copy text or links from either of Slack's mobile applications. We are also investigating other device-level security controls such as app-specific passcodes and force logout on specific devices.
Making Slack where your work happens, regardless of your industry or location
We're continually evolving our security offering and adding new third-party certifications to mirror our growing customer base. For those of you who operate in Europe, Slack is GDPR compliant. Additionally, we recently received certifications for ISO 27001 and 27018. 
You can learn more about Enterprise Grid here, or write in to our team at accounts@slack.com.