How Slack shortens distances
Tips for using Slack for remote and distributed workers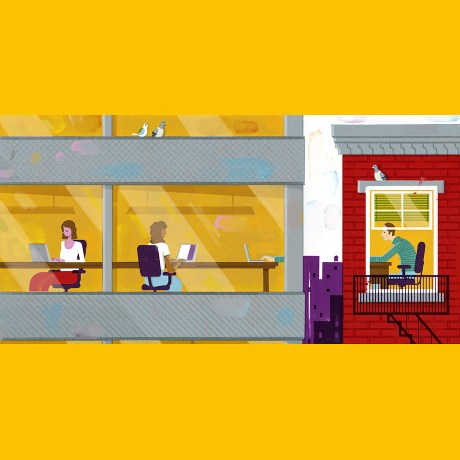 I n 2015, 24% of Americans did some or all of their work from home, according to the U.S. Bureau of Labor Statistics. Then there are distributed teams: As growing firms open offices around the world, you may be working with people in Lagos, New York City, Shanghai, or across your own town.
Today, a lot of these far-flung colleagues are working together in Slack. Here are some ways that using Slack can help close the distance between teammates.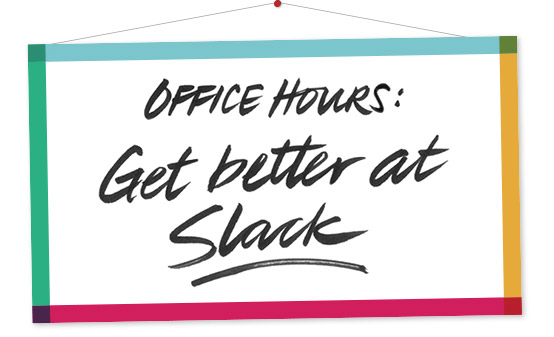 Let's talk about trust and visibility
After talking to dozens of people in different industries about how they use Slack across great distances, the topic of trust came up early and often in our conversations. Working with remote or distributed colleagues requires trust and creative thinking on both sides of the equation.
In the previous century, managers could track how many hours their employees sat at an office desk near them. Today, those metrics may be lines of code written, number of help tickets resolved, or number of pieces produced, but it's important to figure out ways to fairly measure the effectiveness of employees, regardless of location.
For this reason, visibility is an important aspect Slack can provide to distributed teams. A well-organized, transparent Slack team with channels arranged by topic and projects makes it easier to surface the output of everyone, even those far from headquarters.
Slack apps can also help promote visibility among your remote and distributed employees. Programming tools like Github or JIRA let engineering managers see the output of their developers, wherever they may be. File and document apps like Google Drive or Dropbox let marketing teams also keep tabs on everyone's work. For those in customer support, tools like Zendesk and Intercom can report into relevant Slack channels, letting everyone see how well their help center team is faring around the globe. For teams of any kind, things like daily stand-up meetings can give every member of a team visibility and take place entirely in Slack.
Video is big
Every remote and distributed worker we talked to relied heavily on video conferencing to maintain face-to-face connections with their team. There are heaps of options for video apps ready to integrate with Slack, including Slack's own built-in audio, video, and screen sharing capabilities. There are also apps available from popular services like Zoom, Hangouts, and Blue Jeans that make it easy to start a video conference from Slack whenever you need one.
Helping your team connect
Having all your company information and work progress in a single app like Slack is useful for teams that aren't all in the same office or time zone. Slack is famously great at being a place both to share project milestones and to have water cooler conversations with coworkers. But there are also specific features that can help keep everyone in the loop.
User profiles can really help employees get to know one another, and once they are customized for your team, you can share location, languages spoken, current time zone, and direct reports below and managers above, as well as topics of expertise and other relevant personal details. All this information is handy when you're doing cross-functional work with people you don't interact with daily, but it's especially the case for those working from afar, as they figure out the best time to schedule meetings and with whom, and heck, even learn how to pronounce names correctly before the next company-wide event.
For distributed teams, time zones can be both an advantage and a challenge. In Slack, you may want to denote which channels are shared across distributed teams and set expectations that conversations are asynchronous — answers to questions may take longer to appear as offices come online at different times of day. Stating it clearly in channel information and purpose fields is a great way to communicate channel rules to your team. Our recent highlights feature also helps distributed teams catch up on activity from other offices as they get started each morning.
Teams may also want to set expectations around offline discussions that others may have missed. Occasionally, you may see a discussion summarized and posted in a team channel after a few members had an epiphany over lunch. You might also see ideas surfaced from hallway conversations posted into relevant channels. Both are great ways to create a culture of transparency and sharing that includes everyone on the team.
It's important that we not forget the power of a direct message over long distances. For each time you might think, "I should pop by my coworker's desk and ask them about this" if you shared the same office, you can easily send a DM with your question instead. For managers and their direct reports, a DM also provides a quick method of private communication without the formality or structure of email.
Other upsides
Optimizing Slack for workers near and far certainly helps those who work in different locations, but it can benefit everyone. Using Slack means that parents with a sick child can work from home. If a manager needs time to recuperate after a broken ankle, they can stay in the loop from home as well. If someone in your workforce has a disability that prevents them from being in an office space, Slack can offer a way to keep them connected to their team.
A culture of openness, transparency, and public discussions taking place in Slack is going to result in a good team culture at any company, but it's also a key to remote and distributed workers feeling like equal members of your team.
---
Matt Haughey has worked far from traditional offices for the last 14 years and couldn't imagine it any other way.