How Slack's recruiters use Slack
Our team's workflow for getting a lot of great people through the door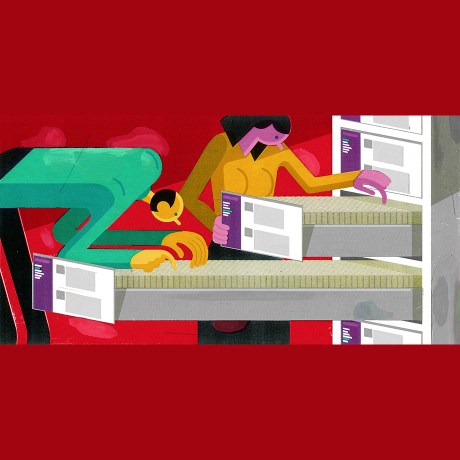 Today, Slack's recruiting team numbers around 30, and they review tens of thousands of applications for a few hundred job openings each year. The sheer volume of the operation overseen by a small team requires a judicious approach.
If you're hiring consistently, whatever your company size, we hope you'll find it useful to know how we manage this process right in Slack.
Slack as organizing tool
Slack's recruiters use a five-step process involving a handful of private channels, each with a different set of members, and used in a specific order. Consider this example of Slack's quality assurance team hiring someone named Alice Jones to help debug Slack's apps running on Apple's mobile platform.
1) #hiring-approvals (includes entire recruiting staff, HR, finance team, and executive staff)
Department heads share their job listings with recruiting staff in this approval channel. Once finalized and approved, job postings are published within 24 hours on Greenhouse, an app used to announce jobs and track applicants.
2) #hiring-ios-qa-team (hiring manager and assigned recruiters)
Next, recruiters organize their work in a channel named after the position. This is where they get the search started and plan how they'll publicize the job across various avenues.
3) #interview-alice-jones (hiring manager, recruiters, everyone conducting interviews)
If a candidate passes a recruiter phone screen, a hiring manager interview, and/or an exercise presentation, they are moved to an onsite interview pool. Each candidate has their own interview channel, where the assigned recruiters interact with the hiring manager and whoever else will interview candidates.
We create a channel for each individual instead of discussing them all in a single channel for the position, in case the same job title comes up in a future opening — it avoids confusion and protects candidate privacy in future searches.
Here the team hammers out the interview schedule, including timing and responsibilities for each interviewer. Candidate details are posted and pinned in this channel.
We also use the channel to coordinate post-interview meetings. The team discusses their feedback on each candidate and the hiring manager decides whether to move forward with an offer or not.
4) #offer-alice-jones (department head, hiring manager, HR, and assigned recruiters)
Recruiters and hiring managers request an offer approval from the department head, and keep the team up to date on discussions with the candidate. This is also the place where they announce whether a candidate accepts or not.
5) #hiring-approvals (entire recruiting staff, HR, finance team, and executive staff)
The finance team and executives give approval on offers in the original channel, either with messages or with a system of emoji reactions used to indicate when key decision makers have signed off, and usually within an hour. Once the candidate accepts the offer, the onboarding process begins.
Rookies get their own stadium
After a new hire accepts their offer, they're soon added to a Slack team created just for new hires, where they join as a member before their start date. There, they can get a feel for how Slack's own team uses Slack, with HR reps from Slack available to answer any questions and coordinate logistics leading up to (and after) their first day.
Once they've started their new job, they're also added to Slack's main team where everyone in the company works, but also remain in the new hires team for about a month. Currently, we use a bot from donut.ai to help aid onboarding.
Each morning, the bot greets new hires with a schedule of onboarding events during their first few weeks of orientation. They also get a message at the end of each day asking them how things are going, and staff review those surveys.
Benefits of recruiting efforts in Slack
Channels are private to protect candidates, but since the recruiting team is involved at every stage, the process is visible and searchable by them, with others in the organization added only where necessary.
Doing this work in channels also eliminates a lot of status and update meetings that used to exist. This allows our recruiting team to hire quickly, but also thoughtfully, as they have more time to devote to candidate outreach and reviewing applicants.
Evolved speed
All this means a small team can operate at a pace you'd expect from a larger company. Each member of Slack's recruiting team hires an average of three people per month, with our top recruiter hiring 53 people in 2016 — more than one a week — and she has two kids and doesn't work nights or weekends.
Chances are you can streamline any operation that takes lots of meetings, emails, and documents, and organize it all in Slack, where your whole team can stay informed and up to date at any point in the process.
---
https://www.linkedin.com/pulse/how-slack-change-recruiting-vinayak-ranade
https://www.linkedin.com/pulse/how-slack-change-recruiting-vinayak-ranade