How to customize notifications in Slack
Get only the alerts you need and want
Not all office meetings are equally relevant to you, and neither are all conversations in Slack. Thankfully, by tweaking a few settings you can customize notifications and stay focused on the things that matter while turning down the volume on things you find distracting.
We've made a handy video to walk you through the ins-and-outs of notification settings. Here are some of the highlights:
Notification basics
By default, channels and Direct Messages will appear bolded in your sidebar when there's unread activity. They'll also show a red notification badge if someone mentions your username or one of your highlight words.
The highlight words feature allows you to get notified whenever someone mentions a topic you care about. You can set keywords for projects you're working on, customers you work with, your own name (in case someone talks about you without @-ing you), or fun things (e.g. so you'll never miss cookies in the office again). Be selective about your highlight words to avoid getting too many notifications.
Get channel-specific
If there's a project you're following closely that's in the final stretch, adjust your settings so you receive notifications for all activity in that dedicated channel. Once the project is done, you can dial notifications back down to their defaults.
Turn down the volume on the rest
Conversely, mute channels you want to be in but don't need to follow closely. This is especially handy for channels with lots of messages from bots and integrations. Muted channels won't appear bold when there's unread activity, so you can read through them at your convenience. Don't worry, you'll still receive a red badge if somebody mentions your username or one of your highlight words.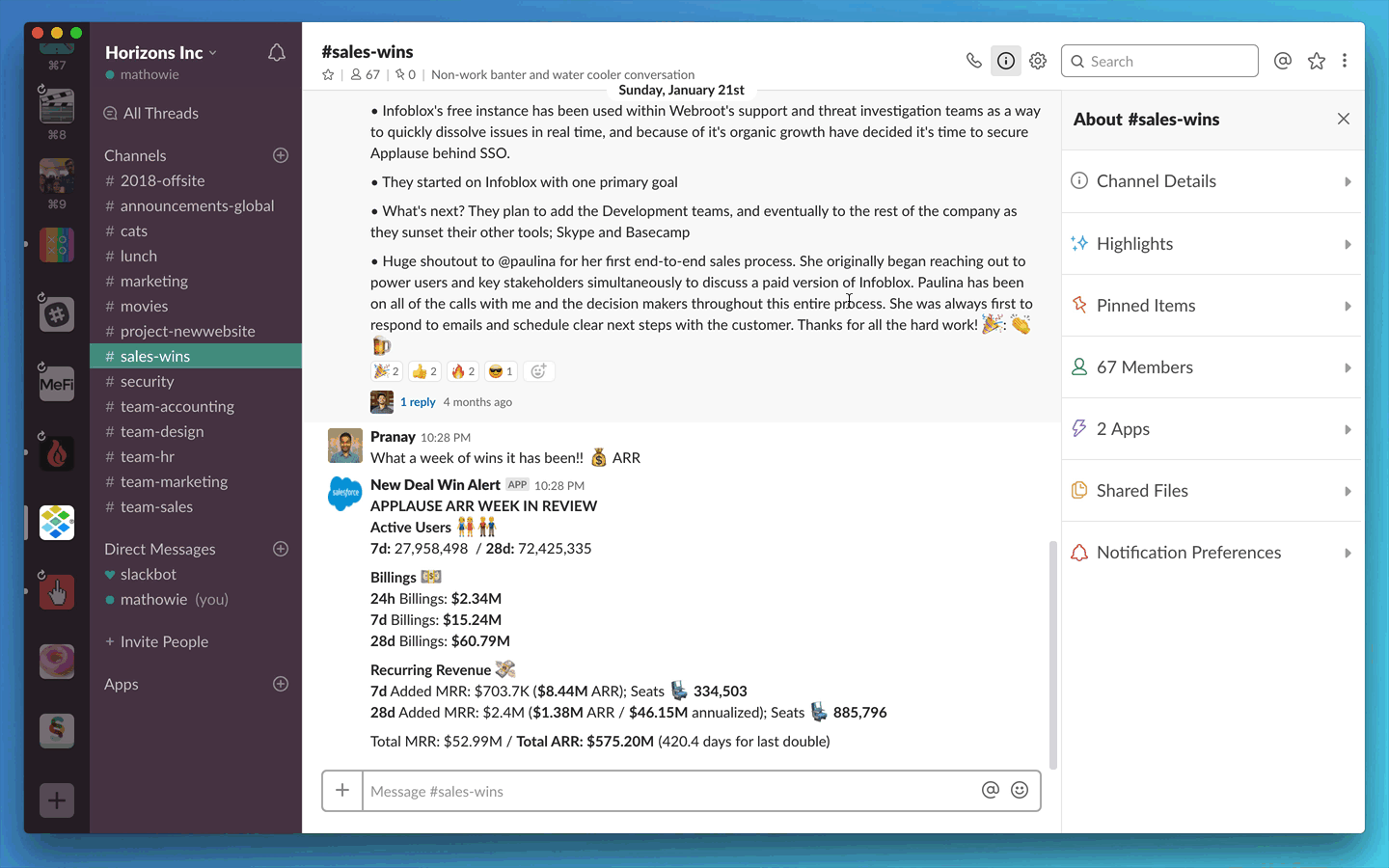 You can star channels, users, and direct messages to bring them to the top of your channel list. This way, conversations you need to check first will stand out from the rest.
Do Not Disturb mode will snooze notification alerts from Slack, whether it's for a few hours or just a few minutes. You can set recurring hours for Do Not Disturb mode if you don't want to receive notifications after hours. Or, you can easily snooze notifications for just a few hours when you need to focus and get things done by clicking the bell icon next to your name.
Your teammates will see when you're in Do Not Disturb mode and know not to expect a response right away. This helps people feel comfortable sending you messages when it's convenient, without worrying about pinging you after hours or when you're trying to focus. Teammates also have the option to push a notification through if it's urgent.
Mobile notifications
Slack notifications are also sent to your mobile phone, but thanks to a customizable delay, you won't get overloaded with notifications on every device simultaneously. If you've already read a notification on your desktop, it won't show up on your phone.
Managing notifications is a great way to keep up to date on the most important channels while also quieting down distractions so you can focus on getting work done.
---
Matt Haughey is extremely selective about muting channels but acknowledges it's a lifesaver.