Inclusion and Diversity at Slack
Today we are reporting our diversity data. We are not the first technology company to report this and by now, you probably know what that blog post looks…

Today we are reporting our diversity data. We are not the first technology company to report this and by now, you probably know what that blog post looks like. We are doing many of the same things other companies are doing and have already described. In this process, we asked ourselves a simple question — how can we do better? At Slack, we believe being an inclusive and diverse workplace is not optional. We understand that our industry is not a welcoming place to everyone and we want to do our part to change that.
Let's start with the basics: the numbers.
Racial & Ethnic Identity
This summer, we asked our employees to answer a few voluntary questions about racial, ethnic, and LGBTQ identity. All questions were optional, but nearly all employees elected to participate. Here are what the numbers told us about what Slack looks like: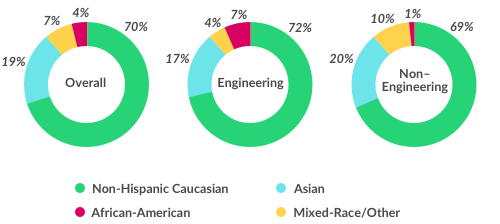 Women at Slack
We pulled data from our HR information systems to generate a current snapshot of our gender distribution. The percentages below reflect the percentage of women in each of the respective categories.

Context & Notes on the Data
While 45% of all people managers at Slack are women, it's noteworthy (and not shown above) that fully 41% of all people working at Slack have a woman as their manager. This means that 41% of our people report to a woman who help set their priorities, measure their performance, mentor them in their work, and who make recommendations that will impact their compensation and career growth.
It's also worth noting that the engineering vs non-engineering distinction we used was different than the more frequently used "technical vs non-technical" categorization. Only people who write and commit code and are part of our internal engineering organization are counted as engineers; the design and product management teams are included in the non-engineering category.
While "Hispanic/Latino" was an option for respondents, responses totalled less than 1% — too small a percentage to report at this time. (It is possible that some people with Hispanic or Latino backgrounds elected to identify as multi-racial).
In addition to all of the above 10.3% of our employees consider themselves to be part of the LGBTQ community. All data is shown as a percentage of our worldwide employee population.
Why This Matters To Us
Everyone at Slack agrees that diversity and inclusion are important but not everyone at Slack agrees about why. Some people here believe diverse teams produce better business results. Others see the issue in terms of social justice and addressing inequality of opportunity. And some just don't want to work at a place where the population is overwhelmingly homogeneous. All are valid and important reasons. At the end of the day, the "why" isn't important when we all clearly agree on the "what."
Even so, these issues can be tough for people to talk about. When we published the survey results internally there was a desire to ensure that we were not self-congratulatory about those areas in which we were "doing better" than our peers at other companies and some questions about why we need to measure any of this at all.
It has been said that you cannot manage what you cannot measure. Clearly, measurement is important and we have already taken that step. But numerical targets present some inherent challenges: what is the goal, if there even is one? Should our workforce represent/reflect the composition of San Francisco? The Bay Area? California? The world? Does that mean there is a point at which we've "won"? We don't think so. These reports are not a scoreboard.
We want to hold our feet to the fire and measure whether or not our strategies — particularly those for retention and diversity across our different internal organizations — are effective. We don't have a single metric for what success looks like, but we do know that numbers are useful as a check and balance against our own subjective impressions and qualitative feedback. We also know that we can be better and we know it's a process of continual improvement, not a destination.
What We Are Doing
Our primary goal is to avoid becoming yet another place where underrepresented groups exit the technology industry. We don't want to be a place where people give up on their ambitions. All kinds of people should be able to be successful at Slack. While much focus has been on the pipeline, we understand that increasing the diversity of applicants and new hires will not result in any significant change if people from underrepresented groups cannot thrive at the company. Workplace policies that foster inclusion are equally important.
How do we achieve a workplace where all people can thrive? We do this by:
Examining all decisions regarding hiring/recruiting, promotion, compensation, employee recognition and management structure to ensure that we are not inadvertently advantaging one group over another.
Working with expert advisors and employees to build fair and inclusive processes for employee retention, such as effective management education, company-wide unconscious bias training, ally skills coaching, and compensation review.
Helping to address the pipeline issue with financial contributions to organizations whose mission is to educate and equip underrepresented groups with relevant technical skills (like Hack the Hood and Grace Hopper), as well as supporting a variety of internship programs to broaden access to opportunity (like CODE2040).
Attempting to be conscious and deliberate in our decision-making and the principles and values by which we operate. Changing our industry starts by building a workplace that is welcoming to all so that a generation of role models, examples and mentors is created.
Perhaps the single most important thing we are doing right now is addressing this issue in the infancy of our organizational history. Slack has fewer than 250 employees worldwide today and our product has existed in the market for less than two years. We began reviewing our workplace policies with an outside diversity consultant when we had only 75 employees on our books.
We are reporting our diversity data early on. We have already begun examining our compensation data to ensure that we are paying men and women equitable wages. We are being vigilant in our data collection and analysis so that we can make real-time adjustments to our recruiting efforts and our workplace policies so that we don't get behind the eight-ball on these important issues.
It is relatively easy for us to move the lever a small bit right now to make a significant change in our trajectory. It has been said that an ounce of prevention is worth a pound of cure. If us doing this sooner rather than later yields a better result that alone will be a good thing for us to have done at Slack and, hopefully, for the industry at large
We want to ensure that we hire the very best people we can. That means taking steps to minimize and remove bias in our processes. It also means looking for candidates who have non-traditional backgrounds. We find some of our best people did not take the shortest or most predictable path between points A and B. Their collective experience and perspective make Slack a better and more diverse place. If you are one of those people, we want you to work at Slack.
Anne Toth, VP of People & Policy
Stewart Butterfield, CEO