Information Technology teams and Slack
How Slack can be an IT team's most valuable player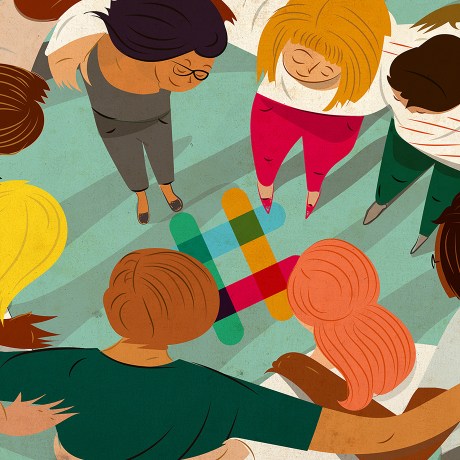 Slack is great for all kinds of workplace communication, but it can also be customized to make specific types of work simpler and more productive. We recently covered how customer service teams organize their work in Slack and how a variety of software development teams use Slack to build, deploy, and monitor their codebases.
Nearly every business today has information technology needs, and the work of an IT team can easily be brought into Slack with apps and integrations.
Helpdesk is on its way
IT teams frequently handle equipment requests and reported issues. There are a variety of systems out there to take reports and requests, issue tickets and track the progress throughout by both IT staff and the employees needing help. For IT staff, this means monitoring a dashboard to make sure nothing falls through the cracks, and for end users, it means logging into a system to file reports and track emails as the request is worked on.
There are many ways to incorporate these requests directly into Slack to handle them right where the rest of people's work is happening. Missions is a WYSIWYG workflow builder that can cover much of the process. Using simple rules not unlike your typical email automation software, you build forms (using dialogs) in Slack to collect data from users, and the answers report automatically into channels where the IT team can claim the issue and work to solve the problem. Updates and solutions can be automatically sent back to the original person asking for help via DM, all in Slack. YellowAnt and Workato also offer similar ways to create help request workflows without coding.
For more technically advanced teams, Slack's new dialogs feature in the API can combine with the APIs of popular ticketing services to let any IT team code their own custom solution tailored for their specific environment. Slack's own internal IT team does precisely this — any employee needing assistance can type /helpdesk to launch a form that gathers information for their request. In the background, the answers are submitted to JIRA Service Desk, and a Helpdesk Bot in Slack DMs users with any updates from the IT team.
Services like Zendesk and ServiceNow also offer APIs that can be customized for in-house apps that operate entirely within Slack.
Incident response: All hands on deck
When something goes wrong, you want to get everyone who can help into the same space and on the same page. Slack is a natural fit for this kind of incident response (especially with integrations with Opsgenie, VictorOps, and PagerDuty, among others), and its support of real-time communication means you won't have to wait for emails or refresh a webpage when you're looking for answers.
When using Slack for incident response, we find it's best to formalize the process. Create guidelines for when it's appropriate to use an existing IT team channel, when to move it to a generic #war-roomor #incidents-channel, or even when to create a channel for a specific event, like #incident-wifi-11-2-17.
Make sure someone posts a message with everything known to date, and pin it in the channel so others can find it and catch up. Invite any team members that are participating or want to monitor progress, and pin any post-mortem to the channel as well.
Quality of service and central sharing
One the easiest and most straightforward ways to keep an entire IT team up to date is by tying any automated quality of service emails into a central IT channel using the email to Slack feature. Most cloud services and devices can be configured to send an email when something goes wrong, and instead of trying to maintain lists of people that need to receive them, have them all sent to an #automated-alerts channel. From there you can use a system of emoji reactions to let team members claim, investigate, and mark problems as resolved, or have conversations about specific problems.
With this kind of system in place, any time a wifi router goes down, or an iPad that controls a conference room goes offline, or a critical cloud service has an outage, anyone on the IT team can see it in their alerts channel, act on it, and report a resolution to the rest of the company.
---
Integrating Slack into whatever your team's specific function is a great way to streamline your work, discuss issues right where work is happening, and keep others up to date on your progress, without having to switch between apps.
Matt Haughey occasionally asks for IT help in Slack, and is amazed to get updates via automated DMs until the problem is solved soon after.