Inside a team built around working parents
Flexibility and empathy help Chatbooks' employees thrive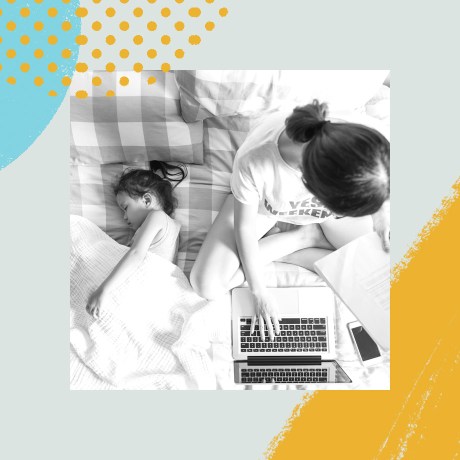 In Vancouver, Washington, Angel Brockbank, a customer support manager and mother of three, nestles into a massage chair in her living room to start her shift, while her dog stands outside barking at his shadow.
Megan Schultz, also in Vancouver, spends the morning accompanying her five-year-old on a field trip to the zoo before settling in later that afternoon to answer customer support tickets.
Over in Dallas, Texas; Brittany Clark slots in shifts between her nine-month-old's naps. Both Schultz and Clark's partners hold down part-time jobs as they work towards completing post-graduate programs this year.
"Compared to sitting in an office eight hours a day, I feel like I'm way more productive as a stay-at-home mom because I know my work time is limited," says Clark over the phone, her infant cooing softly in the background.
This trio, and about 30 others like them, are part of a team of remote, part-time working moms who call themselves the Momforce — the nickname for the customer support group at a digital scrapbooking company called Chatbooks based in Provo, Utah.
Together, these moms reflect a rising proportion of America's labor tapestry and increasingly one of its most vital. According to a 2014 report by the White House Council of Economic Advisers, "Without the gain [women's labor force participation has] made since 1970, median family income would be $13,000 less today and our overall economy would be $2 trillion dollars smaller."
At the helm of Chatbooks are founders Nate and Vanessa Quigley. They launched the service two years ago while raising their family of seven. "In the beginning, when we were bootstrapping, Nate and I were answering support tickets on our phones, from our bed, late into the night," says self-ascribed Chatbooker in Chief Vanessa Quigley. "We lived in Florida when we started this company and we were in the middle of moving. My friend there had just finished her term as PTA president. She had all the skills I wanted for a customer support lead: She's smart, organized, and tactful."
That friend, Tina Descovich, started pitching in occasionally from home to fill in the gaps. As demand grew, Angel Brockbank joined to help manage and grow the Momforce. "Some of our first employees were originally customers," she recalls, "we would get emails from parents all the time asking if they could work for us. It made me realize how many new mothers are home raising young kids and have ambition to do more, but they have no idea how to do that while also tending to their children."
The ability to work according to flexible, part-time schedules and from any location is something most moms on the Momforce can't get at other workplaces.
Another thing they likely wouldn't get is a boss who goes out and personally buys an office rocking chair to accommodate a team member returning from maternity leave with her newborn.
Brockbank notes that this example perfectly sums up Nate and Vanessa Quigleys' attitude towards their employees. "They honestly believe that if we're happy, our customers will be happy," she says, "For me, I have to balance between being a friend and a leader to the team. I try to be more of a friend. It's important to me to be close to each person so I know how they're doing and how I can help them. I definitely have a policy, and this comes from the top down at this company, that your family and your kids always come first."
Clark and Schultz agree that getting to know one another and caring for each other personally has deepened their commitment to the Momforce.
In the last two years, not a single member has left the team.
Their ties to the Momforce community have also helped cure them of social isolation, sometimes even providing solace through personal strife. "I was actually on hospital bed rest for four weeks before I had my little boy," says Schultz. "Most people go crazy stuck in a hospital room, but I worked the whole time so I could talk with the other moms and feel a sense of normalcy. A lot of them actually sent packages to the hospital and cards and stuff like that. It was very sweet. It kept my spirits up."
After a rocky start, Chatbooks gained popularity and in January of 2016 celebrated their one-millionth sale. The Quigleys attribute a large part of their success to the valiant Momforce. But in the time it's taken to grow the business, they've learned an even more eye-opening lesson: what parents today need most are jobs that can adapt to their lives. Not the other way around.
"Before Nate and I launched Chatbooks, my idea of work life balance was: you go to work, then you come home and have your life," says Quigley, "but we struggled because, as working parents, you don't just come home and forget about work. There is no dividing line."