Integrations 101: Automating workflows with Zapier
In our ongoing series on integrations, we're attempting to cover all the ways that you can supercharge Slack, from A to Z (but not necessarily in that…
In our ongoing series on integrations, we're attempting to cover all the ways that you can supercharge Slack, from A to Z (but not necessarily in that order). This time out: Z is for Zapier.
What can Zapier do to help my team?
Zapier is a service that allows hundreds of different apps to connect to Slack, in new and interesting ways. Using a system of triggers and actions, you can build powerful custom recipes (they call them "Zaps") that pass data from an application to your Slack team and vice-versa. In practice, it only takes a few clicks to get specific information from an app right into your Slack team.
This week, Zapier announced something big: Multi-Step Zaps. Multi-Step Zaps allow you to daisy-chain as many actions as you want in a single recipe, making it easier to allow multiple apps and Slack to do more together.
Think of it like this: say you set up a Slack #volunteer-day channel and asked people to post the times they were willing to volunteer on a specific day. With a single recipe chain, Zapier could copy the usernames and messages posted to the channel, add each as a new line in a Volunteer Day spreadsheet at Google Docs, and send a direct message in Slack to the volunteer coordinator telling her who posted and what they said that got automatically added to the volunteer list sheet.
Previously, the Zapier team highlighted a long list of Slack integrations on their blog, so we thought we'd share a few of our favorites today, along with ways the new multi-step zaps allow you to extend them. Each should take you no more than a few minutes to set up.
Boost your marketing efforts
Effective marketers always keep an eye on their social channels. Slack's Twitter integration is a good place to start, but with Zapier, you can also start getting alerts for your company's new WordPress posts, blog comments or mentions around the web. With a Multi-Step Zap, you could also track those mentions in a spreadsheet, save the link to your Pocket account, and tell Buffer to queue up a Tweet, all in one fell swoop.
The Product Hunt team, for example, relies on Zapier and brand monitoring tool Mention to get notifications in their #interwebz channel for "Product Hunt" mentions.
Turn messages into tasks
In a category all by itself: simply star a Slack message, and Zapier will kick off an action in another app. This is helpful for managing new tasks. It's pretty easy to move starred messages into Trello instantly.
You're not limited to one task list, either: Multi-Step Zaps can port the information from one starred message to as many tools as you want. That way, if you're using Wunderlist to manage tasks and your team relies on Basecamp, your data makes it to both apps safe-and-sound.
Celebrate sales
When you sell products online, customer experience is key, and there's nothing stopping your team from getting to know every new customer. Zapier can help: Every new Stripe payment or Shopify sale can post into a #sales channel for your organization, keeping your whole team in the loop.
One Multi-Step Zap can take a new Stripe customer, subscribe them to your MailChimp list, add an entry to a Pipedrive CRM, then give your #newcustomers team a heads up in Slack. Pretty handy, huh?
Motivate your event team
No matter the size, planning for an event quickly turns into a major undertaking. Along the way though, seeing attendees sign up motivates you to continue to the finish line. That's where Zapier comes in again, helping you stay on top of the latest Eventbrite registrations or Meetup RSVPs.
You can also save on follow-up time by automating your event registration emails. Add a step to your Zap to connect a service like Gmail or Mandrill to fire off personalized welcome messages to new attendees with all the conference logistics they need, automatically.
Getting started with Slack and Zapier
To get started, sign up for a free Zapier account and click "Make a New Zap." Once you do, you can use Slack as a"Trigger" or "Action" in your workflow. Triggers, like new Pipedrive activity, start an automation chain, and actions, like new Slack messages, push new data to your account.
In each step, you'll authenticate an app with Zapier, then pick out live data to use in your recipe. Throughout the process, you'll have the chance to test your setup and confirm that everything is running smoothly.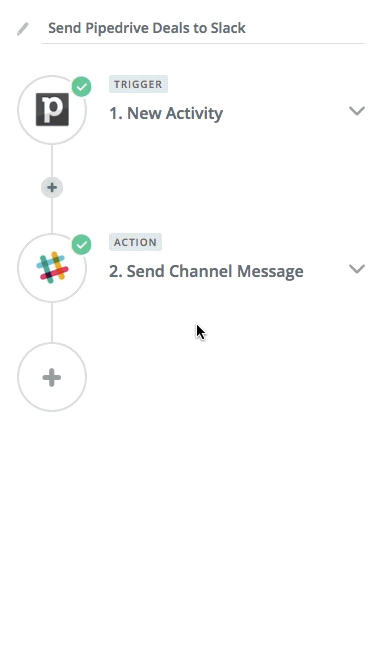 If you want to add another action to your chain, hit the + button at the bottom of the workflow (or, the + button between steps) and tweak accordingly.
It's Zappening (sorry)
Beyond the ideas covered here, Zapier offers hundreds of Slack integration possibilities on its site. Among them are integrations you'll find nowhere else, such as the free Zapier Email Parser which allows you to parse out important bits from incoming emails that you can then act upon.
Don't forget Zapier is an app that works in the background — and once you set up a Zap, you no longer need to think about it — it's a true set-it-and-forget-it experience. With myriads of integrations to choose from, you don't need to wonder: Can I integrate this app with Slack?