Introducing User Groups
A new way to send notifications and communicate with teams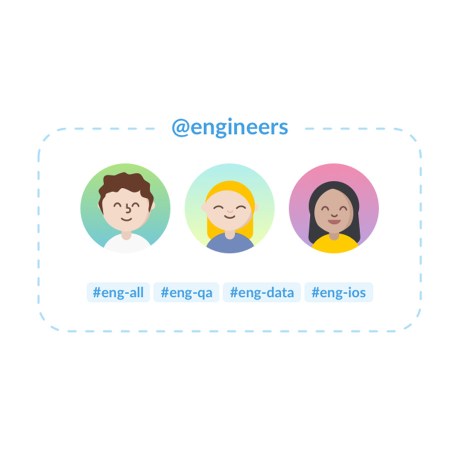 That's useful. But friends: there is more. User Groups also help you manage channel membership and bring an additional level of order to the team directory. When you create a user group you can define a default set of channels to which all members of the group will belong. Then, whenever you add a new employee to the @engineers group, they'll automatically be added to every one of your related engineering channels and get up to speed on previous Slack discussions that much quicker. It's a small part of this new feature, but a huge win that helps automate onboarding at growing companies.
User Groups are enabled for all Slack teams on paid plans (both Standard and Plus). New groups can be created in the Team Directory panel in your desktop app. You can give each a descriptive name and add a note on purpose to help others understand what each group is for. The team directory will then list your team's existing user groups and show the details of each, along with the the group's members.
Finally, user groups make team administrators' and developers' lives easier as well. New API methods allow for programmatic group creation and management which makes it easier to map your organization's structure in other tools to your Slack set-up.
For teams on using Single Sign On (SSO) on the Plus plan, you can even use groups to control provisioning accounts from your SSO tools. Users of Active Directory in OneLogin, PingOne, PingFederate, or Okta can take advantage of this built-in user provisioning support to add employees automatically into Slack User Groups matching each employee's existing group rights, roles and permissions in your internal directory.
User Groups are available now for all paid Slack teams, so feel free to try them and get a bit of extra order in your organization. If you run into any trouble or have further questions, our Help Center article on User Groups is the place to start. We're always happy to help.