Just Press "Add to Slack"
Adding new apps and integrations with ease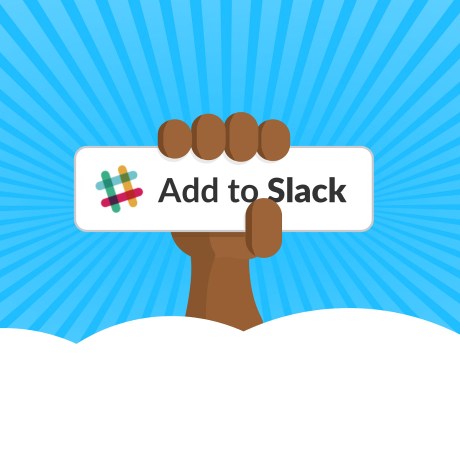 Today we're taking the first step towards making it easier by debuting a streamlined way to share the custom integrations developers have written: The Add to Slack Button.
Enter: Add to Slack
You'll soon find a button on many of your favorite apps and sites that says "Add to Slack". Clicking the button will take you to an authentication page where you'll pick which Slack team you'd like to integrate with the service, and which channel (or your own @slackbot) the service will report to (provided your Team admin/owners allow team members to add integrations).
Once configured, any web apps or services that send you notifications or emails can start automatically reporting those to Slack. Many apps and services will also give you the ability to share things into Slack without leaving their app; handy!
Examples
Today this feature debuts in a dozen apps, with many more to soon follow. Let's take a look at a few of them.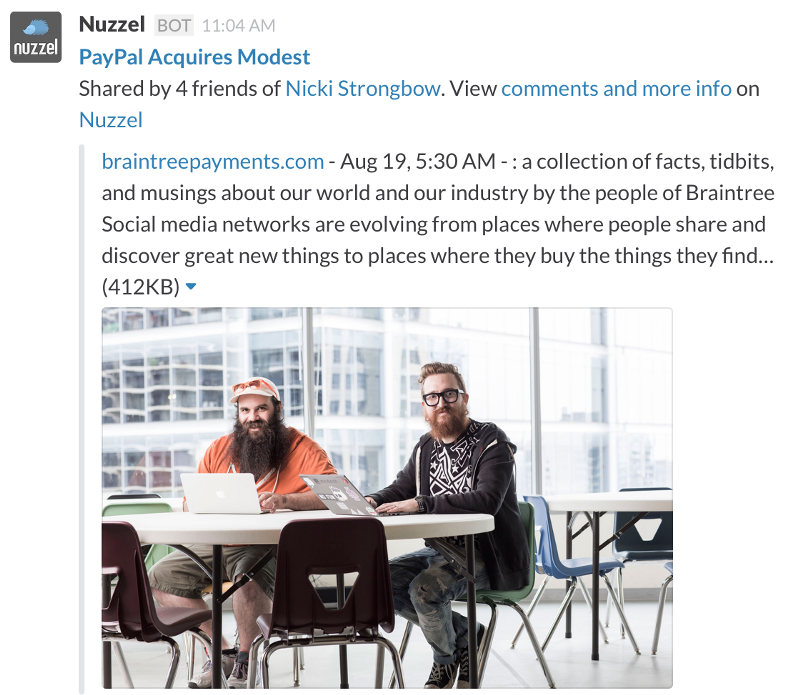 Nuzzel is an amazing companion app for Twitter, scanning your followers and alerting you whenever multiple friends mention the same link. In practice, it does a great job showing you stuff you're interested in by nature of the people you follow. If you're into tech, you'll get more tech news, if you're into sports, your Nuzzel feed will alert you to the biggest sports stories. Nuzzel currently runs as an iPhone app and webapp, sending alerts to your phone and via email, but with the Add to Slack button you can get alerts either in channels shared by others or your own personal Slackbot.
(Similar service also launching Add to Slack today: Breaking News)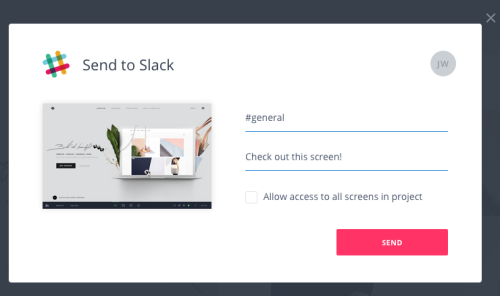 InVision is a prototyping tool for teams to hash out new designs. Mockups shared with the app can be annotated and comments collected among your team. With the Add to Slack feature, now you can share new designs inside the InVision app directly into a Slack team channel.
(Similar services also launching Add to Slack today: Wake, 99Designs, Zeplin)

Box is an online file sharing and collaboration service aimed at business. Once enabled, their Add to Slack feature means you can share things from within Box to your Slack team channels without leaving the app.
(Similar services also launching Add to Slack today: HelloSign, Airtable)
But that's not all!
The Add to Slack button is launching in the following services as well: Intercom, Launchkit, Lever, and Cronitor.
This is just the beginning
The Add to Slack feature isn't limited to just our launch partners. If you run a service or app that periodically sends notifications, or you'd like users to share their work directly into Slack without leaving your app, chances are you could easily make use of this feature. Our documentation on the new Add to Slack feature details the steps necessary to build it into your application today and start offering the feature to your users tomorrow.
Finally, since there are so many more apps you'll want to hook into Slack, today we're also raising the limit of integrations a free team can have from 5 to 10. [#}