Knock, knock: Introducing Do Not Disturb
Sending messages without disturbing teammates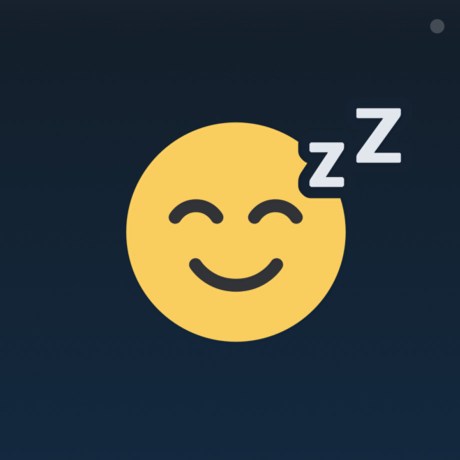 Snooze notifications with Do Not Disturb
When you're in Do Not Disturb mode, you won't get any notifications or hear notification sounds on any device and your status will be updated with the Do Not Disturb icon.
Meanwhile, everyone else online (say, teammates in another time zone) can continue to send you messages without worrying about bothering you, or — heaven forfend — waking you in the middle of the night.
Enabling Do Not Disturb is as simple as clicking the bell icon by your team name in the top right corner of your sidebar and choosing your desired time parameter.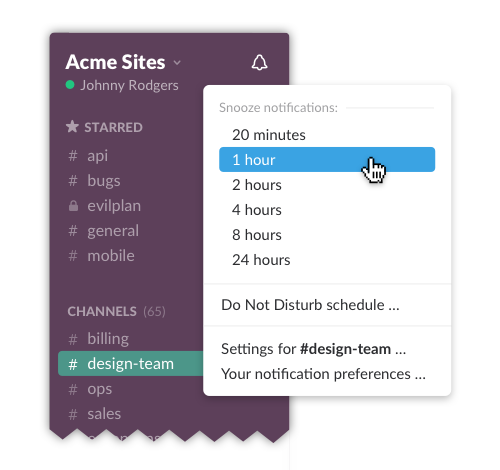 Just as easily, you can turn on Do Not Disturb right from your message box using the handy /dnd slash command, like so:

When your time is up, you'll receive a short summary with the number of new notifications received while you were unperturbed and blissfully productive, or gloriously relaxed as the case may be.

And of course, you can snooze notifications on iOS and Android apps, too.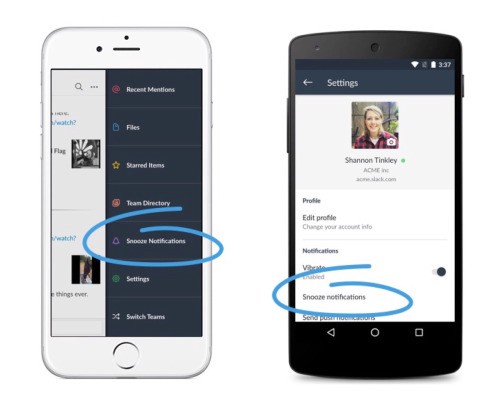 Scheduled Do Not Disturb
You can schedule regular Do Not Disturb hours to let others know when you're off the clock. By default, Do Not Disturb is turned on between 10pm and 8am in each team member's time zone. Team Owners and Admins can adjust or clear these default Do Not Disturb hours for the whole team on the settings page.
But in case of emergency…
Despite best intentions, unforeseeable events are bound to rear their heads, forcing you to (regrettably) disregard your teammate's status. That's why when you send a direct message to someone in Do Not Disturb, Slackbot will offer you a gentle reminder, but will also give you an option to push a notification through nonetheless. Much like @channel or @here mentions, do use this sparingly.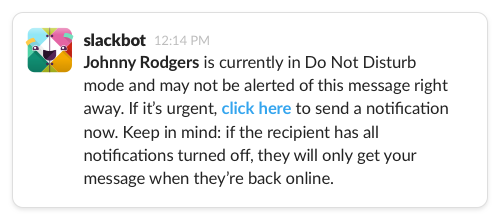 So whether you need a few uninterrupted hours to attend to that mounting to-do list, plan to devote your entire evening to watching your kids' living room rendition of "Annie," or conversely, are struck by a brilliant idea in the wee hours that you just have to share: Do Not Disturb is here, for helping maintain business as usual (and make room for the other stuff too).
Looking for more on how to use Do Not Disturb? Find the nitty gritty details in the help center. As always, for feedback or questions, email us at feedback@slack.com or get in touch with us on Twitter at @Slackhq.