Make your customer service stand out
Spot and resolve customer issues faster with these apps for Slack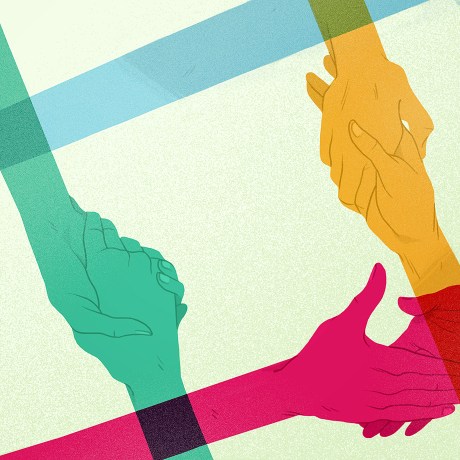 As customer support heroes, you spend your day putting out fires and calming the waters. Without you, satisfaction scores would sink and products and services would not be as pleasant or useful.
We understand the challenges of keeping up with customer communications coming in from every direction — from social media, on site, in app, open tickets, or rogue emails. That's where Slack apps can lend a hand. Adding a few apps to Slack will help you centralize all these communication channels into one place, where you and your team can have visibility over everything and coordinate responses. Along the way, you'll create a shared, searchable, archive of activity so in the future your team can more easily find critical information, like previous responses to similar tickets, and decrease time-to-resolution.
Here are a few ways you can up your service level with apps for Slack.
Resolve issues quickly and learn from your team
You already respond as quickly as possible when customer issues arise. Connecting your customer service management and support ticketing systems like Zendesk, Freshdesk, and soon ServiceNow, to a dedicated Slack channel such as #customer-experience, can help you solve tickets even faster. Your team can see instantly when a ticket is opened, and if the issue is extra tricky, you can work together in Slack to find the best resolution. Everyone in the channel sees status updates along the way until the ticket is closed. This increases visibility into how issues are resolved, so your team can tackle future tickets even more effectively.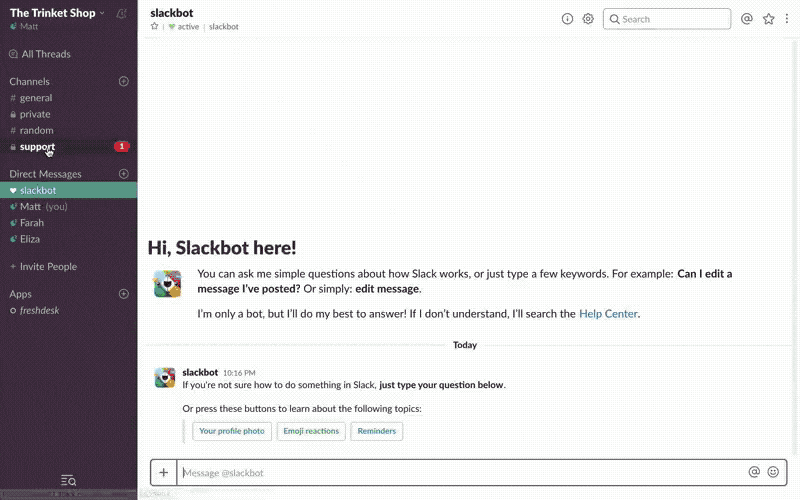 Spot trends and monitor social chatter
Use the Twitter or Brand24 app to pipe those @mentions into a channel where you can keep your eye on all your social channels. If social activity needs attention, you can craft the perfect response with input from your team, right within Slack, before sharing it with the world.
Or if you want someone else — say your product team — to see the this specific feedback, you can add a simple emoji reaction to the message and the Reacji Channeler app will shoot the tweet into the right channel for all to see. We at SlackHQ follow a similar approach for tackling small, fixable issues — read more about beef tweets here.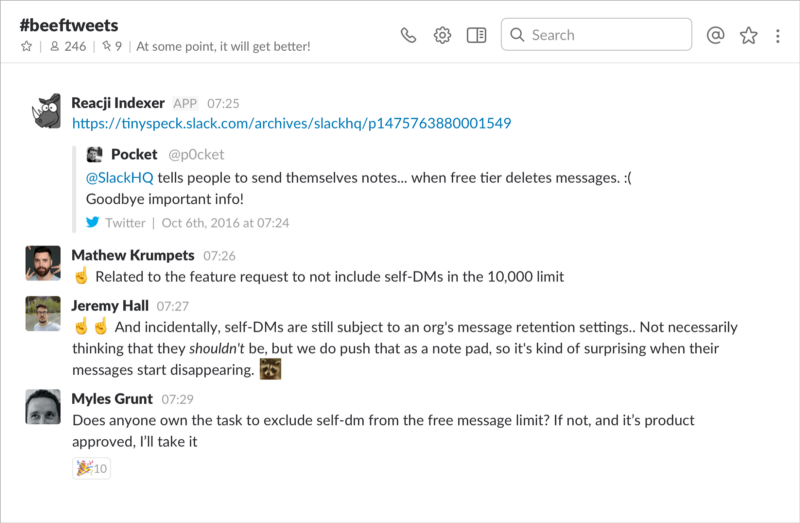 Communicate with your customers directly from Slack
Never miss a customer when you have their attention. Live-chat apps like Intercom will send you a notification in Slack when a visitor starts a conversation from your site so you can respond quickly, before they move on to something else. Olark recently released an app for Slack that will let you live-chat with your customers and site visitors directly from Slack. When a customer asks a question, Olark will tell you in Slack, where you can jump into a dedicated channel to communicate with your client. After the conversation is closed, Olark will ask your customer to rate their experience. Top ratings are posted back into Slack so you can celebrate your customer success wins with your team.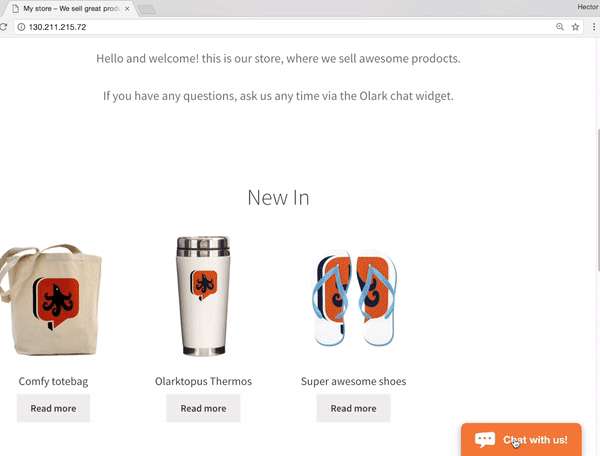 Monitor feedback from your customers
Monitoring NPS and general health of accounts can help spot and resolve issues before they get too big. Apps like Delighted and Sally the Gainsight bot make customer sentiment details easily accessible for everyone on your team. Say you're discussing a specific customer's account, you can quickly ask Sally to show you that customer's NPS score, or a summary of the customer's renewal history. Sally will respond with the details so everyone on your team can see context before digging deeper into a conversation or decision.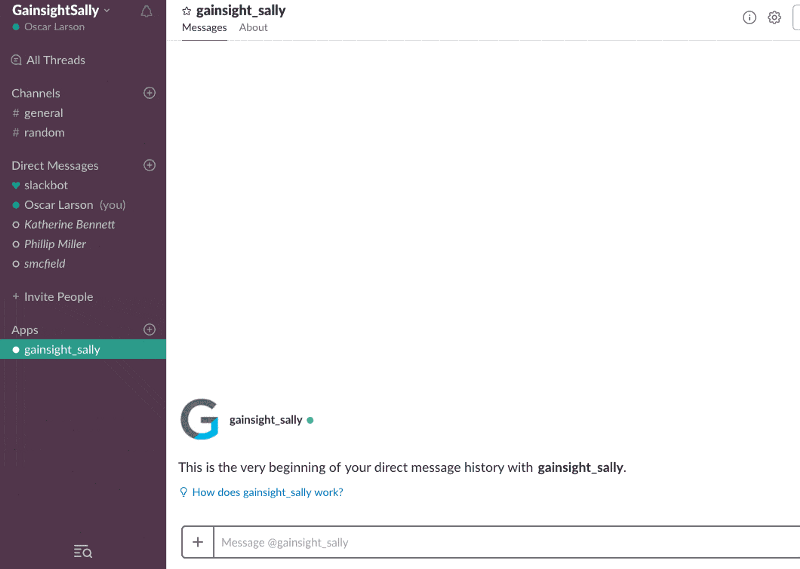 Does your product have an app? App Follow will post app reviews from Google Play and the App Store into Slack for greater visibility. Your team can even respond to reviews directly from Slack.
Keep support knowledge fresh, useful, and accessible
What are the details on the latest product launch? Do we allow refunds more than 90 days after the purchase date? When a helpful answer to questions like these are shared in Slack, they're automatically archived and searchable. Apps like Tettra, Memo, or Guru let you flag valuable answers and links shared in Slack so you can refer to them later, cutting down the time it takes your team to find the information they need in order to respond to a customer.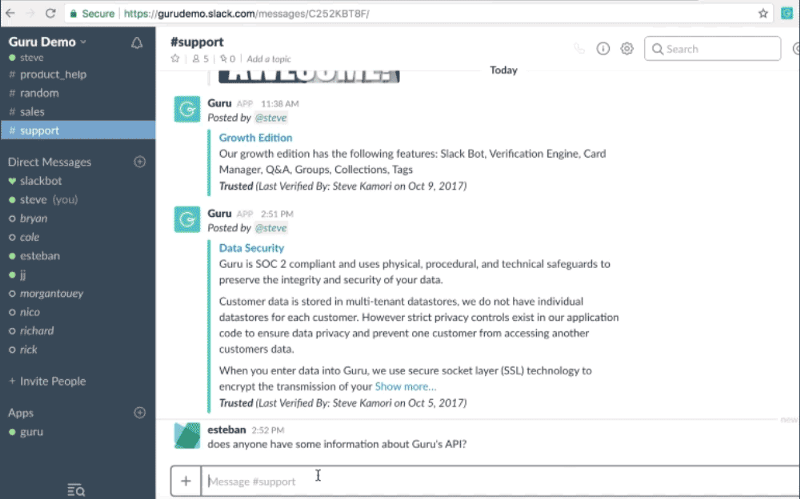 Whatever your customers are saying, from praise to a plea for help, these customer support apps for Slack will give your team visibility over it all so you can create even stronger customer relationships.
If you're curious about how Slack apps can make work a bit simpler for other departments, check out our previous posts on apps for sales teams, apps for marketers, and managing software development in Slack.