Make your meetings more effective
These apps for Slack will help you make the most of every meeting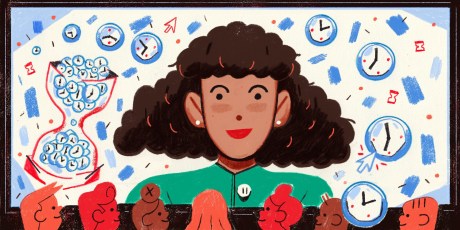 Meetings can be the key to moving work forward, but they can also be the wasted time that keeps you from getting anything done. At Slack, we think a lot about how to shift this balance for the better: We've looked deeply at meetings that work better (and those that don't) in Slack, and we've talked to GV product partner and meeting scholar Ken Norton on how to improve company culture around meetings.
Now we're sharing how these apps from our app directory can help you set up meetings quickly and prepare effectively before anyone gets in the room. They'll also help you keep track of next steps and assign follow-ups before anyone leaves the discussion, keeping everyone accountable and making sure your meetings are a smart use of time.
Let a bot do the tedious work of finding a meeting time
When it's time to set up a meeting, the Meekan Scheduling App will take the tedious work of finding availability off your hands. This AI scheduling assistant will cross reference everyone's calendars to find the perfect meeting time and an open room, even across multiple time zones.
Ask Meekan to help by typing into any channel the app is added to:
Schedule a meeting — "Meekan, schedule a team meeting tomorrow"
Find an open room — "Meekan, what rooms are free right now?"
Reschedule a meeting — "Meekan, reschedule my 1pm"
Set up your meeting for success with a collaborative agenda
Dropbox Paper is a document collaboration tool built by Dropbox designed specifically for creativity and ideation — and works wonderfully for meeting notes. Prep for a meeting and ensure it's productive by creating a doc with key details like agenda, meeting date, and attendee names. Then collaborate on notes and follow ups throughout the meeting to keep everyone on track.
With Dropbox Paper and Slack you can:
Use the /paper command to turn channel updates and conversation threads into discussion items
Start an instant conference call
Zoom, Web Ex, Blue Jeans, GoToMeeting, and more
When you're ready to meet, you can start an instant call or join an existing meeting right from Slack with the video conferencing tool your company uses. Sounds simple, but by using these apps, you're saved a couple of clicks out to your calendar and into the specific meeting event.
Start a meeting by:
Clicking the Slack call button at the top of any channel or direct message
Using the command /zoom /webex /bluejeans or /g2m to start an instant call
Create an actionable list of follow-ups
You're in a productive meeting, great discussions have been bouncing around, and now it's time to turn the conversation into action. Designate someone to keep Slack open as you meet and create follow ups on the fly with a task management app like To-Do or Busybot. When the meeting is over, share a summary of the open items right into the relevant Slack channel.
Use To-Do and Slack to:
Create follow up tasks
Assign tasks and set due dates
Post a summary of tasks into a team channel
Skip the meeting altogether and host a standup in Slack instead
Instead of meeting in person, save your team some time and host status updates and standups in Slack instead. This way your full team doesn't have to be free at the same time, people can respond asynchronously when they have time, and you can still stay up to date on the latest progress and blockers as a group.
Use Standuply to:
Schedule automated check-ins and collect responses
Get summary reports in Slack
Track business metrics, team's progress and happiness
Share goals, meeting notes, agendas, and run polls
These are just a few of the apps available that can help you have a more productive workday. Explore more productivity apps in our app directory.
Here's to fewer, more effective meetings!