Making a living while watching the grass grow
What may seem boring to some is one man's dream of turf management superstardom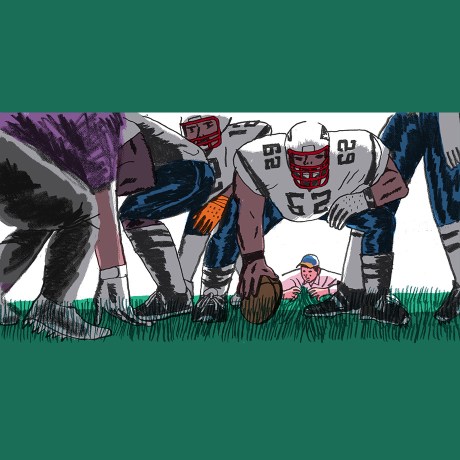 An extended audio version of this story can be heard on Episode 24 of Work in Progress, Slack's podcast about the meaning and identity we find in work.
Going to the Super Bowl was a lifelong dream, and a peak professional achievement for Sean McLaughlin. But McLaughlin is not a football pro. He's a student in turf management, and watching grass grow is his passion, as well as his profession.
"I've always been a behind-the-scenes type of person," McLaughlin explains. "I was looking more into being a scientist, not someone you're going to see on TV, out in front of people. I kinda wanted to be the guy sittin' at the desk, doin' the dirty research."
When he first entered college, McLaughlin thought his dirty work would involve the skies. He loved weather and wanted to study meteorology.
"There's a lot of research that has gone into it," he says. "Between maintenance, which is a science in itself, identifying pests and diseases, and knowing how the plant grows in response to different factors."
A general education class in horticulture grounded him, though. There, he discovered turf management, an area he hadn't known existed.
Since switching majors to pursue a career in the field, he's heard all the jokes about how he watches the grass grow for a living — and some people think that sounds boring. But not McLaughlin.
"There's a lot of research that has gone into it," he says. "Between maintenance, which is a science in itself, identifying pests and diseases, and knowing how the plant grows in response to different factors."
McLaughlin studies the science of turf management at California State Polytechnic Institute, Pomona, in Southern California, where the climate is pretty much perfect for growing all sorts of turf on several acres set aside for just that purpose. There are not only many types of turf but also many unique aspects associated with each, such as specific pests or weeds. McLaughlin notes that turf is the only plant caretakers must constantly trim and fertilize, that is subject to near-constant trampling and is still capable of adapting to extreme conditions.
Most people don't think much about turf. But turf managers are essential in professional sports such as soccer and football. Turf that doesn't root well or isn't installed properly can result in divots and unevenness that can cause players to slip and even cause serious injury.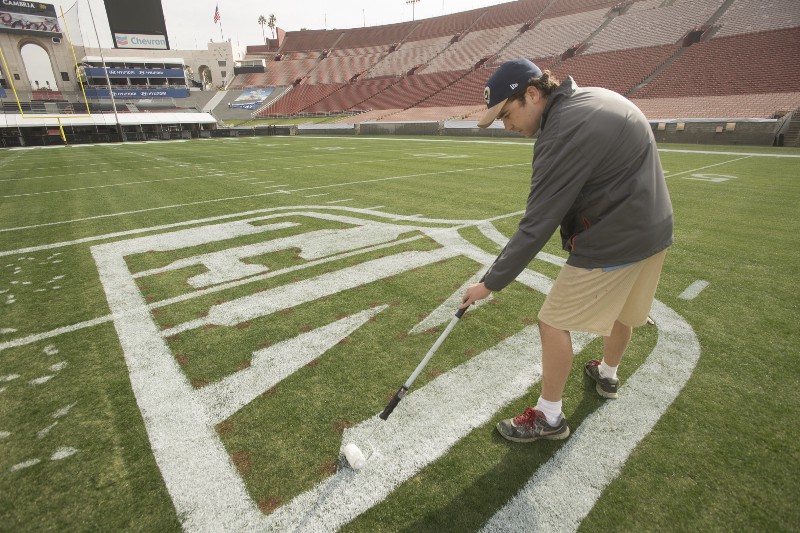 McLaughlin learned this firsthand when he won a coveted internship to work at the 2017 Super Bowl in Houston, Texas. Joining the 30-person team tasked with grooming the practice and play fields, the turf crew worked from early in the morning to late at night in the week-plus leading up to the championship game.
There's a fine line between the science and artistry of turf management, especially for major professional events with elaborate playfield design. "You get to use turf grass, a living breathing plant, as your canvas," McLaughlin explains. "I think that one really neat aspect of turf management is that you actually get to paint on your field."
He wasn't just training on the job. McLaughlin was honored to help fill divots and paint the field for his favorite team, the New England Patriots. Learning what it takes to manage a field for a major playoff game was a great opportunity, but watching his favorite team compete on the field he helped groom was the chance of a lifetime.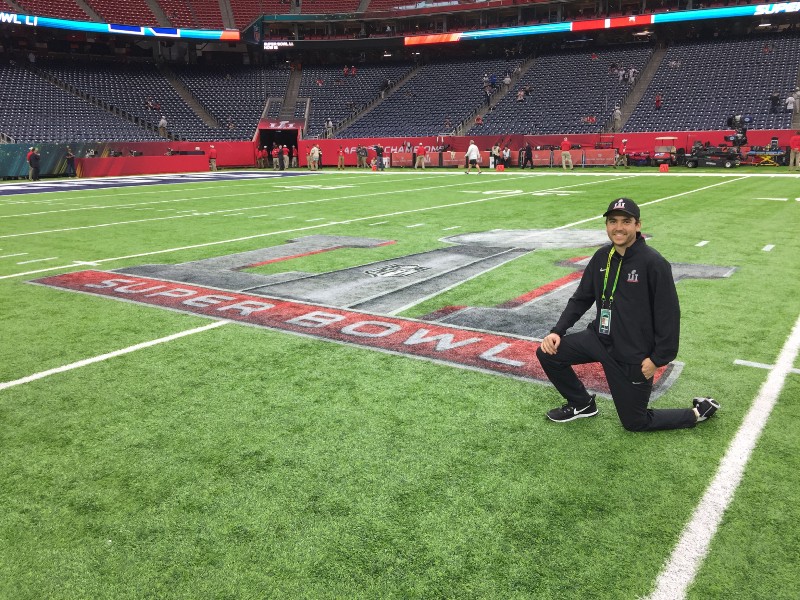 Despite the front-row fervor, it was a nerve-wracking day. The 100 million fans tuned into the televised game would've seen the slightest mistake. "If nobody notices anything, nobody says anything, then it means we're doing something right."
In the end, they all did something right. Both McLaughlin and the Patriots triumphed under the pressure, the latter beating the Atlanta Falcons in a dramatic upset.
McLaughlin even heard that some of the Patriots players and head coach Bill Belichick said the fields were among the most pristine they'd ever seen. "They also mentioned that they were some of the best fields that they had played on all season long," he adds proudly.
After graduation, McLaughlin hopes he'll be working at a stadium or doing the dirty work behind the scenes in pest control research and disease diagnostics. "Turf is just such a unique field."
Work in Progress story produced by Tara Brockwell.
Brittany Shoot has a lot of happy houseplants and an unkempt garden on her roof.