New and noteworthy apps for Slack
A roundup of helpful integrations to simplify how you get work done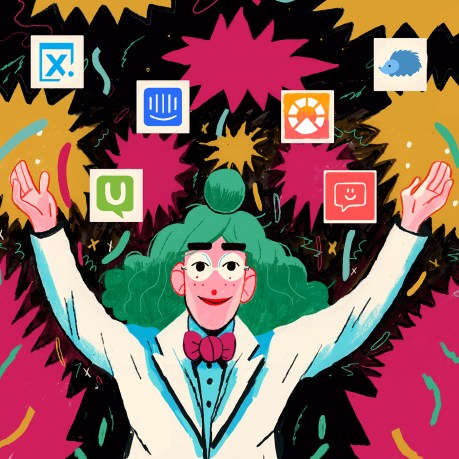 A lot of tools connect with Slack to help with routine busy work (like scheduling meetings) and to reduce the time you spend switching between tools and digging around for data. Some recent additions include a new version of the Github integration and a bot from Concur; a new integration from Workday is also on its way.
With more than 1,000 apps in the Slack App Directory — and new ones being added all the time — we thought we'd share a collection of the latest ones to hit the stands.
Let a bot schedule your meetings
Juggling calendars can be a pain. But with the x.ai app for Slack, you can set up meetings with a simple slash command. Type /amy or /andrew, add meeting details, and get back to work.
Manage tasks and to-dos
Skip filling out complex forms and easily create and assign follow-up tasks with Begin. This integration also automatically organizes your to-do list tasks and shares your progress with the team to keep everyone coordinated.
Live-chat with customers right from Slack
Responding quickly once you have a customer's attention can mean the difference between landing a deal and losing a deal. Intercom recently released a new version of its app that notifies you in Slack when a potential customer visits your site. It then launches a dedicated channel where you can communicate with that customer right from Slack. Learn how to close deals faster with Intercom and Slack in this recent webinar.
Receive personalized daily news briefings
Stay ahead of the competition with Nuzzel, an app that continuously tracks news from a wide range of sources and delivers a digest of your industry's trending news to a Slack channel for the whole team to access.
Connect your team to the voice of the customer
Customer feedback is critical to making informed product and design decisions. The UserTesting integration allows you to easily share study summaries and customer video interviews to any public Slack channel so that everyone on the team can stay in the know.
Lighten the load for your IT team with virtual assistance
Have you tried turning your computer off and on again? Virtual agents like Spoke and Astound help IT teams automate responses to frequently asked questions, which in turn help employees solve their own challenges. If the issue is more complex, these apps route the ticket to the right person so it can be resolved quickly.
See what other tools connect to Slack and how they help teams get the information they need, when they need it, at slack.com/apps.