New, Small and Shiny: Introducing Slack for Apple Watch
The newest, smallest member of the Slack family has arrived: Slack for Apple Watch. No longer will you be left tapping your wrist in vain: now doing so…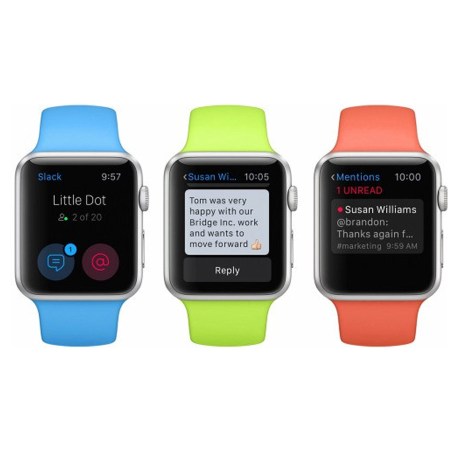 The app contains all the functionality you might reasonably expect from a tiny slab of extremely dense technology attached to your wrist — and more. With Slack for Apple Watch (and an Apple Watch), you'll be able to:
See any push notifications that would usually be sent to your phone — on your wrist.
Receive and respond to DMs with standard emoji, pithy pre-defined text, or Siri dictation.
Create new DMs.
Get a list of unread mentions of your name or highlight words.
Reply to unread mentions via DM.
Continue your conversation in the Slack iOS app via Handoff (when viewing a DM, even on another team, on the Watch you can swipe up on the Slack icon in the bottom left corner of your phone's lock screen and you'll be viewing that DM on your phone. Truly, we live in the future.)
Switch between all teams authenticated to your Apple Watch.
If you can't wait for delivery of your new Apple Watch, or you haven't ordered one, you can always strap your existing phone to your wrist. Caveat: this may provide even more functionality (everything you've come to expect from the iOS app, in fact) but will impress fewer people.
For those who have an Apple Watch on the way, or who don't, but are intrigued as to how Slack would work on this new piece of hardware… a small taster: