On stage with the SpiderWebShow and Slack
A theatre company uses transparent communication in a nationwide live performance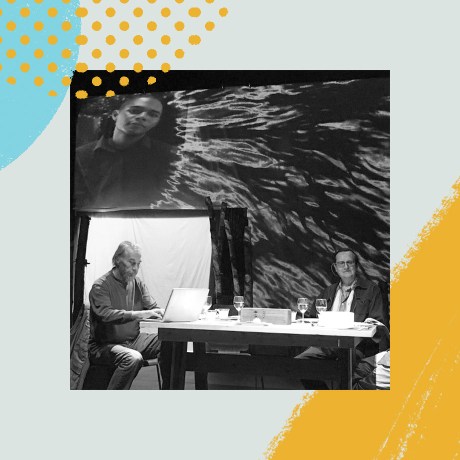 The lights go up in a black box theatre in Kingston, Ontario, where three elderly people are on a stage, huddled around a dinner table, engaged in a lively conversation about, "What is revolutionary?". Scenes of a forest unfold on a large screen behind them, where, one by one, the audience is introduced to the younger generation of the three — performed by actors located in studios in Vancouver, B.C., Toronto, and Montreal.
The Revolutions is a live theatre performance that combines performances in both physical and digital spaces, and it's the first of its kind in Canada. A core part of the play is facilitated by a new technology called CdnStudio — created by Sarah Garton Stanley and technologist Joel Adria. The new technology blends separate video streams together in real time, allowing users in multiple places to see, hear, and perform with one another in the same digital space.
A show like this requires a lot of interdependent parts to come together at exactly the right moment, which is why, behind the scenes, stage manager Madison Lymer and assistant director Mariah Horner relied on Slack to communicate with their tech partners in studios across the country.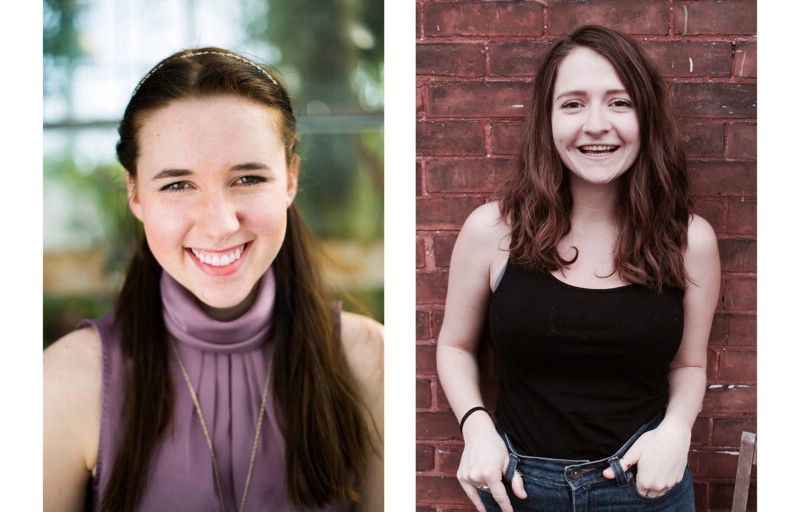 "One of the coolest things we did during the show was that Madison was cuing the performers in different cities through Slack messages, and we used emojis as a way to respond to whether we received the cue or not," says Horner.
Here's a glimpse at how the team used Slack to run Canada's first multi-city, virtual play.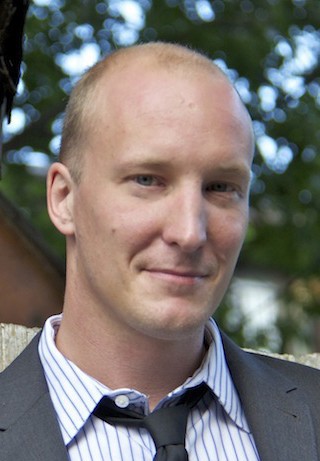 Headset rules apply: Channeling essential communication and feedback
SpiderWebShow is the name of the production team behind the project. Throughout the year, they run several initiatives, like a digital publication and a podcast, so they've separated most of their communications into project-based channels in Slack managed by Artistic Director Michael Wheeler.
For the The Revolutions show, Wheeler created two public channels: #cdnstudioboss for communications during the live show, and #therevolutions, a channel where everyone could leave observations and feedback for what could be improved upon in the next run.
"You really try to minimize your communication to only essential conversation during the show," says Lymer. "I made up a rule that we had to pretend that this channel was the same as talking on a headset to keep it from getting too noisy."
Getting each studio's setup just right required a lot of comparing and contrasting. "We would take photos and share them with each other in the channel," adds Horner. "Toronto would show theirs, then Montreal would chime in. Then we would leave comments on each image so all the conversations were organized."
Post-show, Horner found the ability to search individual conversations and documents from within Slack to be especially handy for compiling wrap reports. Not to mention that with conversations time-stamped in each channel, she could easily scroll back to collect everyone's feedback and identify when certain things didn't work as planned. "This way we can constantly evolve our own process," she says.
Transparency sets the stage for the team's success
"Because of Slack's interface, it didn't feel like we were taking our artistic practice and shoving it into a box," says Horner.
"Channels allow for a certain level of informality that made talking to each other super comfortable," Horner continues. "That's really important in a rehearsal room. We didn't have to sacrifice that."
The team says they also found value in using simple non-verbal forms of communication. Lymer brings up an example where each city's team agreed to declare an emoji at the top of every show and use it to react to Slack messages as a way to confirm that they've received the message.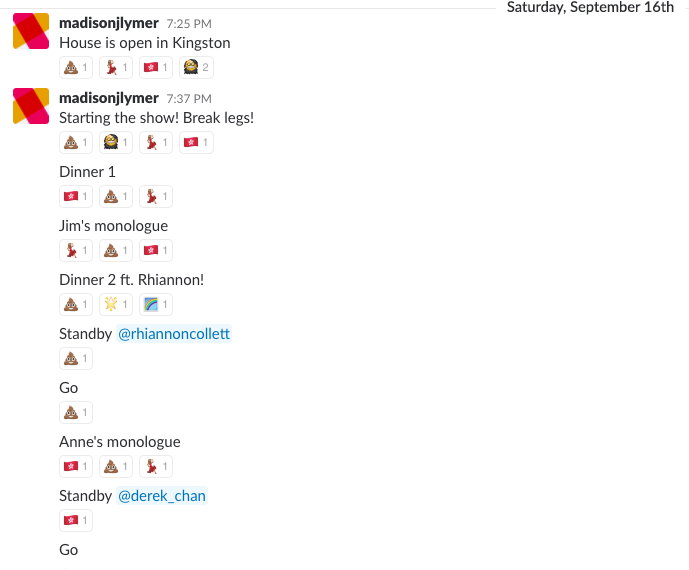 "It was great for signaling that everyone could hear me and everyone was on the same page," says Lymer.
Wheeler adds that, as a manager, having files and discussions organized into their own channels allows him to keep an eye on what's going on without micromanaging the team.
And for Lymer, closing the physical and geographical gap between performers and collaborators across the country gives her hope for the future of her career. "I might have never been able to work with the show's playwright, Rhiannon Collett, but now we've written and edited together, and worked in some form of professional capacity on Slack," she says.
"I don't need to afford a plane ticket across the country just to work with someone," she continues. "With Slack, we have a whole new kind of performance, a whole new kind of creation. Now distance is an opportunity."