One voice, many hands
Creating a company voice your team can own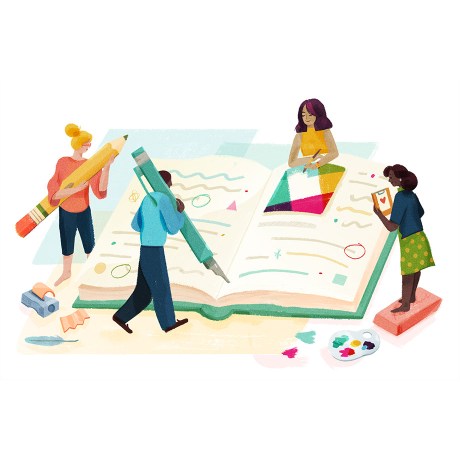 You want a strong voice for your company. Not as in overbearing. Strong as in consistent. Strong, like boisterous. Able to take on many tones and tasks, and still do the job of sounding consistent. That kind of strong.
You might want to make it so that people read something that comes from your company and say, without seeing the source: "Hey: that sounds like Slack!" Or rather, you do want that if you're us, because we are. You probably don't want that if you're someone else. You probably want them to say the name of your company there.
We understand. And that's why we've put a lot of thought into trying to work out how to make our communication sound consistent across the board: about what it takes to create a voice that is robust, recognizable, and consistent, and possible for people on our team to pick up — no matter how many people are actually typing.
First, you need to know what voice you're using. There's a difference between creating a voice from scratch and building on one that already exists — and we'll get to the difference between a constructed or a nourished brand voice in a later piece — but once you know your voice, you have to break it down again in order to work out how to scale it.
Starting with the what
When we first started approaching this problem at Slack, we tried to do it from a logistical, logical, mechanical point of view. We started making lists of words and phrases that sound like things we'd say.
Or, more often, lists of things we'd never say. It's always easier to identify what you don't want your voice to sound like than what you do. "We should never sound like this," you say, reading a densely packed jargon-filled piece of marketing copy from a long-defunct service. "We mustn't ever use this word. Or this phrase. Or… here: I'll just make a list."
Thing is, while it's easy to identify the negative traits, it creates a gaping void for anyone who isn't inside the mind of the holder of that voice. Anyone who comes to write for you steps off the huge cliff of "not like this" into an empty space. What DO you sound like, then?
A great first step, as used in many style guides (and guides to styling style guides) is the "this but not that" list.
From our style guide, for example:
We are:Confident (never cocky)Witty (but not silly)Informal (but never too informal)Intelligent (and always treat our users as intelligent, too)Friendly (but not ingratiating)Helpful (never overbearing)Clear, concise and human.We are characterfulBut we never let character overwhelm content. What we have to say is infinitely more important than being admired for the way in which we say it. If people can't see the substance for the style, we've gone wrong.
But having that basic sense of the personality of the company, or the brand, doesn't mean that people can necessarily step into and out of it when they need to write something.
If people are still relying on checking the lists of things they sound like against things they shouldn't, they tend to get bound up and overthink. The words are all there, but the feeling behind them is lacking. They're trying to sound a certain way, but it doesn't feel clear how or why they're wanting to sound that way.
Never mind the what — start with the why
Our training in writing at Slack has shifted over time, then, from using the solid 'examples and end results' to encouraging people to tap into the feelings behind them.
We're working on getting people to think of writing — of using the "Slack voice" — as merely using their own voice, but using shared characteristics or values to approach whatever it is they're about to write. And how do you get into that brain? We use a few of our company values to help focus on how it is we sound. Simple: just ask a few questions, and consider a few things.
Empathy
Whatever someone is about to write, we encourage people to think about the person they're writing it for. To give them a face, and a name. If it helps to think of someone you know, do that. If it helps to think of an appropriate emoji face that sums it up, why not? Ask yourself:
What is the reader feeling? Where have we found them?
Are they angry? Confused? Curious? Excited?
How often might they see this bit of writing? How would it read after the 20th time?
How do I want them to feel at the end? How can I help get them there?
Courtesy
Being courteous is about being respectful, but not over-polite. Adding 12 extra pleases and thanks, or a paragraph telling people what you're about to say in the next paragraph is less courteous than simply telling people what they need to know and then getting out of their way.
How does this help the person I'm talking to?
What's the very essence of what they need to take from this? How quickly can they get to it?
Do I need to speak at all? Is this something a person will work out by themselves?
Think about what you need to say in advance. Work through all the questions people may have, and answer them. Then delete anything that is extraneous or confusing information.
Craftsmanship
The stuff you put out into the world speaks volumes to people about every other part of whatever you make. You're representing all your colleagues, your team, all the people that don't get seen, whatever you type. So being precise about the quality of the work will speak volumes about all the work that people can't see.
Can this be tighter? Can I lose the first paragraph?
Who can give me a second opinion, or a second pair of eyes?
When I read it out loud, does it make me stumble? Can I rewrite it so that it doesn't?
Playfulness
At Slack, playfulness is not about the number of emoji you can use, or whimsy or … whatever. It's about being in a playful stance: being in the spirit of the game, having an open mind, looking at the world sideways or surpassing expectations.
• What does this usually sound like?
• What different angle can I look at this from? How can I approach this differently?
• What word or phrase can I throw in there that will make someone smile?
• What do I need to do to meet expectations? What can I do to surpass them?
• How can I use this opportunity to make someone's day a little more pleasant?
We tend to think of our voice, in addition to being an intrinsic part of the product, as an external representation of the people behind it. And because of that, we aren't necessarily making hard rules about what to say or what not to say. We're trying to find the right traits to tap into, trying to open up the space so people can sound like themselves — because, if they work here, sounding like themselves is sounding like Slack — but come at it from a position of shared characteristics. It's less about mechanics — more about a sensibility. Of course, even if you're working from inside out like this, you still need rules (and more of that anon). But working this way means we can be a little more flexible, a little more able to stretch and grow, and be, in general, a little more liberal with our words.
Because we're hippies.
Not really. It's because, so far, it actually seems to be (mainly) working.
---
Anna Pickard is basically just a fancy typist.