Our favorite podcasts
Last year, we released the final few episodes of the Slack Variety Pack for 2015, featuring our favorite stories along with a splash of personal podcast…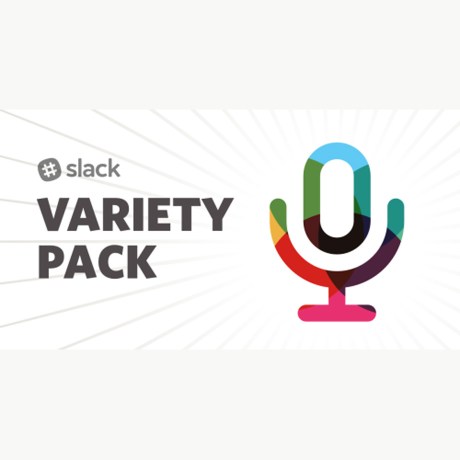 And then we got this tweet request from Nathen McVittie and thought, "Hey, that's not a bad idea."
@SlackHQ Do you guys have show notes for the podcast? Would love to see the podcast recommendations listed out.

— Nathen McVittie (@nathenmcvittie) December 30, 2015
So! Nathen, everyone: here you go.
Episode 16 — Our Favorite Things Pack (Part 1)
https://soundcloud.com/slacksingleservings/our-favorite-podcasts
Stewart Butterfield, Boss
Stewart loves podcasts so much, he was hard-pressed to recommend just one. Instead you get six! Six glorious podcast recommendations
Anna Pickard, Editorial Director
Anna recommends Awesome Etiquette, a podcast hosted by Lizzie Post and Daniel Post Senning — of the Emily Post Institute — addressing all your most pressing etiquette conundrums; modern and traditional.
But not so fast! She's got some bonus recommendations for you, like: The Worst Idea of All Time and NPR's Pop Culture Happy Hour. She also lends a hearty second vote for The Allusionist and Lena Dunham's Women of the Hour (which Mari also recommends a little further down …)
Matt Haughey, Sr. Editor
Matt recommends The Golden Horseshoe Review, a podcast about Disney Parks featuring three Disney-obsessed designers, Hello, from the Magic Tavern, brought to you from the magical land of Foon, and Roderick on the Line, a show about two funny guys discussing just about every topic imaginable.
Leah Reich, User Research Lead
If you enjoy smart podcasts about race, culture, and gender, follow Leah's lead and tune in to Another Round with Heben and Tracy. Her unrecorded, bonus podcast pick is Call Your Girlfriend: A podcast for long distance besties everywhere.
Rob Campbell, Technical Customer Experience Agent
Finally! A history lesson that won't put you to sleep. Rob recommends veteran journalist Dan Carlin's Hardcore History, which takes you deep into the recesses of time to explore some of the world's most sordid and influential events. Great for road trips, some patience required.
Episode 17 — Our Favorite Things Pack (Part 2)
https://soundcloud.com/slacksingleservings/these-are-a-few-of-our-favorite-things-slack-podcast-recommendations-part-2
Evie Nagy, Writer
Evie loves Doug Loves Movies, a comedy podcast hosted by Doug Benson featuring a wide variety of his famous, and not-so-famous, comedian friends. Part talk show, part game show, hilarious all around.
Mari Ju, Product Marketing
A miniseries about friendship, love, work, bodies and more — Mari recommends Lena Dunham's newest audio venture: Women of the Hour.
Matt Kump, Product Designer
Matt also gave the gift of multiple recommendations: Love and Radio, a series of "in-depth, otherworldly-produced interviews with an eclectic range of subjects, from the seedy to the sublime"; My Brother, My Brother and Me, an advicecast where the brothers McElroy dispel sage wisdom about anything and everything (whether they ought to is another question altogether); and Selected Shorts, basically: bedtime stories for adults.
Lima Al-Azzeh, Writer
What's a "good" Muslim? What's a "bad" one? A complex question deftly and humorously explored in Lima's favorite podcast: #GoodMuslimBadMuslim, a show about identity and Islam in modern America. Lima was also going to choose Call Your Girlfriend as her bonus pick, but Leah beat her to it.
Shandeep Sharma, Project Manager
Looking for a lighthearted podcast for your morning commute? Shandeep's got you. He recommends Not Too Deep, hosted by comedian and YouTube superstar Grace Helbig.
Breese Roche, Field Marketing and Events
Emily and Daniel Post would surely balk at the topic of Breese's favorite podcast: Death, Sex and Money, where taboo topics are discussed unabashedly and salacious stories abound.
Johnny Rodgers, Front-End Engineer / Office DJ
All great podcasts feature great music, so Johnny Rodgers prepared a list of his favorite bands and albums of 2015.
Happy listening!
---
And if you had no idea we had a podcast until now, then … surprise! We do! And it's quite good (if we do say so ourselves). You can catch up on past episodes here.