Pitch perfect pioneer
When a young woman struck out two baseball greats, the sport couldn't handle it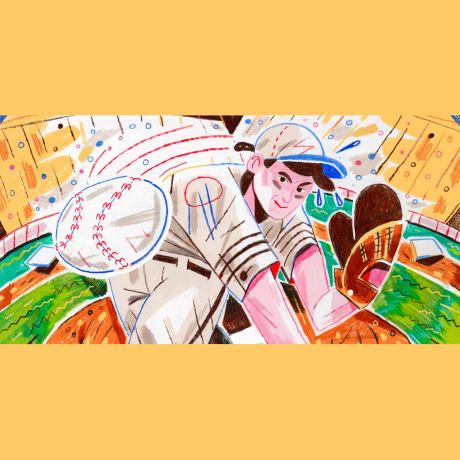 An extended audio version of this story can be heard on Episode 4 of Work in Progress, Slack's podcast about the meaning and identity we find in work.
There wasn't supposed to be anything unusual about the New York Yankees exhibition game on April 2, 1931. Diverting to Chattanooga after spring training in Florida, the celebrated team planned to impress the 5,000 fans assembled for a pre-season showcase. The Yankees probably expected an easy win that afternoon, too.
They hadn't counted on 17-year-old southpaw pitcher Jackie Mitchell.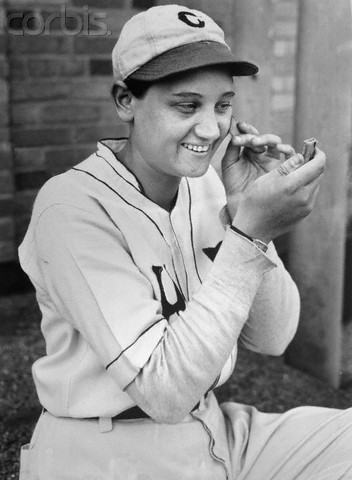 According to Tim Wiles, the former research director at the National Baseball Hall of Fame and Museum and a baseball historian with a focus on women in sport, the Yankees were ahead when the coach of the local team, the Engelettes, put in a new pitcher. Babe Ruth surely wasn't concerned when he saw a teenage girl take the mound. But he should have been. Jackie Mitchell struck him out with two curveballs and one fastball.
Lou Gehrig took the plate next, and Mitchell struck him out in just four pitches. Both times, the crowd went wild — these striking successes most certainly warranted outsized reactions.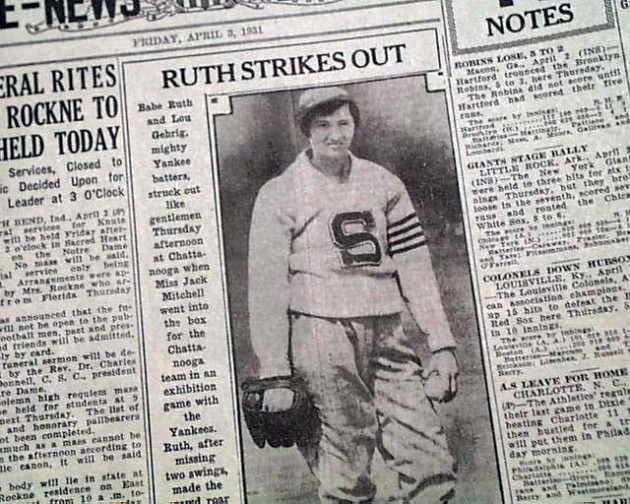 "In 1931, the New York Yankees were the best baseball team on the planet," explains Wiles.
In the decade prior, the Yankees had won three World Series championships; they won the series again in 1932. Moreover, Babe Ruth was an international superstar. "No one had ever been bigger in sports," adds Wiles.
Gehrig, who had a gentler reputation, took the defeat in stride. But Babe Ruth's ego was badly bruised by Mitchell's skilled pitches. "Those who have seen the footage say that it looks like [Ruth] throws his bat down in disgust and appears to theatrically argue with the umpire," says Wiles. "But he did strike out. There's no doubt about it."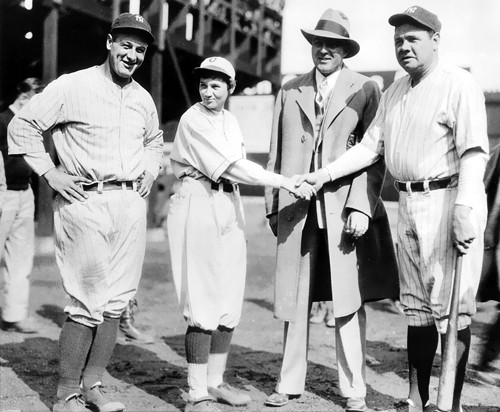 Struggling to defend his honor, Ruth proclaimed that women were too delicate to play the game. It was a strange rebuttal, but it worked. Rather than argue with Ruth, Commissioner of Baseball Kenesaw Mountain Landis immediately banned women from professional baseball.
The impact of Landis' censure was swift and lasting. Women were barred from major and minor league baseball and relegated to softball, the sport that is still thought of as the women's alternative to men's baseball. This is especially unfortunate considering how inclusive professional baseball once was.
It was also tragic for talented young women rising through the ranks. By the time Jackie Mitchell struck out Ruth and Gehrig, she'd been playing baseball for several years. Wiles says that Mitchell's father was likely a fan of the game who encouraged his daughter to play from a young age. Mitchell also had the good fortune to live next door to and receive advice from Charles "Dazzy" Vance, who became a celebrated major league pitcher for the Brooklyn Dodgers.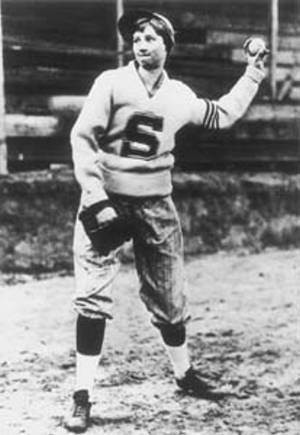 There's an oft-cited contemporary statistic that businesses with greater diversity have greater success. But access is crucial, as is having a coach to champion your efforts.
In addition to the Engelettes, former professional ballplayer Joe Engel owned the Chattanooga Lookouts. "[Engel] was a showman and did whatever he had to do in order to get people, during the Depression, to come and buy tickets to his ballpark," Wiles explains. Engel wasn't necessarily a forward-thinking champion for integrated athletics and gender inclusion. He was a team owner trying to get fans in the seats.
Arguably, Engel's motives don't matter as much as what he stood for: enabling young women to train and compete in a game that would later shut them out entirely.
There's an oft-cited contemporary statistic that businesses with greater diversity have greater success. But access is crucial, as is having a coach to champion your efforts.
The women's baseball ban stuck until the 1990s, barring generations of young women from league play. Despite the ban, Mitchell joined an entertainment-style team called the House of David, a bit like basketball's Harlem Globetrotters. But she was always a true athlete. "Around the age of 27, she wearied of the side show aspects," Wiles says.
Wiles notes that like many fields segregated without cause, baseball should never have banned anyone. "Football and basketball are largely dependent on physical stature," he says. "We can all learn from Jackie Mitchell's story that baseball, more so than many other sports, is a game that does not require a specific physical type in order to play."
Cultural gender roles were much more rigid in Mitchell's day, and Wiles says it's a shame that legacy of exclusion persists in professional baseball. "I think men ought to grow up and let men and women play together in this great game."