Prawns in suits and a tin roof for the kids
Behind the scenes of Slack's Animals ad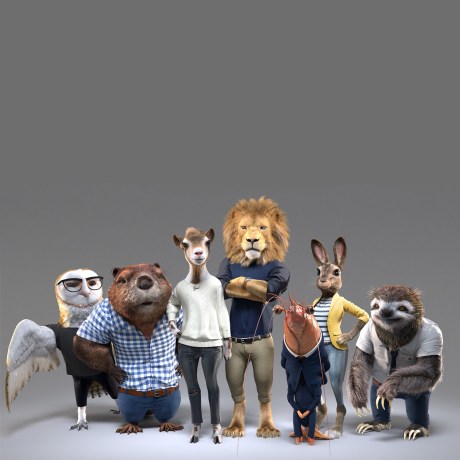 More than a year ago, we started work on a commercial, which is currently running on US television and online. The process involved many months of ridiculous debates about flying umbrella logistics and the style of suit a prawn would wear. But also was a good example of long distance teamwork, with conversations and files flying back and forth on Slack between San Francisco, Vancouver, and the team from Nexus in London.
So we made another video. A video about the making of the Amazing Teams: Animals campaign.
We could go a level deeper, and write a post about how the "Making Of" video was made, but that would be silly. However, in case you like little details like we like geeky details, there are lots that we wanted to include in the video that we forgot to mention. So, in no particular order:
Eight facts about the Amazing Teams: Animals commercial that we forgot to mention in the "Making Of…" video.
1.
Based on a small brass owl pendant belonging to one of us at Slack, Rana the Owl wears a necklace shaped like a small brass human wearing glasses. Mabel, meanwhile, has a name necklace that reads "Goat" in cursive. Because she is a goat, and proud.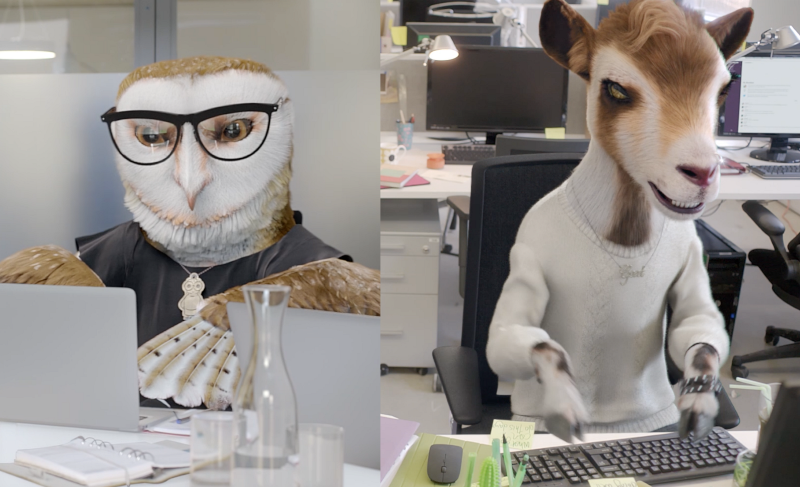 2.
One of the many benefits of using Slack was that, when Adam and Alan and the rest of the Nexus team in the UK were (very understandably) having trouble nailing a "fist pump", we were able to swiftly send video of people in the San Francisco office demonstrating the correct and incorrect gesture. The Vine of Jamie, our project manager on the commercial, is still used today in our own team as a motivational tool.
3.
All the desks are dressed to match their character (and/or species). Walt Loggins (the beaver) has a dish of pencils that are all chewed in the middle, like logs, Harper O'Hare has a carrot smoothie. And Alan R. Prawnberg has a tank of sea monkeys and some sushi, which one probably shouldn't think about too hard.
4.
On the goat's desk are several notes, one saying "What good shall I do this day?" (A Ben Franklin quote, and one of our favorite loading messages) and "So fetch", in tribute to our Twitter account. Stuck on her monitor, there's a shopping list, containing, among other things, a "tin roof". Because frankly we knew as hard as we worked on this, we were never going to be able to surpass the sheer watchability of a bunch of goats playing on a tin roof.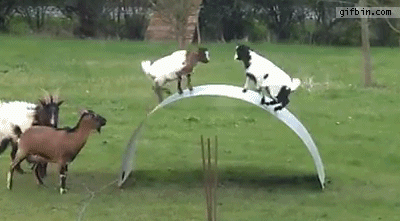 5.
The Dolphin (Madeline Bottlenose) was originally meant to have a larger role that mainly involved poking her head into conference rooms and popping up behind desk dividers to move the plot along. The peak of her performance now is falling off a stool in the blooper reel, which is undignified.
6.
Contrary to some people's concerns, Alan R. Prawnberg is not in fact cooked. He is pink in color due to being a pandalus platyceros, or a Spot Prawn, which are found in the Pacific Northwest — particularly numerous off the British Columbian coast.
7.
While the commercial was coming together, we recorded Scott Schiller, one of our front-end engineers, doing the voiceover at the end so the animation could be timed correctly. We listened to more than 100 auditions from voiceover artists in the search of the right tone, before realizing we already had it. Scott's voice is the one you hear on the commercial.
8.
Based on their Slack channel names — #engineering, #ideas and #marketing — the company featured in the commercial is meant to be a general product design and distribution firm. We briefly considered giving them a "#baby-humans" channel to make up for not having a "#kittens" channel like many human teams, but… no. Essentially, we always knew it didn't matter what the team was working on — or their team culture, or channels or… whatever it may be. It only mattered that they were an unlikely team, working together, using Slack.
Just like us.