Recreating a secret sauce
With no restaurant experience, one entrepreneur is determined to revive a defunct but beloved chain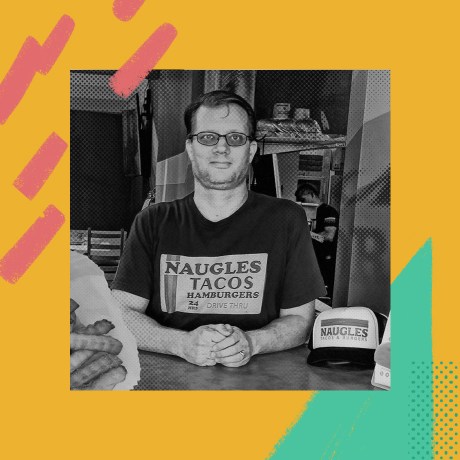 An extended audio version of this story can be heard on Episode 22 of Work in Progress, Slack's podcast about the meaning and identity we find in work.
Most people have fond nostalgia for the chain restaurants of their childhood, but Christian Ziebarth found his calling in those affectionate memories. The web developer and early food blogger, who had no actual restaurant business experience, made it his unlikely mission to reopen Naugles, a beloved Mexican food chain that closed in 1995.
Ziebarth grew up devouring cheese burritos at Naugles as a teenager in Orange County. At the time, Naugles locations were all over California including a lot in the Huntington Beach area. His father grew up in East Los Angeles and Mexican cuisine permeated Christian's entire childhood.
His parents were talented home cooks — mom made tamales, while dad specialized in chile rellenos — and involved their nine children in mealtime prep.
"We would also go to Mexican restaurants, sometimes the chains, sometimes little hole-in-the-wall places," says Ziebarth. Sometimes, his father would even make his own version of Naugles-style Ortega burgers at home.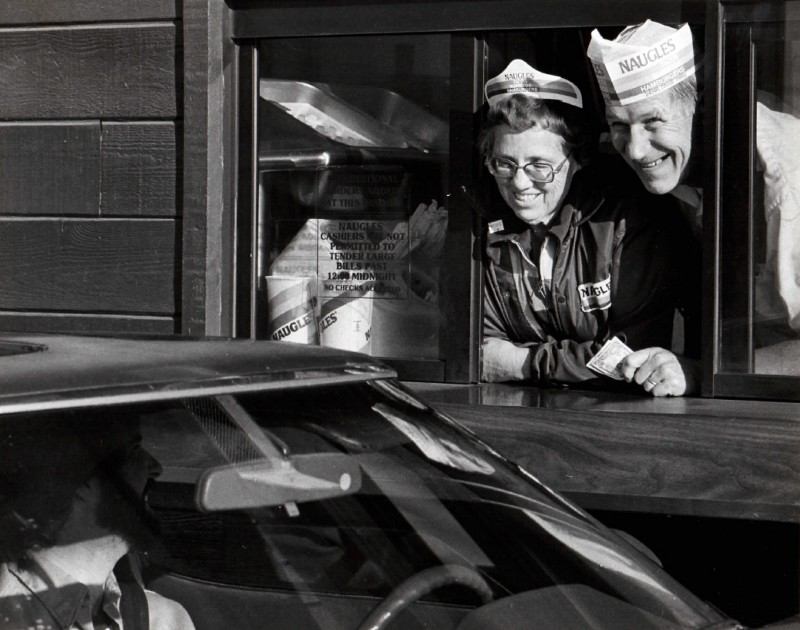 But something about the chain, a competitor of Taco Bell and Del Taco, always struck Ziebarth as special.
Founded in 1970, Naugles was, in many ways, ahead of its time. It was among the first to experiment with the 24-hour drive-thru — other fast food chains had windows, but they slid shut overnight—and Naugles guaranteed customers would receive their food within 60 seconds of ordering. Other fast food chains began to adopt what Naugles pioneered, even as the chain began to break apart.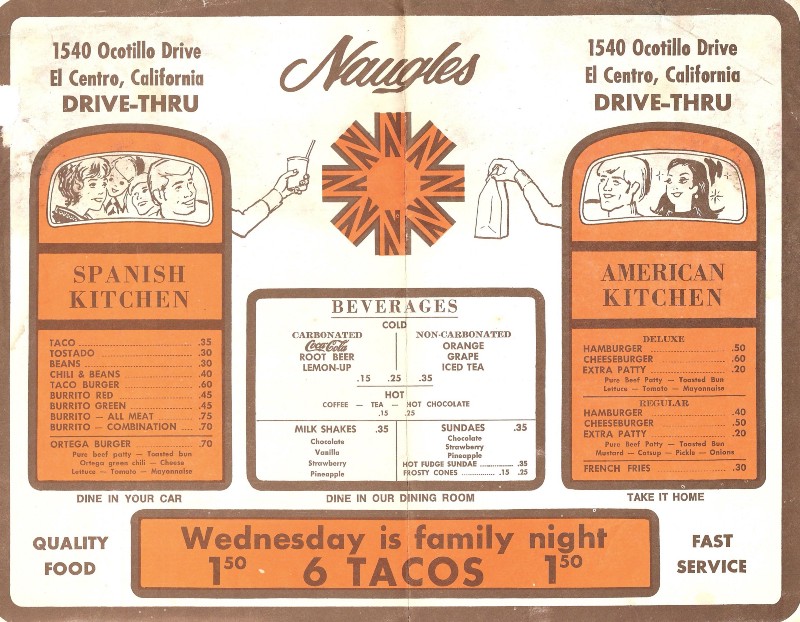 In 1988, Naugles merged with Del Taco. Del Taco slowly shuttered Naugles locations; seven years later, the last one locked its doors for good.
Meanwhile, Ziebarth headed to Hawaii to finish college, and then moved back to Southern California to build websites for a living — and for fun. "In 2005, I was working as a web developer, and I was also just starting to kind of kick my food journey into higher gear," he says. Ziebarth started an amateur food blog, reviewing regional Mexican restaurants.
"When Yelp came along, it almost completely wiped out amateur food blogs run by one person," he says. What seemed like an obstacle motivated Ziebarth to try something new.
To set his work apart from that of other unpaid reviewers, he expanded to penning posts about shuttered favorites. In particular, a reflective post about Naugles went viral by today's standards. "I started getting flooded with comments about how people wanted a cheese burrito, how much they loved the taco salad cup, how much they remembered the Dick Naugles motto being printed on the receipts."
A chance encounter with a Del Taco publicist soliciting feedback from local food bloggers gave Ziebarth an opening. When she asked what he thought Del Taco should do with its menu, the answer was obvious: bring back Naugles items.
At first, Del Taco seemed surprisingly receptive. The marketing team scheduled a meeting — and then put it off. Month after month, Ziebarth waited to present his case. After a year, and now fully aware of the Naugles fan base he'd unwittingly uncovered, he decided to take matters into his own hands.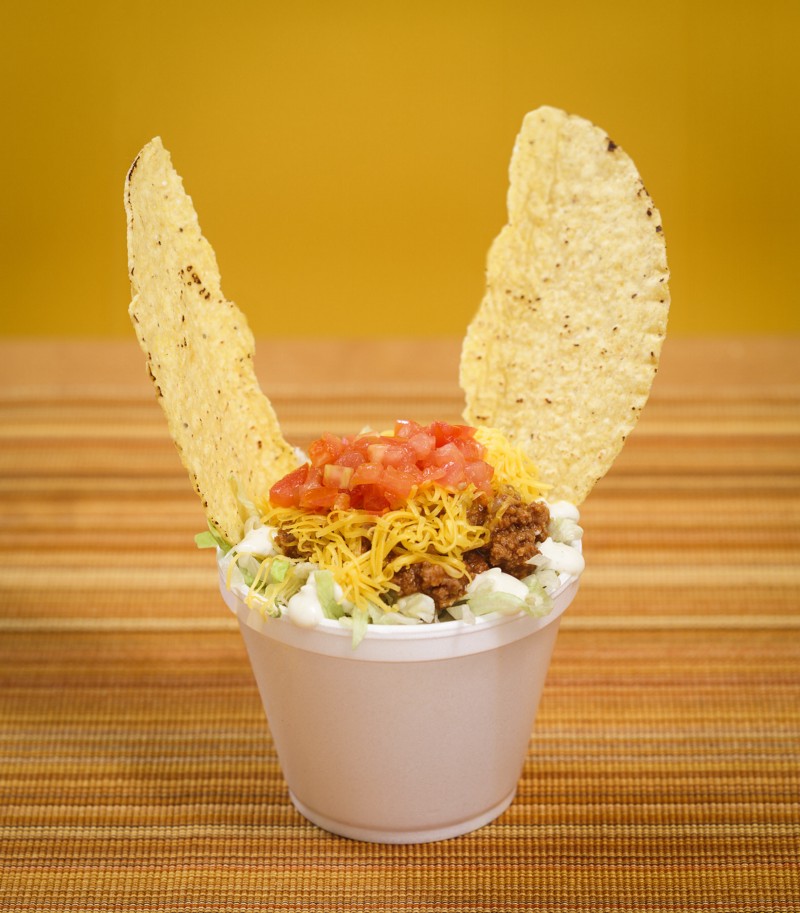 In 2010, after consulting with an attorney, Ziebarth filed a petition with the U.S. Patent and Trademark office, arguing that Del Taco had abandoned the right to the Naugles trademark more than a decade prior. He wrestled the trademark away in 2015. Naugles was Ziebarth's for the remaking.
Del Taco hadn't preserved any of the Naugles menus or memorabilia, or at least, they weren't going to share it with the entrepreneur who took their trademark. Again, Ziebarth had to get creative, this time relying on collective memories from former employees and patrons to reconstruct favorite menu items.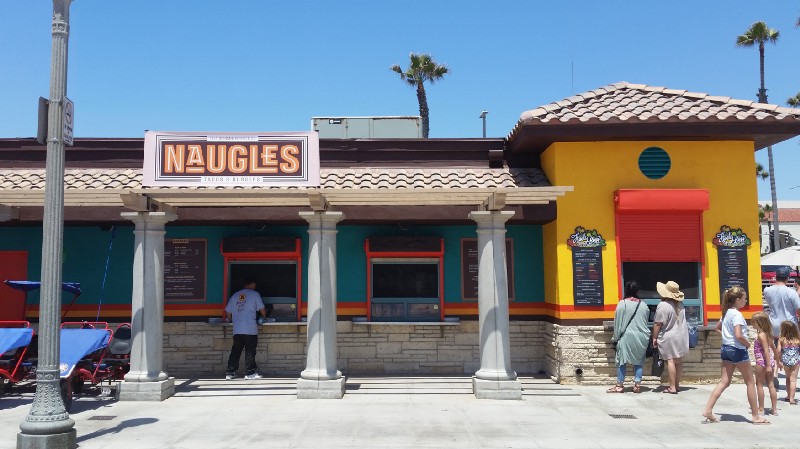 The first revamped Naugles, a test kitchen in Huntington Beach that has now become a permanent location, was a runaway hit. Ziebarth has plans to open a third location and expand the chain as a 1,000-location franchise by 2018.
"People have powerful memories of food and branding," Ziebarth says. Those memories are strong enough to revive not just some recipes, but maybe even hundreds of restaurants to serve them again.
Work in Progress story produced by Mio Adilman.
---
Of all the buffets of her youth, Brittany Shoot misses the Wendy's Superbar the most.