Slack apps for marketers
Keep track of your customers and your campaigns in Slack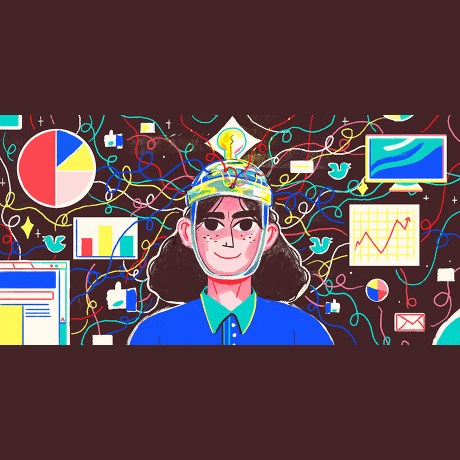 The tour of Slack's App Directory continues, this time with a focus on the apps designed to help make a marketer's life a bit easier. Whether you're collecting customer and industry insights, running a campaign, or analyzing the effectiveness of marketing tactics, Slack apps move this work along.
Run surveys and analyze results in Slack
Imagine you're working on a customer insight survey with your team to inform the creation of new marketing assets. Use the SurveyMonkey app to manage, send, and collaborate on surveys in Slack. Type the slash command /survey to receive a list of your team's surveys. From there, collaborate with teammates on questions, get notifications when feedback is collected, and post results back to the broader team for discussion, action, and cross-functional alignment.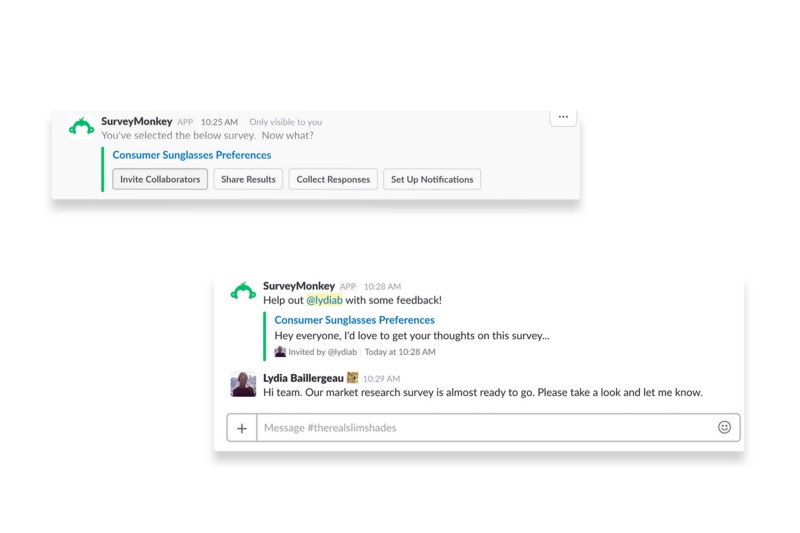 Industry and competitive insights at your fingertips
The super handy Growthbot, which connects to HubSpot Marketing, HubSpot CRM, Google Analytics, and many other data sources, can answer a slew of questions when forming a marketing strategy. If you're running a campaign focused on driving competitive differentiation in market, the first step is to understand what your competition is doing. In your #marketing-team channel you can ask Growthbot questions — let's say, "What tools can I use to communicate and collaborate with my team? What tools plug in and connect to those technologies?" Growthbot will generate answers from various data sources that you and your team can review and analyze in channel, and use insights from to inform the story arc of your next campaign.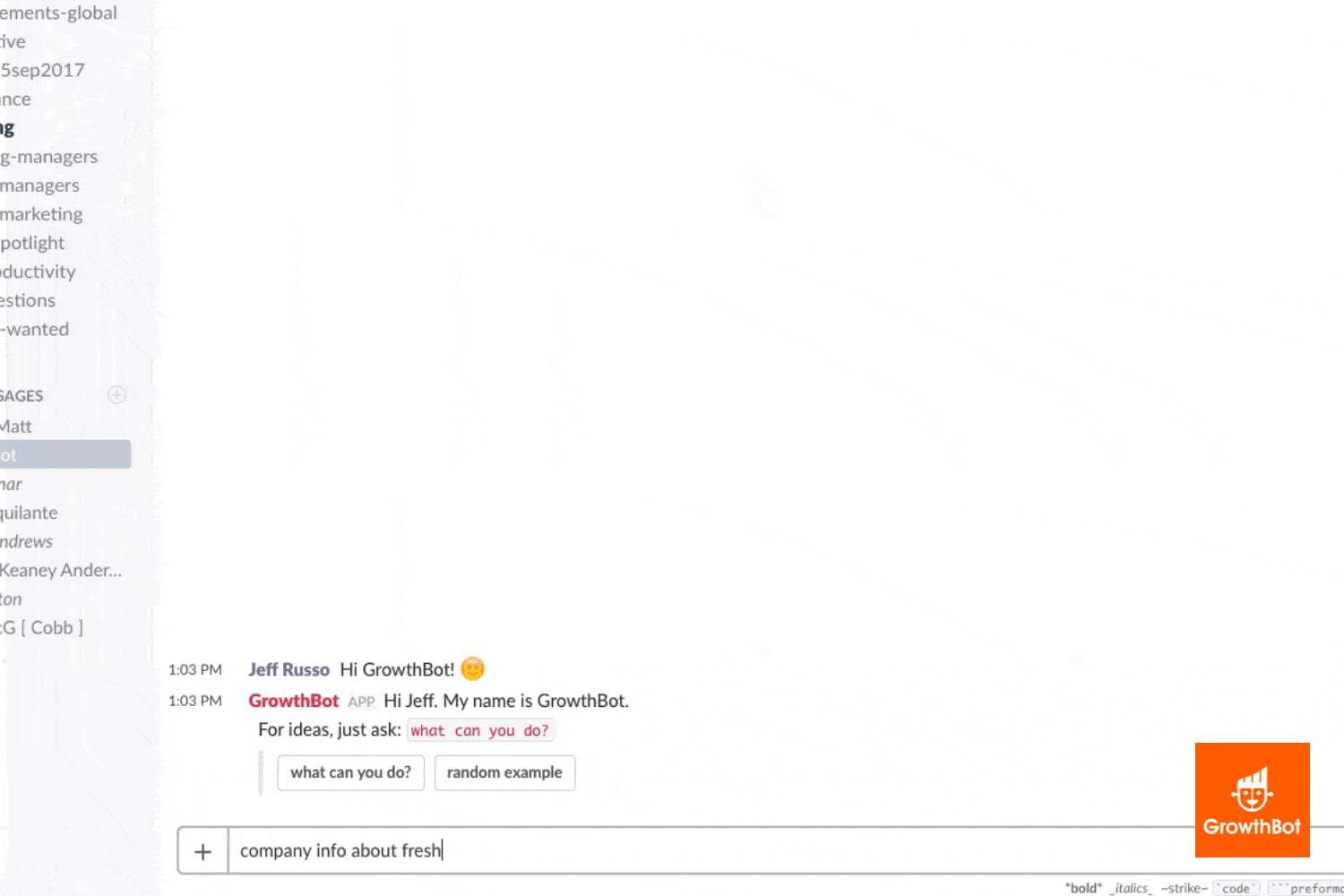 Simplify the creative process
Translating a narrative into visual assets for display ads and landing pages can take many revisions and involve many people. The Invision app simplifies things by syncing projects to Slack. With it, you'll be notified when designs are tweaked, and you can preview changes and share feedback directly in channel to speed up the feedback loop.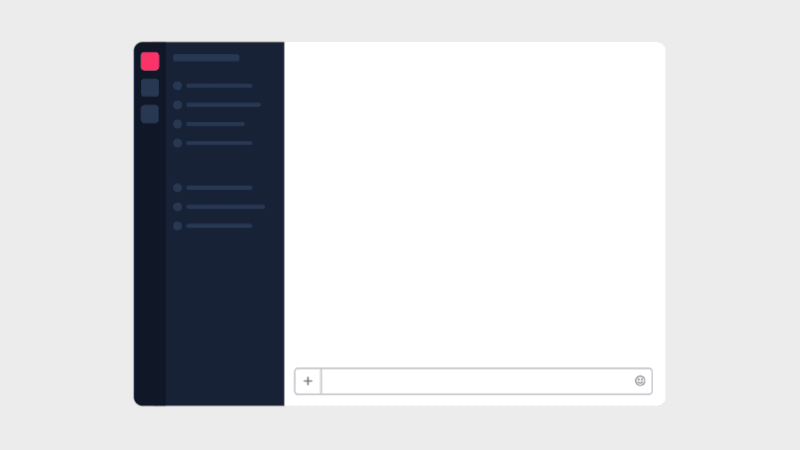 Keep tabs on performance and adjust campaigns in real time
You've done your research, you know your customers inside and out, you've put the finishing touches on creative, and finally hit GO! Connect Slack with Hootsuite, MailChimp or MailJet to pull social messages and email marketing insights into Slack for discussion with your team, enabling you to review and adjust campaign tactics according to the content users are engaging with most.
And now, AdStage has published a new app to our directory that helps you more easily manage and analyze campaigns in market. You can /AskAdStage to create performance reports across your Google, Bing, Facebook, Instagram, LinkedIn and Twitter ad campaigns from within Slack to see how spend is driving click-throughs and conversion. From there you can run a query on top performing ads by /AskAdStage to list the 10 top-performing ads in the past 14 days. If you aren't seeing the performance you expected, pause ads directly in channel so you're not spending more than you need to achieve your marketing goals. All the while your team has full visibility in channel, which can drive quicker decision making and accelerate results.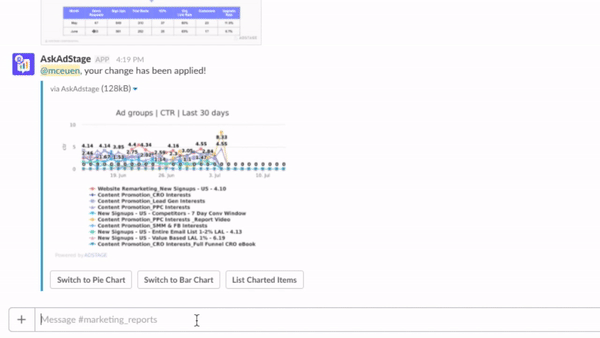 Cheers to you, marketers! Visit our App Directory to install these marketing apps and more.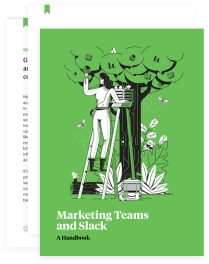 Marketing Teams and Slack
Gathering great ideas is just the start. See how you can track and optimize campaigns all in Slack.
Get the ebook
---
Want to work with your marketing team in Slack? Create a team.