Slack for Android 2.0
We're proud to announce the release of a better, faster, and all around Android-ier Slack for Android! We've been hard at work on this new app for…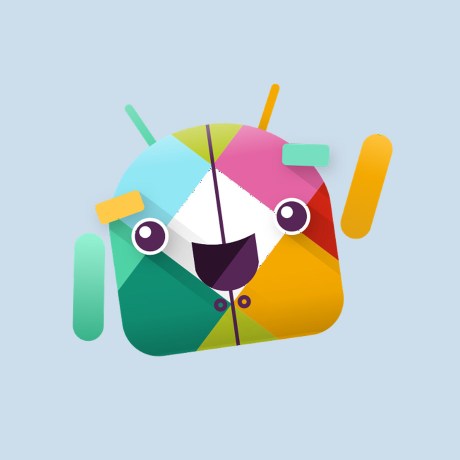 What took us so long? Glad you asked. Here's a full run-down of the magnificent changes that have gone into Slack for Android 2.0.
The first thing you'll notice is that we've updated the way you find your way around:
The left and right drawers have been dropped in favor a simpler tabbed navigation. Tabs provide quick access to all your channels, direct messages, starred items, and mentions.
Know exactly where you want to go? Quickly "Jump to…" any channel, group, or direct message.
Constantly switching between teams? Simply select your team from the top dropdown and off you go.
A much refined notification experience, with notifications grouped by team.
A shiny new button floats attractively in the bottom right corner of the channels list for quickly locating or creating channels, DMs or groups.
Search functionality has been greatly improved with the ability to open search results in a new "archive viewer" so you can see the full context of a message result.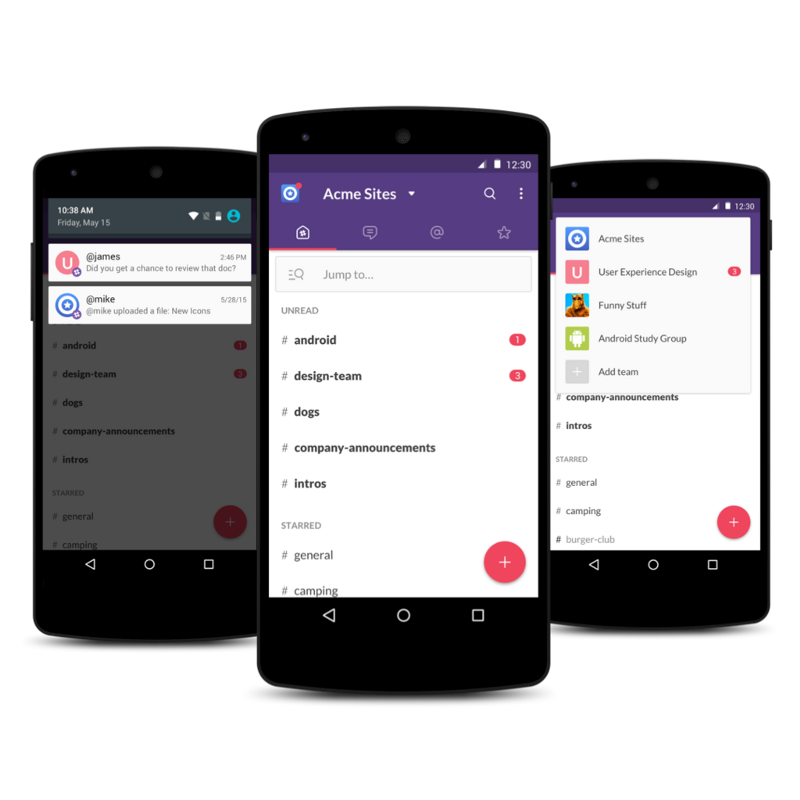 We've heard your feedback regarding the slowness of switching channels, switching teams, and generally navigating around the app. This is our first release to offer substantially better experience when you're not connected — all the messages that loaded last time you were connected can be read, and you can move much faster from place to place. It's a bit better now, but it will be even better in the future. Promise.
We've also taken a cue from Google's Material Design guidelines and updated the app accordingly: New icons, some new transitions, and a generally more pleasant experience on most devices.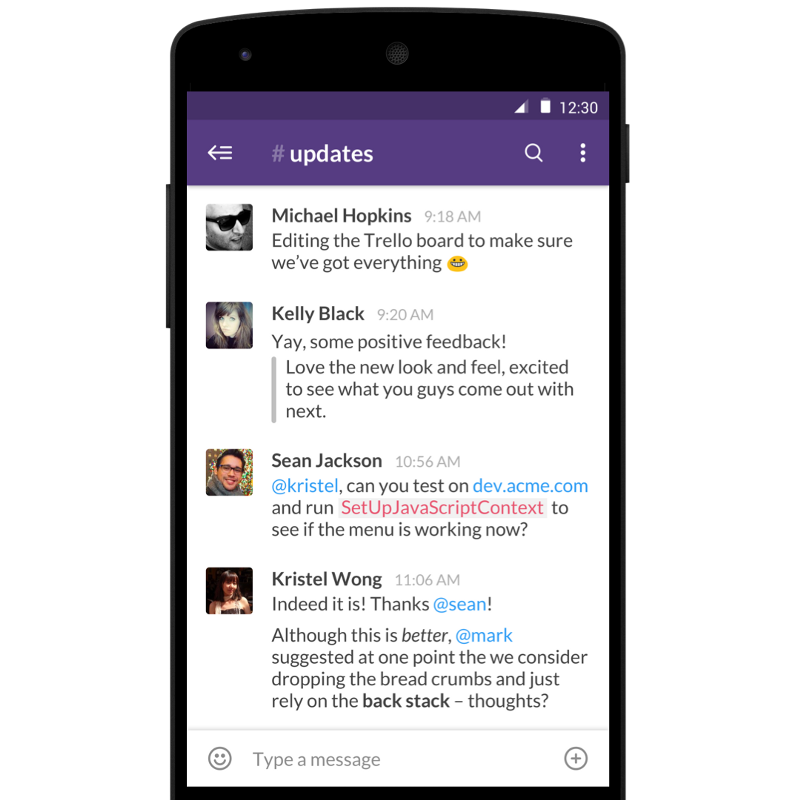 We're also happy to say that full *message* _formatting_ is now supported on `Android`. In addition to this, we now respect your emoji preferences set via the web. What this actually means is… Android emoji! Give it a try! It's swell.

But that's not all! We completely rewrote Slack for Android from the ground up so that we'd be able to provide more advanced Android features, quicker updates, and a greatly improved experience in the future. Since this is a fresh start, there will be some bumps along the way. We're working on making performance on low memory devices better and optimizations around initial load time, for example. This isn't the end. We're just getting started.
Sincerely,
The Slack for Android Team
---
P.S. Like what you see here? Come work on the Android App!