How Slack (and Shopify!) approach employee engagement
Slack's Robby Kwok and Shopify's Kaitlin Norris give tips on employee engagement strategies that keep teams happy and productive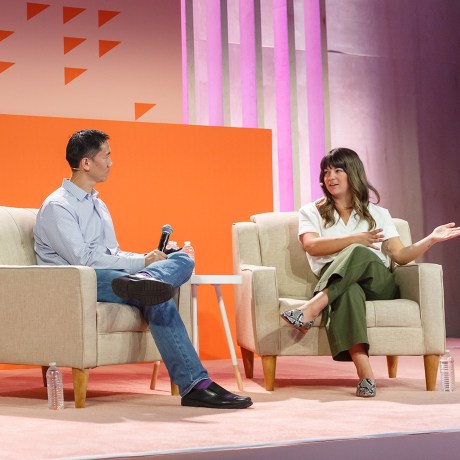 It doesn't take a village to find and hire the best talent, but it can sure feel that way sometimes.
The execution of employee engagement strategies and daily work of human resources involves many teams—finance, administration, IT, executives—and keeping everyone coordinated and in the loop is a constant challenge. It's even more so when your company is growing.
The e-commerce company Shopify knows this all too well. "In 2014, we were mostly co-located in Eastern Standard Time, and now we have employees in 15 time zones," says Kaitlin Norris, a culture specialist at Shopify. Now with 4,000 employees across eight offices, and 2,000 remote workers, the company has had to find ways to adjust its culture and how employees relate to one another. "Just understanding the differences of some cultures across the countries where we have employees has been really huge," Norris says.
Adjusting to change, whether it's a new office or a new company insurance plan, can be difficult. But the payout is priceless: a workplace that feels welcoming to employees, serves their needs, and encourages them to get comfortable and stay awhile. And Slack can help get the ball rolling, especially when it comes to employee engagement strategies. Here, you'll find practical tips from Robby Kwok, the VP of People at Slack, and Norris on how you can make your entire HR flow frictionless and effective in Slack, from recruiting to onboarding and beyond.
Recruiting
In Slack, people centralize their work and stay aligned by creating channels. Channels provide a designated, searchable place for all kinds of discussions, whether for routine status updates on candidate pipelines in channels like #recruiting-sales or keeping track of official sign-offs on offer letters in channels like #offers-for-approval.  
Channel members can upload files like résumés, portfolios and interview notes to the channel so everyone can easily find what they need. Plus, Kwok says, "If an interviewer needs to back out at the last minute, all you have to do is invite the new interviewer to the channel, and she'll have all the relevant information about the candidate and the questions to ask right in-channel."
A bonus is that discussions in channels flow more like you're having an in-person conversation, rather than trading emails back and forth. This allows project work to move faster, saving team members ample time and sparing them frustration and miscommunication.
If you want to bring third-party apps into the mix, you can integrate candidate tracking systems into Slack. For example, you can set up apps like Greenhouse to automatically notify stakeholders in a channel when a candidate's status changes. Or add an app like HelloSign to be updated in real time when a candidate signs an offer letter.
Onboarding
When your new hires walk through the door on day one, you want to get them up to speed and productive quickly, while not overwhelming them with information or letting them feel isolated. It can be tough to be the "new kid" on the team.
Here are some Slack channels we'd recommend setting up for new hires:
Introduce new team members in a team channel (e.g., #sales-team), so their peers can get to know them. Then new hires will have the benefit of being able to scroll through the team's recent updates and conversations in the channel.

Consider adding Slack apps like

Donut

to your team channel or dedicate a new channel to it. The app then automatically sets up one-on-one meetings between channel members. It's a great way for newcomers to get to know seasoned veterans over coffee, lunch or, yes, doughnuts.

Post answers to frequently asked questions about benefits in a #help-benefits channel. Pin important documents to the channel with information about vacation days, fitness program reimbursements and other employee need-to-know items so new hires can find that information easily.

Build culture with social channels like #baseball, #gardening or (one of our favorites) #cats. Social channels are a natural way for new hires to find colleagues who share their interests. This can create connections between employees who otherwise wouldn't know each other, breaking down social barriers and strengthening corporate camaraderie.
Retention and employee engagement strategies
After new hires are onboarded, keeping them happy and productive via employee engagement strategies will boost retention. "Bottlenecks, friction and fragmentation—these dynamics have lots of impact on how your employees work with each other," says Kwok, "which has an impact on how people feel about working for your company."
One way both Kwok and Norris stay in tune with how employees are feeling is through periodic "pulse" surveys administered through Slack. Tools like Neko by Culture Amp and Leo send out employee satisfaction surveys via Slack and then analyze the results to surface emerging patterns. Norris says Shopify uses pulse surveys to "understand where our employee engagement is at." Kwok says, "You can really get a good feel for how people are feeling in terms of belonging but also productivity."
Kwok and Norris emphasize that working in channels is about more than just organizing team discussions. Because channels make workflows more transparent, subject-matter experts can come together more quickly and efficiently. And it's this flexibility that allows them to keep pace with the speed of business today and to provide a consistent employee experience. "Global growth has definitely been a huge challenge for us recently," says Norris. "If we want our growth to continue at Shopify, we believe we really need to thrive on change."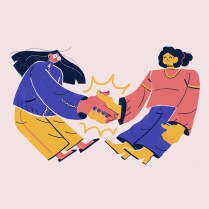 Bring your HR tools and team together
From remarkable recruiting to collaborative company culture, great human resourcing happens in Slack.
Get started