Surviving the family business of death
A third-generation funeral director digs into the constructive compassion of his work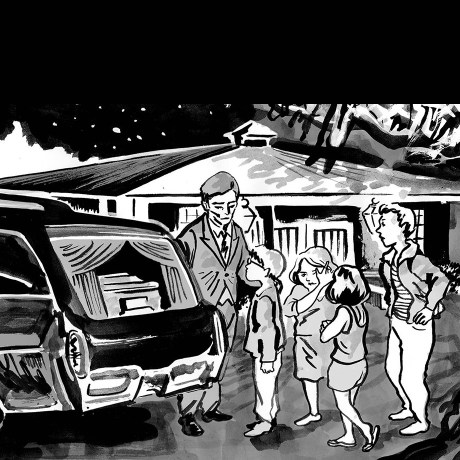 This is the third story in our Night Shift series about working in a different rhythm.
A t their home in Clinton, Louisiana, 16-year-old G.J. Charlet the third, who'd only earned his driver's license a few days before, found himself being shaken awake at 2 a.m. by his father, G.J. Charlet the second: "Put on a suit, we're going for a pick up," said the elder Charlet to his bleary-eyed son, "I need you to drive so I can sleep."
Not long after, the younger Charlet, now 43 years old, got behind the wheel of the hearse belonging to the family business — The Charlet Family Funeral Home and Monument Company — his father snoozing in the passenger seat.
It wasn't an entirely unusual scenario, given his father, a second generation funeral director, often worked nights. But this was the first time Charlet would be assisting.
"A residential death call is always a crapshoot," he says, recalling that night. "You never know what you're going to find, what condition the house is going to be in, or the body. Each case is completely different."
Into the unknown
Though Charlet had no intention of following his brother and two sisters into the family business, he nonetheless discovered he had an aptitude for the job. "I didn't realize how much counseling and empathy was required, that was tough at first," he says.
Many assume that people who work in the funereal business have some kind of morbid fascination with death, or at least an inherent immunity to its profound tragedy. Charlet is quick to assure that no super-human feat is required to do this kind of work.
In fact, one of the toughest lessons he and his siblings had to learn is the difference between constructive compassion and destructive empathy — a lesson Charlet first encountered when he had the harrowing experience of arranging a funeral for a newborn baby.
"I brought it back to the funeral home and just burst into tears. It reminded me of my baby girl at home," he recalls. "My uncle, who was working with my father at the time, said: 'You have to figure out how to be compassionate without grieving with the family. Your job is to serve them in the best way you can without letting your emotions cloud your judgment. You have to hold that part of yourself back. It's what they need from you.'"
As for the gross stuff? Charlet says he was surprised to find he could handle that a lot better than he'd expected.
But beyond rigor mortis, strange noises and even stranger smells, he maintains that the second most challenging aspect of the job — one his father was particularly masterful at — is juggling the constant demand amidst a sea of unknowns.
"With a residential death, no matter the time of day, you've got to pick up the body immediately," Charlet explains, "There are often situations where you'll get a call at 8:00 o'clock at night, another at midnight, another at 3 a.m. and then another call at 6:00 o'clock the next morning. If the cards aren't in your favor, you'll likely have to get at least one of them prepared for a funeral the next day."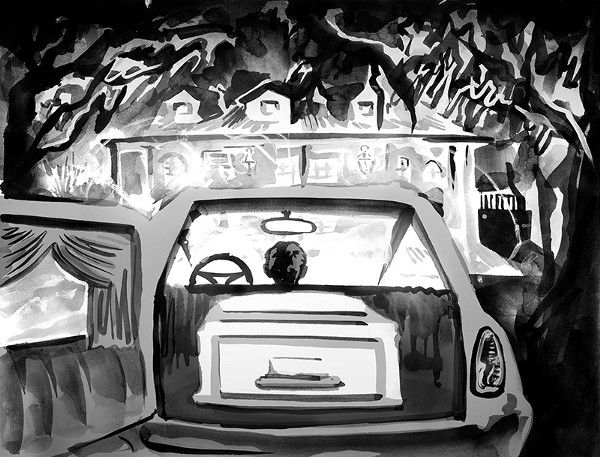 A scoutmaster father and squabbling siblings
"Planning a funeral is like planning a wedding, except you only have three days to plan it and everyone's depressed," Charlet jokes.
With so much to do and the constant loom of deadlines, practicing constructive compassion proves even more essential to delivering the best service.
"My sisters, they're people pleasers," says Charlet. "The problem is, as funeral directors, we're the ones who have to step in say when we think a particular ceremony or arrangement is a bad idea. If you don't figure that stuff out upfront, it creates a mess down the line."
If his sisters had heeded his, and their father's ("the scoutmaster") advice, Charlet wouldn't have found himself on a farm in the middle of an ill-advised funeral procession, trying to prevent a casket from crashing off the back of a horse-drawn carriage. "That could have been a total disaster," he adds.
"I know they're trying to be compassionate towards the family," Charlet reconciles, "It's really tough. But I always try to remind them — and myself — that there's a thin line between being accommodating and actually being helpful."
Coming full circle
When your siblings are your coworkers, it's hard to be critical in the work environment without bringing up issues from childhood.
"The bully is always the bully, the peacemaker is always the peacemaker," says Charlet.
But as they've grown accustomed to working together, Charlet recognizes that the benefits of working with his siblings far outweigh their bickering over business practices. For one thing, they often share the load of their unpredictable work, ensuring that each of them gets to attend recitals, school plays, birthdays, new year's parties and other family events.
Looking back on his relationship with his family, Charlet reminisces over his reluctant start in the business.
"My dad came to me like we were in a scene from 'The Godfather' and said, 'Son you've got to come work for the family, you'll have more time and make better money.' I told him it's not about the money," says Charlet.
"But now, working at the funeral home with my siblings has given me a lot more flexibility and time with my family. And the money's better. Dad was right."