Improve team bonding among remote workers in 5 steps
Okta's Adrienne Jones and Remy Champion share how to help make offsite workers feel a part of the team
As director of global prospect campaigns at Okta, Adrienne Jones works with organizations all over the world, connecting them with identity access management solutions to keep their apps and devices secure. Remy Champion works alongside her as a campaign manager. Although technically, they live and work 2,332 miles apart.
Jones works at the company's San Francisco headquarters. Champion works from her home in Haiku, Hawaii—three hours behind San Francisco, and half an ocean away.
So how do they make it work? We asked Champion and Jones for their advice on team bonding when you're thousands of miles apart in separate time zones, and what leaders can do to build cohesion, collaboration and engagement among remote employees.
1. Touch base daily
Jones sums up the first step to effective team bonding well: "Communication, communication, communication." She holds weekly meetings with each of her team members—structured one-on-ones one week, team meetings the next—and encourages everyone to share the projects they're working on.
But Jones and Champion know they shouldn't limit themselves to scheduled check-ins. "Being remote, communication cannot be taken for granted," Champion says. "This is something I focus on constantly, and I believe it has made me more transparent in all my work and projects."
While leaders need visibility into what their employees are working on, that doesn't have to mean constant oversight. Research consistently shows that autonomy is correlated with job satisfaction.
"It's OK to get personal before you get down to business. A lot of our time is spent at work; really knowing your team will make you close and naturally create trust and confidence."

Adrienne Jones

Director of global prospect campaigns at Okta
Jones makes sure that the workers on her team know that she trusts them to make decisions to meet their objectives. She also makes it known that everyone's ideas and opinions are valued in her efforts to cultivate a safe space to debate and disagree.
"I like to provide my perspective, but I always ask for feedback. And I give my team room to make decisions on their own," Jones says. "There is no way the work could be accomplished alone—and why would you want to do it alone anyway?"
Remote employees such as Champion are happy to reward effective leadership with high engagement and quality work. "Because my company is doing something for me that is somewhat out of the ordinary, I am highly motivated to not only work hard but to go above and beyond for them," she says.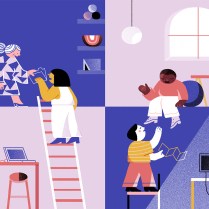 Manage large, complex teams with Slack's Enterprise Grid
Unlimited workspaces give every group a place to organize their work.
Get started
2. Foster personal relationships online
Remote employees can't join you by the water cooler, but leaders can still encourage team bonding online. Create a culture in which your employees are encouraged to reach out to each other and socialize.
"It's OK to get personal before you get down to business," Jones says. "A lot of our time is spent at work; really knowing your team will make you close and naturally create trust and confidence." Likewise, Champion notes that building personal relationships and trust leads to better team collaboration and project outcomes.
Simple solutions can sometimes make a big difference in building better relationships with remote employees. Here's how you can get your entire team onboard:
Put a voice (and face) to a name. When onboarding remote hires, encourage team members to schedule brief phone or video calls to introduce themselves
Create a digital space for celebration. Give your employees an informal place to congratulate and celebrate each other, whether it's a channel for sharing birthday GIFs or a human resources tool for giving kudos
Start each meeting with an informal check-in. Before diving into the tasks at hand, take a few minutes at the start of your meetings to catch up with team members—ask them to recap their weekends, or to share a recent project success
3. Invest in face-to-face interactions
Face-to-face communication has been proven to build trust. Video conferencing can bridge the gap between in- and out-of-office team members. Jones and Champion use Zoom to keep in touch.
While having online channels for casual conversation is important, informal touchpoints by video, phone or even a quick visit can be especially valuable for remote teams. "Be human," Jones advises. "In our digital world, it's so easy to be misunderstood over email or text, so pick up the phone—just speak to one another."
You should also try to get the whole crew together on a semiregular basis. "It's easy for in-office employees; we often have lunch together on a whim or go for a quick coffee," Jones notes. "Obviously we can't do that with remote employees."
"I think a common mistake leaders make is that they forget [about team bonding] or don't realize the importance of it. Same with employees."

Remy Champion

Campaign manager at Okta
Her solution? Invite remote employees to big company events. "I ensure my remote employees visit HQ at least quarterly and attend all key events so they can engage with extended teams in addition to our own," Jones says.
Champion appreciates this quality time—and Jones's conscious effort to coordinate dinners and activities. After all, simple in-person touchpoints become powerful team-bonding opportunities for remote employees.
"My manager often makes a point to schedule activities together when we are all in the office, or when we're at company kickoff events and conferences," Champion says. "My team is very connected with each other and seek each other out to catch up."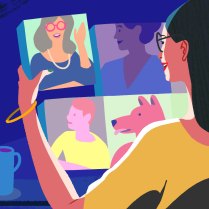 Meet more efficiently with video conferencing
It's easier to see things eye-to-eye when you're face-to-face. Video conferencing helps you share information more efficiently, so work gets done faster.
Get started
4. Set aside time for team events and excursions
Still, engaging with coworkers through coffee and conversation isn't the same as concerted team-building activities. "Being remote, I definitely miss out on some team-building opportunities," Champion says.
It's good to set aside time and budget for team bonding and activities when the whole group comes together like Jones does with her team. "I think a common mistake leaders make is that they forget to do it or don't realize the importance of it," Champion notes. "Same with employees—they don't realize the importance of it, and maybe don't push their manager to do it because they think their manager should initiate it."
Whether you're a leader or an employee, be vocal about the value of team building so that when in-house and remote team members reunite, they'll have a chance to bond over meaningful activities.
"Make it fun," Jones says. "Plan activities that are just for laughs and build relationships that no other method could. We've done photo shoots, karaoke and boxing to name a few."
5. Stay connected with company initiatives
You can also give remote employees a chance to participate in company initiatives that help them feel fulfilled. Fundraisers for charity or volunteering at local organizations can add value to work and enhance employees' relationships with the rest of the team.
Through Okta's philanthropic programming, Okta for Good, Champion gets three days off every year to volunteer. "We can use it for various volunteer opportunities, and we're also encouraged to set up our own volunteer events," she says. "This helps to keep me connected to the Okta for Good group and other remote employees who are taking part."
Effective team bonding creates a more collaborative workforce
Human connections give remote team members a reason to log in each morning. As a leader, it's your job to make sure you have a workforce that's excited to come together and collaborate, no matter what time zone your employees are in.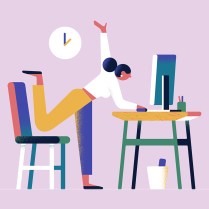 Connect teams and tools with Slack
Slack integrates seamlessly with the tools and software your teams already use, bringing people and processes together into one secure, searchable hub.
Request a demo