Team-building exercises: what works and what doesn't
The best team-building activities are ones based on what the team wants and what the company needs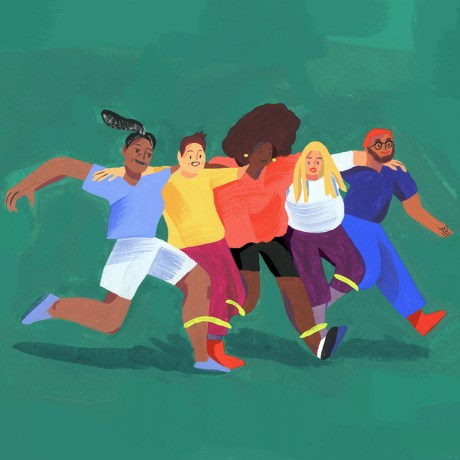 If you've ever sat on the sidelines of a companywide scavenger hunt or hid in the break room during trust falls and three-legged races, chances are you've wondered about the lasting benefits of certain team-building exercises. These traditional games may have their place in the canon of collaborative activities, but they're certainly not for everyone.
Many leaders consider team-building activities to be a waste of time and money that result in only short-term bonds between coworkers. It's important to keep in mind, however, that some of these activities also create opportunities for growth that our day-to-day work doesn't always allow for. Leaders just need to know how to organize the right kinds of events for their teams.
Team-building exercises that work
When planned and implemented well, team building is useful for developing employee skills and can help increase engagement and retention. Research from Gallup shows that facilitating the development of your team members' individual strengths, talents and skills can make a team 8% more productive and 15% less likely to leave the organization.
In reality, only 20% of U.S. employees think their skills are being effectively used. That's a lot of wasted talent. But the good news is that, done right, team-building exercises can help employees identify how their strengths contribute to their own development as well as to the progress of the team and organization. The ultimate win-win.
Here's a list of activities that you can choose from based on the skills you're hoping to cultivate, the preferences of your team and the needs of your organization.
1. If your team is hesitant to take risks: take an improv class
An improv class offers a chance for colleagues to interact in fun and inventive ways. According to Tom Yorton, the CEO of Second City Works, the business-solutions division of the Second City comedy theater, it also encourages people to work collaboratively and take shared risks.
"In an improv theatre, failure is ever present," he writes. "But our actors' material works often enough that they've learned to accept little failures on the way to larger successes. Business leaders need to embrace risk in the same way."
Improv comedy may not be everyone's first choice (rest assured, there are other team-building exercises that encourage risk-taking), but it does offer a casual and humorous setting for opening up—which can eventually foster feelings of psychological safety among coworkers.
2. If your team is struggling to bond on a personal level: join a cause
Suggest that employees volunteer for a good cause or participate in a run or walk in support of one. It's a great way to bring teams together for a real purpose—and it can be effective whether you have just five volunteers or turn it into a companywide initiative.
"I love the idea of combining a fun outing and giving back," says Christa Foley, the senior director of brand vision and culture and head of talent acquisition at Zappos. "It's the embodiment of doing more with less and building a positive team spirit combined."
By working together toward a shared goal, coworkers can develop deeper bonds based on their shared experience. Even better, when employees practice empathy, it can help to minimize conflict between team members.
3. If your team is still getting to know each other: focus on the smaller picture
If your team is new to working together or going through a period of change, team members may be less excited about offering up jokes at an improv class. The key to these team-building exercises is to motivate people to learn about one another's similarities and differences.
Tammie Plouffe, an organizational development consultant and executive coach, says small, intimate exercises can be more effective at building connections between coworkers. In fact, one of her favorite team activities revolves around the simple act of studying photographs.
How to lead a successful photography discussion
Gather a large number of photos (about 10 per person) that have broad appeal. Think: landscape, architectural, street and wildlife photography.

Choose a job-related topic, like collaboration, problem-solving or goal setting.

Display the images on a table or wall and ask employees to choose two to three photos that they feel are most illustrative of their thoughts on the topic.

Get employees to share their selected images with the team and explain their choices.

Ask questions like, "What do our pictures have in common?" to help uncover common themes and similarities.

"Because the response photos evoke is natural, leaders with no facilitation experience can use photos to turn many team interactions into an opportunity to create connection and accelerate collaboration," Plouffe writes in the Harvard Business Review.
4. If your team needs some downtime: host a lunch-and-learn
Rather than use lunch-and-learns as a time to discuss everyday business affairs, Swetha Amaresan, a contributor at the marketing software company HubSpot, recommends keeping these talks focused on matters that affect employees' day-to-day work lives, such as diversity and health and wellness.  
"This is not the time for intensive trainings, triggering material, or firm talk-downs," she writes. "Rather, this is a time to cover topics that may not typically take priority in a busy employee's day. You want them to leave the lunch-and-learn feeling refreshed and excited to complete the second half of their day."
These events can also provide a rare opportunity for employees to chat with top-level executives. By getting everyone in the same room, regardless of their position in the company, it helps break down the hierarchical barriers that can often stifle teamwork.
5. If your team wants to make faster decisions: try solving a simple problem
There are few professional roles that don't require problem-solving skills. Still, teams struggle with this every day, and it's often because they don't know what causes a problem in the first place.
According to Mohit Talwar, the CTO of recruitment and HR services company Hays, identifying the root cause of an issue is a necessary step that teams need to take before brainstorming possible solutions. "Many problems remain unsolved because there has not been a focused effort to really understand the problem itself," he writes.
Give your team an example of a simple problem that your company is often faced with, ask them to identify the symptoms (how the problem is affecting their goals) and the root cause, and then brainstorm solutions. But rather than have a team come up with one right solution, take a note from Sara Critchfield, the founding editorial director of Upworthy, and encourage divergent thinking: brainstorming a lot of different answers to the same question.
6. If your team is being given more responsibilities: put the pieces together
According to the Project Management Institute's 2018 "Pulse of the Profession" survey, only 58% of organizations fully understand the value of project management. And this is despite many survey respondents agreeing that project management is about more than timelines and responsibilities. Now more than ever, employees and managers know that getting a project across the finish line requires strategy, innovation and communication.
Start by dividing your employees into two teams, and have each team choose a speaker; managers can also assign a speaker if they want to help develop the skills of a specific person. Each speaker will then get to look at a hidden, pre-built structure (made of Lego, construction paper or any other material) and figure out how to instruct their teams how to replicate it—without touching it themselves.
The speakers will need to use strategic thinking and communication to effectively give directions and delegate tasks, and the rest of the team will get a master class in project management (especially if you up the ante with a time limit).
7. If your team wants to learn from each other: organize a talent show
While an improv class can work well when dealing with 10 or 20 employees, a talent show is a good alternative for larger teams and departments looking to enjoy some team-building exercises. At Slack, we once hosted a work-related talent show that asked employees to replace traditional performances with ones that centered around their favorite customer stories.
"The talent show helped our team build skills around presenting and storytelling, which is core to what we do," says Slack's SVP of sales and customer success, Robert Frati. "It also gave us an engaging way to share best practices across a large, globally distributed team."
8. If your team is in a creative rut: forge a connection
In their oft-cited book Entrepreneurial StrengthsFinder, Sangeeta Bharadwaj Badal and Jim Clifton—Gallup's principal scientist and its CEO, respectively—revealed that creative thinking was among the top 10 attributes of successful leaders. In a survey of 2,500 U.S. entrepreneurs, it ranked third after business focus and confidence.
But a more recent study by Gallup shows that only 29% of employees think they're expected to be creative and try new things at work. With regular team-building exercises, managers can change this perception and encourage employees to bring something new to the table.
Bring a grab bag full of everyday items (or pictures of those items), such as a TV remote, pencil, tennis ball, yarn and pair of gloves. Teams will draw two items from the bag and work to develop a list of ways that the two disconnected items can be used together. The random and sometimes silly nature of the exercise will help team members flex their critical and creative thinking muscles.
9. If your team is presenting new ideas: sell an (unexpected) idea
Whether sharing a process update within a department or selling a product to a new client, there will inevitably come a time when employees need to present their ideas in front of a group. Art Markman, a professor at the University of Texas at Austin and author of the book Smart Thinking, says many people fear public speaking because it's a "social risk"—they believe that if it's done poorly, it will impact their reputation.
But this often isn't the case. In an article for the Harvard Business Review, Markman writes, "[Speakers] are much more concerned about the consequences of a bad talk than anyone else is." The sooner employees realize this, the better off they'll be. Managers should find a team-building activity that pushes employees outside their comfort zones in a safe, supportive environment.
Similar to the game explained above, this team-building activity requires that managers make a list of everyday objects (think: stapler, candle, coffee mug, keys). Participants then take turns presenting a one-minute elevator pitch for an item of their choosing.
The rest of the group gets to act as judges, scoring speakers based on how many product "features" they were able to highlight, their use of professional language and their presentation skills. Remember, though: Feedback needs to be positive and specific if it's going to help others learn and grow.
Finding the right team-building exercises
There's a place for traditional activities like scavenger hunts and paintball matches, but these types of off-sites and events are often unlikely to foster the sort of trust and collaboration that influence workplace dynamics in a meaningful way.
The next time you organize an event, try looking closely at the unique makeup of your team. By providing an environment in which employees can laugh, open up and support one another, you give colleagues the opportunity to build genuine friendships in the workplace—and perform better in their day-to-day roles, too.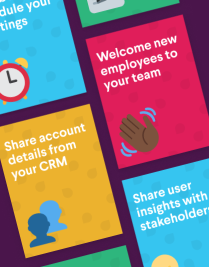 Slack Tip: Gather feedback from teammates
Running a quick poll is a great way to get feedback from your team and speed up the decision making process.
Learn More