3 crucial team dynamics driving high-performing teams
Promote more cohesive and collaborative efforts among team members using these strategic tips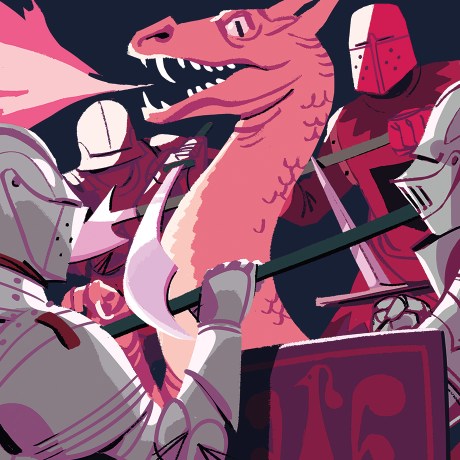 Team dynamics are often researched in academia, but misunderstood in the workplace. In fact, a jar of Nutella was responsible for gumming up the works of a highly organized team supported by some of the world's leading scientists.
NASA brought together a group of astronauts for a simulation intended to model the stressful conditions of space exploration. During the experiment, participants were each given a limited amount of Nutella for the duration of the "voyage."
When one team member took more than their share and failed to disclose the indiscretion to the rest of the team, the group fell apart. This small incident had a big impact; it derailed collaboration and team dynamics throughout the project, said Steve Kozlowski, a Michigan State University scientist and expert on teams working in extreme environments.
While few of us endure the same arduous conditions as astronauts in our own jobs, the following strategies apply to all teams seeking to collaborate well in the workplace (Earth-bound or otherwise).
What are team dynamics?
Those magical forces that influence how a team behaves and performs are called team dynamics. According to Scott Keller and Mary Meaney, authors of Leading Organizations, these forces can be the "difference between a team of all-stars and an all-star team."
Factors such as the right balance of personalities, self-awareness and psychological safety influence coworkers to learn from one another, take risks, innovate and successfully achieve their goals. Here are three ways to successfully tap into and sustain high-performing team dynamics.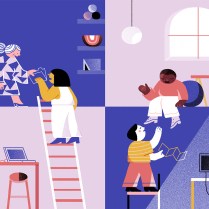 Manage large, complex teams with Slack's Enterprise Grid
Unlimited workspaces give every group a place to organize their work.
Get started
1. Balance team roles
Building the foundation for successful team dynamics is both an art and a science. Many teams and team organizers recognize that the right mix of skill and experience is key for team performance, but it's not everything. Rather, researchers have found that ensuring a balance of roles is another essential ingredient to building effective teams.
In his research, Dave Winsborough, founder and innovation director of Winsborough Limited, lists five "psychological roles" to which individuals are drawn, based on their personalities:
Results-oriented team members tend to be natural leaders.
Relationships-focused individuals are approachable, fostering trust and respect among teammates.
Process and rule followers are detail-driven and procedurally led team members.
Innovative and disruptive thinkers are imaginative, creative, big-picture thinkers on teams.
Pragmatic members keep the team grounded.
Winsborough says in order for teams to be effective these roles should be balanced. For instance, a team without enough relationships-focused team members can lead to a lack of team cohesion. By contrast, teams with too many relationships-focused team members might prioritize getting along rather than challenging each other to succeed.
2. Promote self-awareness
Of course, to create balance, team members need to understand their own psychological roles. Ryan Engley, vice president of product marketing at Unbounce notes that "to have a healthy functioning team, with really strong dynamics, individuals need to have a very high level of self-awareness."
As the second person hired at the 10-year-old software company, Engley has seen how team dynamics have changed and evolved as Unbounce's staff has grown to more than 200 employees. One strategy that has benefited Engley's teams is the use of assessment tools like Myers-Briggs-based 16Personalities.com or Gallup-backed StrengthsFinder.com. He's seen how these tools allow coworkers to develop an understanding of themselves and of each other, making for better team dynamics.
"It's really important to have a model that you can use to help individuals build self-awareness, to help them build empathy for each other and have a common language they can use to talk about interpersonal dynamics," he recommends.
Engley says he found through an assessment that he is an "extroverted thinker," a term that helped him explain to his colleagues about a tendency to process his thoughts out loud during meetings. He says it's been helpful to him and his team to understand the types of people they are to work better together and avoid possible communication snafus.
Regardless of the tool or the approach, having "that baseline language, helps individuals learn more about themselves and actually have constructive conversations with their peers," Engley explains.
At The Predictive Index, a company that designs psychometric assessments to optimize work teams, senior vice president Drew Fortin agrees. "Learning how each individual contributor on the team is wired, then comparing that information to the same insights on other members of the team, helps us to understand what the team dynamic is comprised of," Fortin says.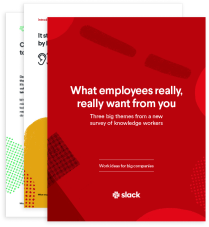 What Employees Want
Communication at work? It's complicated. In this study of knowledge workers, commissioned by Slack, we shed light on how enterprises can help employees collaborate more efficiently.
Learn more
3. Create a culture of psychological safety
Recently, a Pew Research Center study confirmed 89% of adults believe it is essential for business leaders to create safe and respectful workplaces. In fact, a widely cited Google study of teams suggests that the No. 1 dynamic affecting how teams work together is psychological safety.
Harvard Business School professor Amy Edmondson first identified the concept of psychological safety in work teams back in 1999. Edmondson defines psychological safety as "a belief that one will not be punished or humiliated for speaking up with ideas, questions, concerns or mistakes." Workplaces that have psychological safety are those where coworkers are able to give frank feedback, make mistakes, take interpersonal risks to learn from each other—and ultimately, to innovate.
In her new book, The Fearless Organization, Edmondson discusses how leaders can help build and reinforce a culture of psychological safety. The first step she says is for leaders to acknowledge the challenges ahead for their team. This may seem like an unusual approach, but in doing so, leaders let their employees know that their input and experience is valued.
"It helps people understand that their eyes and years are viewed as critical to the company's ability to keep learning, as it must, to remain viable," she explains. "Leaders need to make sure people know that they're operating in complex knowledge-intensive businesses that live and die based on thoughtful input, and intelligent risk-taking."
The next steps are for leaders to invite feedback and be appreciative of all types of input they receive—regardless of whether it's good or bad, she notes.
Successful collaboration is driven by compatible team dynamics
Paying attention to the nuances of team dynamics can separate high-performing teams from average ones. Forward-thinking leaders understand that balancing out roles, fostering self-awareness and creating a safe and respectful workplace are key to ensuring team cohesion, collaboration and success.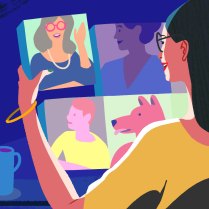 Meet more efficiently with video conferencing
It's easier to see things eye-to-eye when you're face-to-face. Video conferencing helps you share information more efficiently, so work gets done faster.
Get started