Team to Market: The new battleground for competitive advantage
A research-backed framework for building high-performing teams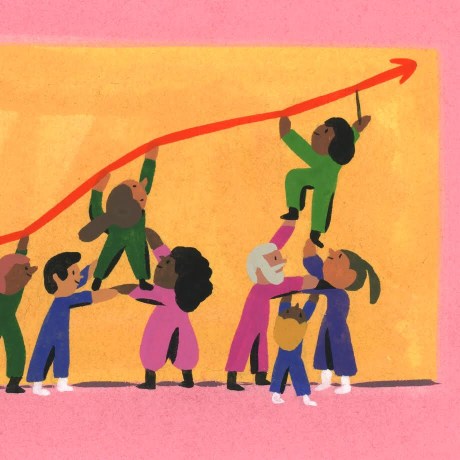 Progress is rarely achieved alone. From groundbreaking scientific research to creating beloved products, teamwork is woven into the fabric of how we advance in society and in business. So it's no surprise that experts say nearly 100% of the world's leading organizations are built on a foundation of teams, where workers accomplish objectives through collaboration.
Yet despite 20,000 new academic publications adding to the conversation about teamwork each year since 2017, researchers have identified only a few consistent patterns about what helps create and sustain high-performing teams. That is, until now.
"Team to market" is a new concept developed by Professor Feng Li, chair of Information Management at Cass Business School in London. In this independent, funded research for Slack, team to market identifies the relationships between team alignment and execution, drivers for competitive advantage and the role of new workplace technologies. Taken together, these ingredients form the "secret sauce" that can make all the difference between an adequate team and a high-performing team.
A framework for delivering exceptional work
Throughout the course of this study, Li uncovered three key findings about the way teams work today:  
Teams are the fundamental building blocks of modern organizations, and high-performing teams require interpersonal communication alongside an ability to leverage all existing specialist software with ease.
Collaboration technologies are poised to supersede systems that have dominated workplaces for decades by enabling app integration, reducing reliance on email and providing rich, searchable records.
The ability of collaboration tools to enable fluid, rapid and flexible team formation is facilitating the emergence of the team to market concept—and its potential as a source of competitive advantage is set to increase.
The research was conducted through a comprehensive literature review of previous studies as well as new empirical research based on interviews with business leaders who have experience in creating and leading high-performing teams. The psychological factors were explored alongside other factors, including structure (roles and responsibilities), leadership and team technologies.
"Teams are the foundation of successful organizations today," says Li. "Teams and the tools they use must evolve to meet the rapidly changing requirements of businesses, global markets and individual team members. Today, team to market, as the familiar notion of time to market was in the past, is the new battleground for competitive advantage."
Read the Slack and Cass Business School Team to Market Report
As a framework, the team to market concept establishes the right conditions for teammates to overcome significant challenges and deliver extraordinary outcomes again and again. Here are some of the primary ways leaders can do better:
Understand how teams really work
What are the markers of high-performing, highly aligned teams? According to Li's research, the most effective teams swiftly:
Recruit and retire members as needed
Establish rules and protocols that work for them
Resolve conflicts and synchronize energy
Deploy digital technologies
Manage limited resources
Calibrate objectives in response to changing internal or external demands
While performing each of these actions is a great place to start, it takes more than a static checklist to organize a high-performing team. Indeed, researchers haven't been able to identify any consistent patterns revealing how team characteristics affect team performance.
The team to market concept is a holistic approach that empowers teams to balance characteristics and performance metrics based on changing circumstances, emerging intelligence and stages of team development.
This approach distinguishes team to market from another popular management concept, time to market, by balancing time with other performance metrics (like quality and cost) to ensure consistent high performance from the business perspective.
Establish psychological safety
But even with the most skilled, competent workers onboard, synergy between team members won't coalesce into high-impact deliverables without the right psychological conditions in place. To unlock the team to market approach, organizations must also meet three key psychological criteria:
Chemistry between team members
Trust between team members and leadership. At Slack, we refer to this dynamic as psychological safety
A meaningful connection between team members and the work they are doing
Another aspect of this attention to behavioral impact on team success is understanding that teams and individuals crave flexibility and control over their work. Scheduled meetings and online collaborations are best interspersed by what Li describes as "protected periods of individual work offline" and "coordinated unplugged times for deep work."
Make room for distributed work
Throughout the course of this study, Li found that location has become a key factor in how modern teams operate. Virtual work has become the new normal, with people working flexibly from dispersed locations, often juggling priorities from multiple teams. While this introduces new challenges of coordination and alignment across time zones, territories and cultures, acceptance has grown around the benefits of virtual teams, among both employers and employees.
In France, for example, changes to labour rules in 2017 made telework more flexible and now about 30% of French employees work remotely. It's created one of the most flexible working cultures in the world, according to the International Workplace Group's 2019 Global Workplace Survey, with 60% of businesses in France offering flexible working policies for employees. The trend has taken root elsewhere. In Australia, 68% employers allow remote working, and in the United States, an estimated 43% of the workforce spend time working remotely.
Invest in the right technologies
Collaboration technologies, and channel-based communication in particular, are growing, Li's research finds. These technologies allow teams to work together and build relationships effectively, whether remotely or in the same location. For example, channel-based communication offers a single place for a team to share messages, tools and files, according to Li.
The benefits of these technologies include:
Integration with a growing set of apps, (the average enterprise uses over 1,000 software apps) business processes and third-party software and the ability to build custom tools
A rich, permanent and searchable record of knowledge
Fluidity and flexibility in evolving, disbanding or updating teams at speed
Starling Bank is an example of companies embracing channel-based communication, in this case through its use of Slack. In March 2017, Starling launched the U.K.'s first app-only current account. From day one, Starling integrated with a full suite of custom business processes and third-party software, which created a level of agility both within and among its teams. In particular, the collaboration technologies it adopted enable the technical and customer service teams in the bank to respond to system or customer incidents quickly and effectively.
Another example is Xero, a worldwide leader in cloud-based accounting software with over 2 million subscribers from 180 countries. The company, also a Slack customer, was ranked by Forbes as the World's Most Innovative Growth Company in 2014 and 2015.
In 2017, Xero rolled out a cohesive communication system across all business units, using channel-based communications on Slack to replace or integrate myriad other messaging and collaboration tools and third-party software. By using one universal platform for collaboration and conversation, integrated with a wide range of business processes and third-party software, the customer experience teams, platform services and product teams are able to communicate easily across its offices in New Zealand, Australia, Canada, Hong Kong, Singapore, the U.K. and the U.S., effectively overcoming barriers arising from distance and time zones when addressing internal incidents and customer issues.
"I've got the peace of mind that there's been someone online and that people were going to the right person at the right time," says Matt Simpson, lead workflow coordinator at Xero.
Get information out of silos
Transparency and alignment fuel top teams, yet there's still plenty of room to grow, Li's research finds.
"There is an enormous and largely unmet demand for effective ways to coordinate and align people, a gap some emerging collaboration tools are aiming to fill," he writes. Today, email remains the default coordinating point for business communications supporting enormous information flows, but each person has only a partial view, and the rich history held in email systems—the decisions made, questions answered and information shared—are only partially accessible.
If the emails are in the "wrong inbox," or if you are new to an organization, you will have no access to them. Some emerging collaboration technologies using channel or thread-based communications are built to overcome such traditional constraints. These collaboration technologies can significantly increase transparency and alignment, and make the shared history and organizational knowledge equally accessible to everyone regardless when they join the project, Li writes.
Successful organizations put collaboration first
From establishing psychological safety to collaborating across borders and time zones, the modern organization faces unique challenges that were less prevalent in the past, even as recently as the last decade. To succeed today, business leaders must put teamwork at the heart of their organizational strategy.
Li believes the team to market concept will increasingly drive competitive advantage in the decades to come. He foresees collaboration technologies outpacing legacy communication tools such as email, by integrating with existing tech stacks, providing rich, searchable records and supporting collaboration and alignment between teammates.
To learn more please contact Slack's EMEA press office at slack@marlinpr.com. 
About this report
The research highlighted here is from an independent, funded research report for Slack by Cass Business School. Cass Business School, which is part of City, University of London, is a leading global business school. Established in 1966, the institution's focus is on developing leaders who help businesses thrive through change and uncertainty.
Professor Feng Li (Ph.D., FBAM, FAcSS) is chair of Information Management and head of Technology and Innovation Management at Cass Business School. Over the past three decades, he has been investigating how emerging digital technologies can be used to facilitate strategic innovation and organizational transformation in the digital economy. He advises senior business leaders and policy makers both in the U.K. and internationally on how to manage the transition to new technologies, new strategies and business models and new organizational forms. Li's research has attracted the support of over £40 million of external research funding, from the UK Research Councils, Innovate UK, the EU and the private sectors.