The app era is here: Now to optimize for it
A global survey of 17,000 knowledge workers reveals that we are using more apps than ever before—and it's time to radically rethink the way we work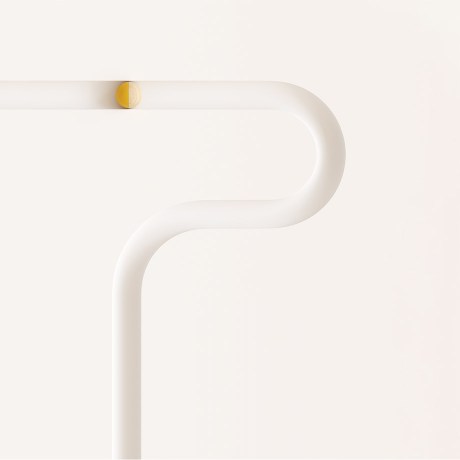 The second of a two-part series exploring the evolution of workplace trends. Read part one on the limitations of email. The data and findings are drawn from our recent in-depth survey, The State of Work, and expert commentary.
Key takeaways:
Welcome to the app-powered workplace. Over the past five years, apps have proliferated in the office. More than three-quarters (76%) of knowledge workers report using more apps than they did five years ago. According to the same survey, this app upswell is largely a good thing: The more apps workers use, the more likely they are to rate their company highly on productivity, collaboration and overall workplace culture.
Best-of-breed apps help knowledge workers perform better. In an increasingly complex world of work, it's nearly impossible for a one-size-fits-all software suite to excel across all use cases. A best-of-breed approach, or sourcing the top application for the job at hand, allows teams to engage with the best software solution for their specific needs.
But the sheer number of apps workers must navigate can hinder productivity. More than half (56%) of app users report that switching between apps makes it harder to get essential work done. And 68% say they spend at least 30 minutes a day switching between apps.
Workers need new ways to manage apps effectively. Apps aren't going anywhere anytime soon, but companies can equip employees with technology tools and practices to optimize app use and streamline workflows.
The app era is here 
Need to start a video call, file an expense report or submit a support request? There's an app for that—and just about every other workplace task. Rather than relying on a single provider that does all of these tasks well enough, knowledge workers are increasingly demanding the best app for the job at hand. 
Employers are responding in kind, helped along by market shifts. Whereas hosted enterprise solutions were once the norm, software as a service (SaaS) has become the new paradigm. According to research and advisory company Gartner, Cloud Application Services, or SaaS,  worldwide market revenue is expected to grow to 18.5% to $94.8 billion in 2019, up from $80 billion in 2018.* This shift to cloud-based solutions has freed companies to cherry-pick best-of-breed software, rather than using less-effective solutions that are bundled with a software suite.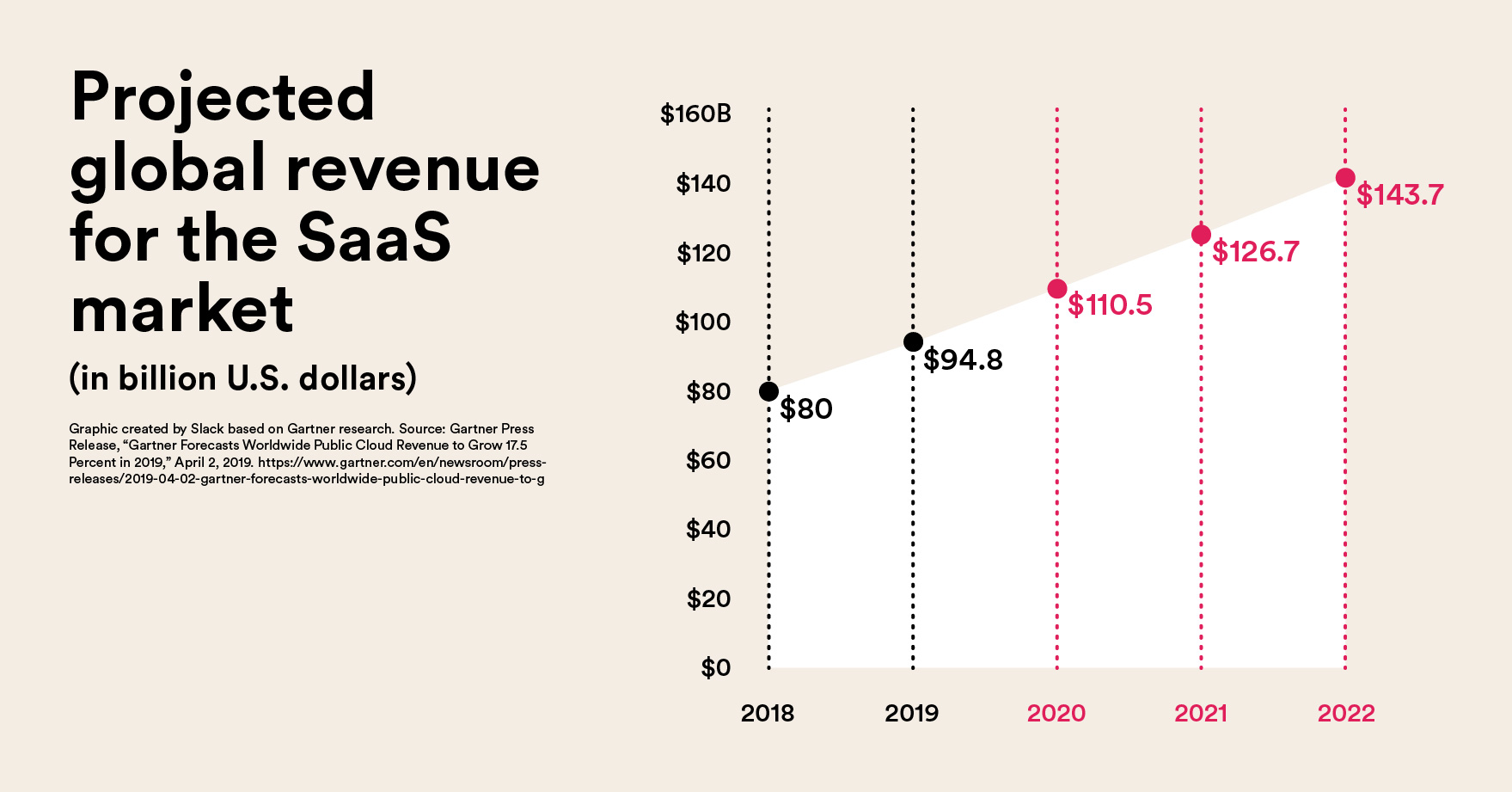 In "Top Technologies and Trends Driving the Digital Workplace," Gartner describes an ever-evolving "new work nucleus" comprised of SaaS products: "The tools that underpin digital dexterity will change dramatically and constantly with a move to [a] software as a service (SaaS) portfolio. When organizations ran software on-premises, major changes occurred at the rate of every 3-5 years, but with SaaS, the rate of change is constant … The cloud-based new work nucleus includes tools such as collaborative work management, workstream collaboration, smart meetings and smart drives, all of which foster agile behaviors and a digital dexterous workforce."
The new work nucleus looks different at each company and for each worker, depending on their day-to-day priorities. Of the 17,000 knowledge workers Slack surveyed this year in our State of Work report, however, one thing held constant across roles, companies and regions: App usage is on the rise.
Workers are using more apps than ever before 
According to our analysis, the vast majority of knowledge workers today use apps in the workplace. Eighty-seven percent of respondents reported using apps on a typical workday, and nearly one-third (30%) reported using six or more. This represents a marked departure from the workplace of the past, and knowledge workers are feeling the change firsthand.
76%

of knowledge workers report using more apps and services today than they did five years ago

68%

expect that number to increase over the next five years 
As you might expect, workers in technology roles are even more bullish on the expansion of apps in the near future.
86%

report using more apps today

77% expect that number to rise as we enter the 2020s

The growing complexity of work
This app gold rush shows that knowledge workers are hungry and searching for better tools to communicate, collaborate and work effectively. The drive to find new, more efficient ways of working makes sense in light of larger workplace trends, in particular the growing automation of rote work, which leaves the more complex tasks to humans. 
Saadia Zahidi, the managing director of the World Economic Forum's Centre for the New Economy and Society, has studied these trends in depth for the WEF's 2018 Future of Jobs Report. The report found that a majority of companies surveyed expect to expand their adoption of new technology over the next few years. More specifically, 85% of companies plan to adopt or expand their use of big-data analytics; 73% say the same for machine learning and 72% for cloud computing. 
This tide of automation leaves higher-order tasks, which often require problem-solving, collaboration and creative thinking, to today's knowledge workers. It's no wonder that workers want more specialized tools to help them perform their best. 
App usage correlates with better business outcomes 
Workers aren't the only ones who benefit from apps. The data shows that app usage can be a boon for businesses too. An uptick in app usage correlates with traditional indicators of business success. Ninety-three percent of workers who are optimistic about their company's workforce growth use apps on a daily basis. Similarly, 92% of those who predict revenue growth in their company's future use apps. Framed another way, workers who use apps daily are twice as likely as workers who don't to expect workforce growth at their company. 
Additionally, the more apps workers use, the more likely they are to rate their company highly across a range of factors, including productivity, collaboration and overall workplace culture. Over 90% of workers who rate their companies as "good" or "excellent" in these areas use apps on a daily basis. And those who use more than 10 apps daily are the most likely to rate their companies positively across all three indictors. 
Of course, this is just correlation, and it's highly unlikely that simply adding more apps would result in happier and more engaged workers. But what it does suggest is that companies are approaching the new app economy in meaningfully different ways. Some are offering many choices to their workers, and some are not. The data shows that workers in the former group—more choices versus less—are more likely to report a sense of future growth potential and positive company culture.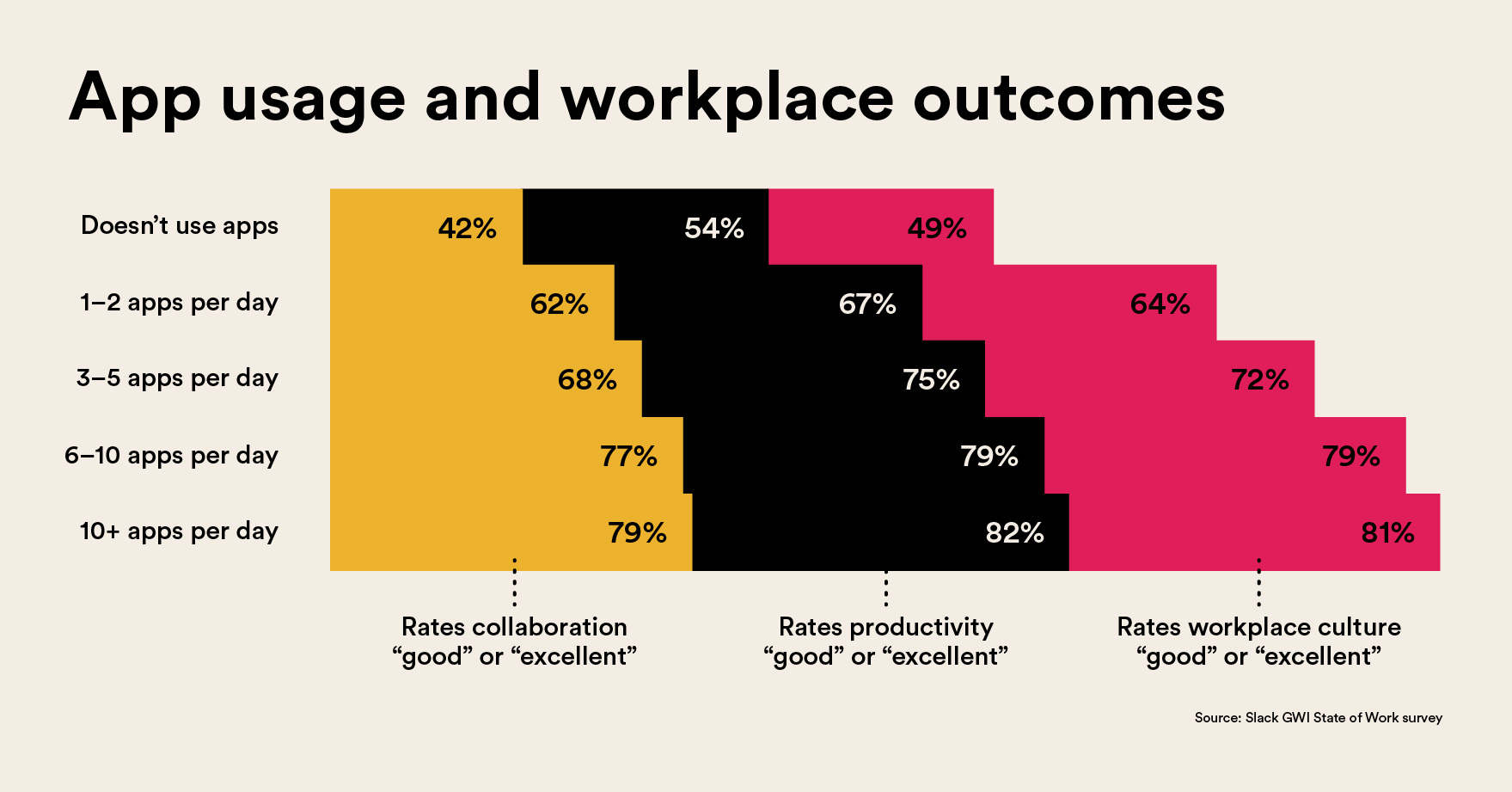 Businesses preparing for the future would do well to ensure that apps are a part of it. More than 90% of workers who prioritize improving innovation, leveraging data to drive better decisions, and improving collaboration across teams use apps on a daily basis. The data shows a positive correlation between app usage and these priorities; in other words, the more apps a worker uses, the more likely he or she is to cite these initiatives as an important driver of growth. For some perspective, only 13% of workers who don't use apps believe that improving innovation should be a top priority. 
The productivity paradox 
By and large, the data suggests that apps are good thing. But that doesn't negate the need for new paradigms around use and control. The app wave has created a challenge: With so many apps to choose from, each designed to make work easier and more efficient, the apps are piling up, making essential workplace tasks more challenging. 
This app overload takes a toll on productivity. Fifty-six percent of app users reported that constantly switching between apps and tools makes it harder for them to get work done, and 68% say they spend at least 30 minutes a day just toggling between workplace apps. 
As you might expect, app-switching becomes even more of a burden among heavy app users. The more apps someone has, the more likely they are to report that app-switching takes time out of their workday and makes it harder for them to focus on high-priority tasks. Rather than streamlining workflows, too many apps can have the opposite effect and fragment workers' attention.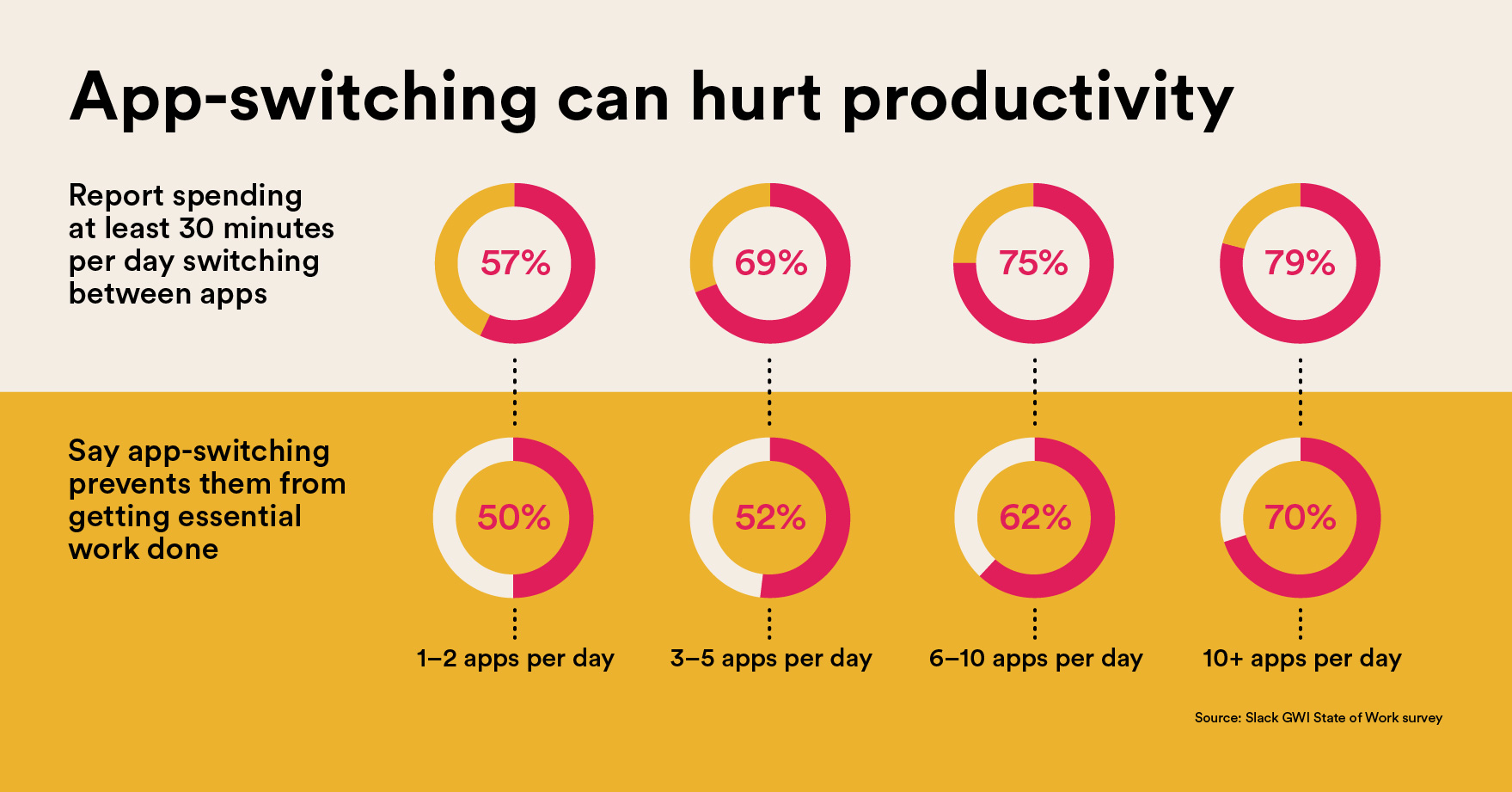 A new "operating system" for the workplace 
Workers themselves are already adopting a solution, one that brings apps into a single place and cuts down on context switching: collaboration platforms. These platforms weave disparate workflows into a single interface and have been described as an "operating system for the modern enterprise." Through integrations and open communication channels, collaboration platforms bring apps, alerts, messages and action items into one centralized space. 
There's a positive correlation between apps and collaboration tools: The more apps people use, the more likely they are to use a collaboration tool. Eighty percent of heavy app users (those who access more than 10 apps per day) also use a collaboration tool daily. Not only do they depend on collaboration tools more, they are also more likely to find them effective. Heavy app users are nearly twice as likely as those using one or two apps to rate collaboration tools as effective. This suggests that those feeling inundated by apps have landed on their own fix. As app usage continues to expand, companies would do well to learn from these power app users.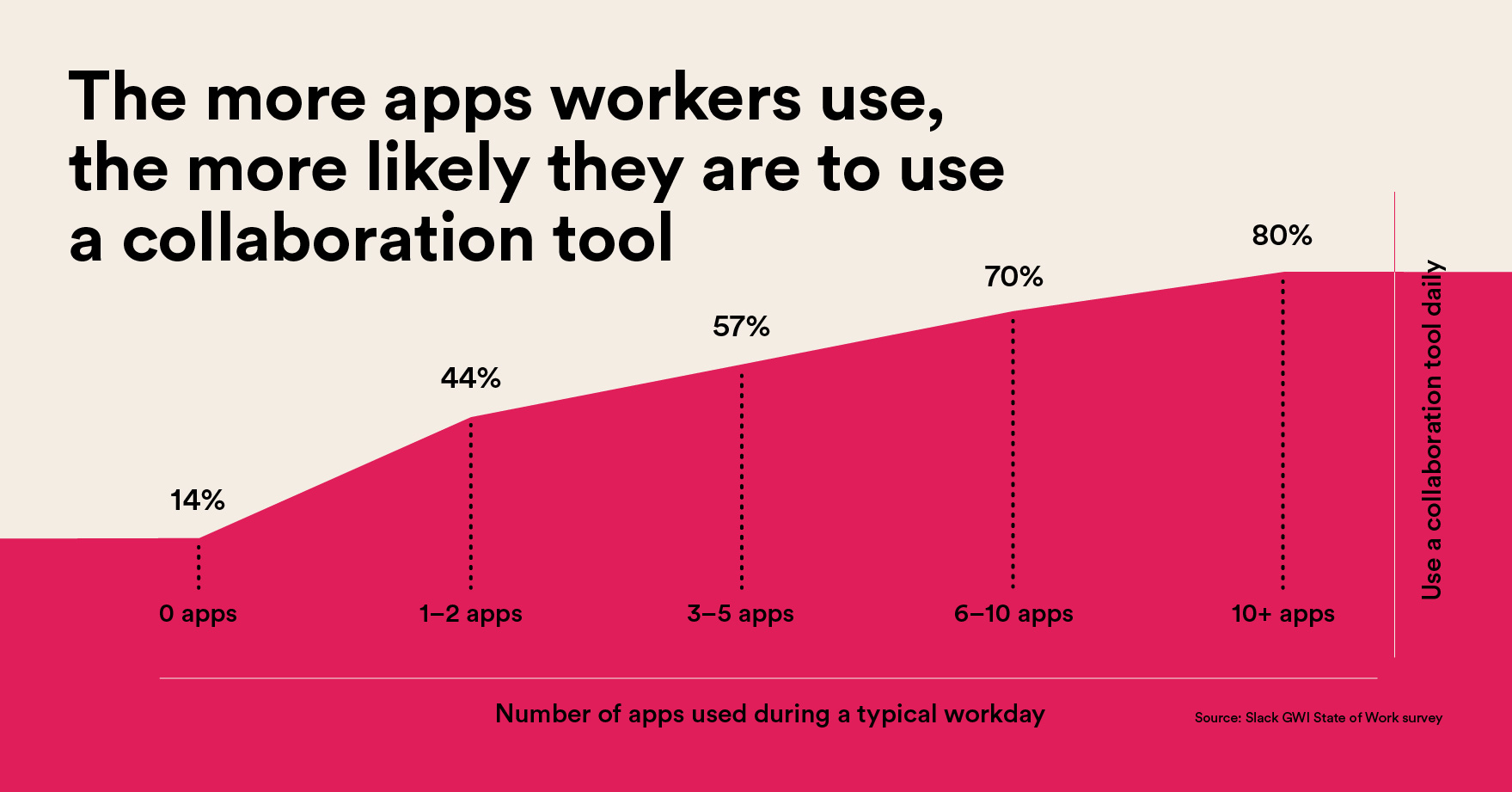 What's ahead? 
It's unlikely that app usage will flatline. If anything, the opposite is true. As work grows more complex, people will require increasingly specific solutions to help them tackle increasingly complicated tasks. The solutions—apps—are multiplying. Gartner projects the worldwide Cloud Application Services (SaaS) market will grow to an eye-popping $126.7 billion in revenue by 2021.* And many business leaders recognize that the days of a one-size-fits-all software solution may be numbered. "While decision makers still want a foundational platform, there is acceptance that no single vendor can address it all," said Gartner research vice president Craig Roth in a press release by the company.** 
If apps aren't going anywhere, it's the way we use them that needs to evolve. And collaboration platforms offer a promising solution. "The worldwide market for social software and collaboration in the workplace is expected to grow from an estimated $2.7 billion in 2018 to $4.8 billion by 2023, nearly doubling in size," according to Gartner. "By 2023, we expect nearly 60% of enterprise application software providers will have included some form of social software and collaboration functionalities in their software product portfolios," Roth said in the press release.** 
This growth suggests that companies are already responding to app overload. Of course, any software solution is only as strong as the strategy and user adoption behind it. Companies willing to provide their workers with the digital tools and strategic direction to curb app overload stand to gain a more focused, nimble workforce for the future.
Survey methodology and sources
Slack partnered with market research firm GlobalWebIndex to survey 17,000 knowledge workers across 10 countries in the first quarter of 2019. All respondents were identified as internet users (someone who uses the internet from any device and any location) and knowledge workers (employed individuals who hold an office position and/or "work with data, analyze information or think creatively" in a typical workweek). The surveyed population spanned an age range of 16 to 64, more than 40 industries, and all career levels, from office staff to executives.
Routing methods were applied to ensure that all respondents answered questions relevant to them. Participants completed the survey in their local language, and questions were localized to each country to ensure relevancy. GlobalWebIndex vetted all responses across a series of metrics, ranging from survey completion time to patterned answers, to ensure high-quality, representative data.
* Gartner Press Release, "Gartner Forecasts Worldwide Public Cloud Revenue to Grow 17.5 Percent in 2019," April 2, 2019. https://www.gartner.com/en/newsroom/press-releases/2019-04-02-gartner-forecasts-worldwide-public-cloud-revenue-to-g
** Gartner Press Release, "Gartner Says Worldwide Social Software and Collaboration Revenue to Nearly Double by 2023," September 24, 2019. https://www.gartner.com/en/newsroom/press-releases/09-24-2019-gartner-says-worldwide-social-software-and-collaboration-revenue-to-nearly-double-by-2023