The funny thing about a big career pivot
Human rights lawyer Jess Salomon needed a change, so she took the next logical step: Becoming a standup comic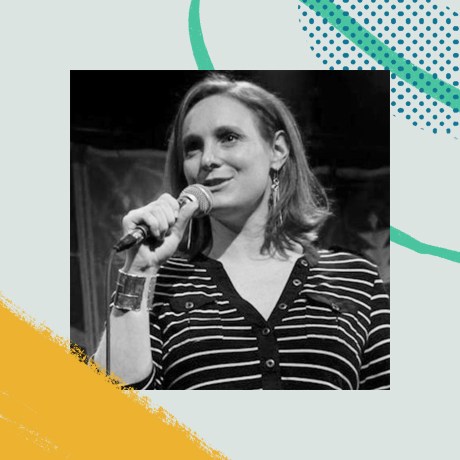 An audio version of this story can be heard on Episode 3 of Slack's podcast Work in Progress, a new show about the meaning and identity we find in work.
"I used to be a war crimes lawyer in the Hague before I decided it was time to get serious."
This is how Jess Salomon usually responds when people ask why on earth she left her job as a human rights attorney to become, of all things, a standup comedian. It is, after all, no one's idea of a typical career progression. But to Salomon, the connection between social justice and comedy became clear at her most difficult hour, as a way to be an advocate for others while discovering a new part of herself.
In 2002, Salomon landed a dream job for any young, idealistic human rights lawyer — working for the United Nations War Crimes Tribunal in the Hague as it tried Serbian despot Slobodan Miljković and his deputies from the former Yugoslavia for the ethnic cleansing of Bosnian Muslims and Croatians. It was everything she had wanted to do with her life, until she discovered that the court system could only do so much for the victims.
"The courtroom isn't a place for somebody to tell their whole story, which is I think what they needed to do and what they were coming to do and what they thought was the point," says Salomon. She began to think about what she could do to have a positive impact on the world outside of the law, but had put so much of herself into getting where she was that nothing else made sense.
But then she met some lawyers and jurists whose approach to dealing with the horrifying daily accounts of atrocities and suffering resonated with her.
"Humor in a dark context is a kind of a coping mechanism," she says. "Certainly not everybody, but for sure the people that I gravitated towards, my friends, all had very dark senses of humor. Because these accused war criminals were big characters — when they came to the tribunal they were a source of a lot of the, I guess the gallows humor behind the scenes." The defendants, she says, would go to such lengths to obstruct the process that it became almost an absurd play that was impossible not to laugh at and criticize with dark comedy.
Around the same time, The Daily Show was gaining an important place in the political landscape, with a lot of younger people using it as their primary source of news.
"I just started to see this place for comedy as advocacy, says Salomon. "A switch just went off, where I thought oh, maybe there's another way to advocate for the things that I believe in where I am not buried under a bunch of papers in the basement of a war crimes tribunal."
With no experience in performance of any kind, and not a lot of encouragement from bewildered family and friends, Salomon decided to take the leap into standup.
"I felt internally that it was something that I could do," she says. "At least I felt that of all of the arts, writing comedy and performing standup to me made the most sense because it was talking and in a way building arguments around certain ideas and premises. I felt that I had the potential to be funny."
When Salomon left the Hague, she tried a number of ways into the comedy world. She wrote a sitcom pilot about a war crimes tribunal in the style of The Office, and took a stand-up comedy class. Soon she started doing open mics.
"I didn't know who I was or what I was doing," she says. "It just takes a long time. You don't become Jon Stewart so quickly. I relied a lot on sexual and shock humor as most new comedians do."
Her background as a war crimes lawyer stoked people's curiosity, but honing her act took longer. She turned her focus to social justice issues that she could relate to personally, like feminism, identity, and LGBT rights. Now writing and performing full time, Salomon has performed at numerous festivals and keeps a busy touring schedule.
But the human rights lawyer in her is still always there. Her act features dark jokes about being Jewish and learning about the Holocaust as a child, and brings attention to the fact that she is married to a Palestinian woman.
"We had a very tiny wedding, it was really small," she says in one of her bits. "It was just me, her, and a U.N. peacekeeper."
Work in Progress story produced by Mio Adilman
Evie Nagy once hosted a standup show and got her biggest laugh with a joke about Neil Young and nuclear annihilation.